Besides using the built-in developer tool of Chrome or Firefox, you can choose some browser extensions to meet your Tumblr music download needs. Here, we introduce to you one browser add-on which is an alternative to TumTaster: Audio Downloader Prime. With this Tumblr audio downloader, you can easily download Tumblr audio. Now, let's take a look at how to download audio from Tumblr.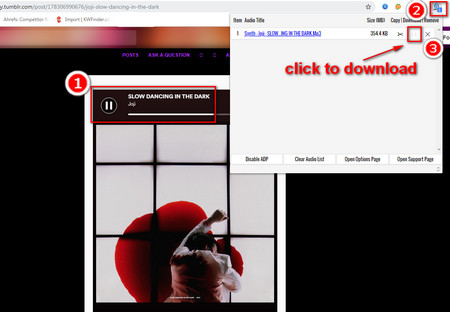 How to Download Songs from Tumblr with Audio Downloader Prime
Step 1. To download audio from Tumblr, first, just install Audio Downloader Prime to Chrome or Firefox. Click the below links to complete the installation:
Chrome: https://chrome.google.com/webstore/detail/audio-downloader-prime/flainkeonkoanoijnkojmiiihnfdhipd/related?hl=en
Firefox: https://addons.mozilla.org/en-US/firefox/addon/audio-downloader-prime/
Step 2. After the installation, restart your browser and open your wanted Tumblr music post. Then, you can play the music, and Audio Downloader Prime will automatically detect and remind you of the music which is available for download. After that, just click the Audio Downloader Prime icon at the top-right corner. On the pull-down menu, click the download button to download Tumblr audio.