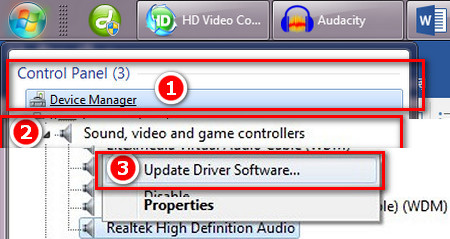 Upgrade the Audio Card Driver
Step 1. Make Sure You Upgrade the Audio Card Driver to the Latest Version. Click the Windows button in the lower-left corner, search for Device Manager and open it.
Double-Click on Sound, video and game controllers, right-click on Realtek High Definition Audio, then select Update Driver Software.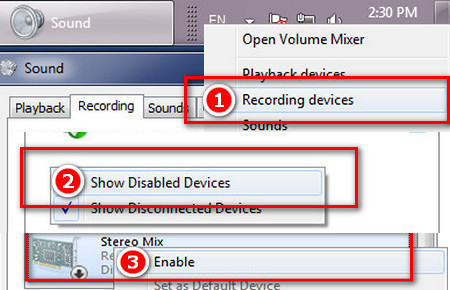 Enable Stereo Mix
Step 2. Enable Stereo Mix in Recording Devices. Many people don't see this option. This is because Windows often opens the microphone inputs by default and hides the Stereo Mix, which can be enabled by the following steps.
1) Right-click on the speaker icon in the lower right corner, select Open Sound Settings (For Windows 7, select Recording devices directly), click on the Sound Control Panel on the right, and click on the Recording tab.
2) Right-click in the blank space and check Show Disabled Devices. Stereo Mix will appear.
3) Right-click on Stereo Mix, select Enable, and finally, disable other options.
After the above preparations are completed, proceed to the following tutorial.