Desperate for a Quick Way to Embed Subtitles to Video?
Q: "I have an .mp4 movie and an .srt file on a stick to plug into my TV, the problem is, it plays the video but ignores the subs. I wonder how can I embed an .srt file into the .mp4 video?"--- from VideoHelp Forum
A: As you know, the subtitles that display as on-screen text are quite useful for hard-of-hearing people when watching videos and movies. But meanwhile, it also helps us understand the spoken dialogue or commentary in foreign language movies. Based on my own experience, I'll share with you how to embed subtitles into video step by step in the following paragraphs.
[Simple Guide] How to Embed Subtitles into Video?
Actually, it's quite simple to embed subtitles in videos with the right application. WonderFox HD Video Converter Factory Pro is such a remarkable toolkit suite specialized in simplifying video processing work. It allows you to add either soft subtitles/closed captions that can be hidden or activated, or hardcoded subtitles that won't be closed or removed.
Free downloadFree download this functional tool and let's get started to embed .srt into MP4, MKV and other video files.
Step 1 - Add MP4 File to Embed Subtitles in
Install and runInstall and run HD Video Converter Factory Pro and open "Converter" module, click "Add Files" button or drag and drop an MP4 video file into the program.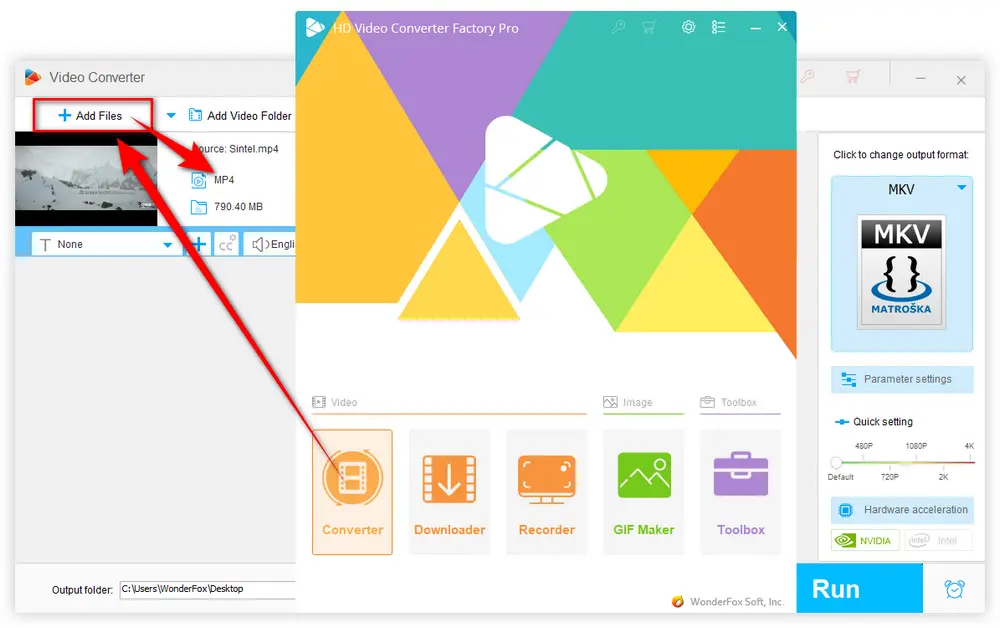 Step 2 - Embed Subtitles in MP4
Click "+" icon to embed subtitles to video (.srt and .ass formats are supported). You can only add one each time if you want to embed multiple .srt files to MP4.
Tips: There are some decent websites for you to free download subtitles for movies and TV series.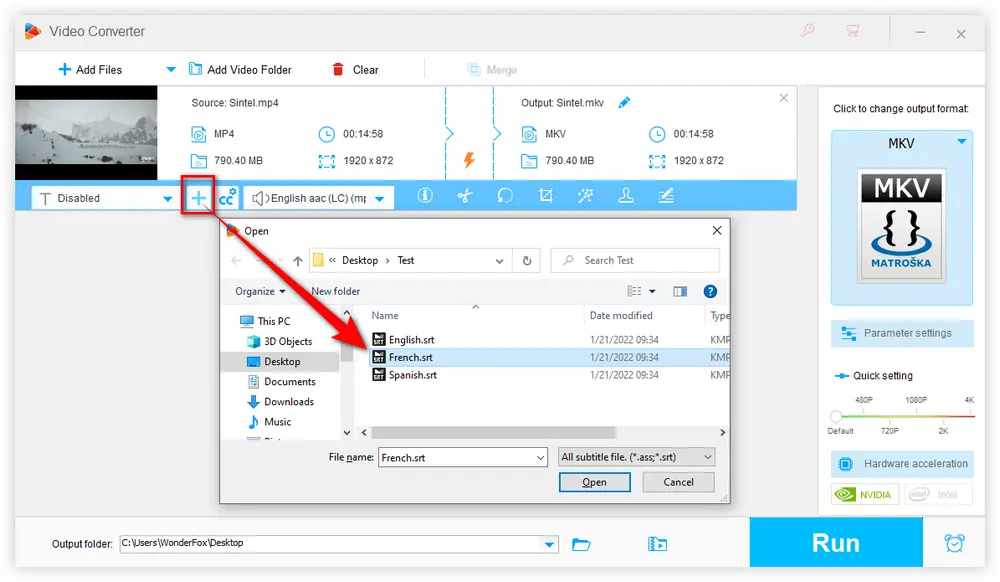 Step 3 - Select the Mode for Embedding Subtitles
Press "CC" icon next to "+" button to determine the mode for subtitles embedding, Closed Captioning (CC) or Hard-Coded Subtitles.
Click on the format profile on the right side, there are 500+ presets available for your choice. It's worth noting right off the bat that, ONLY MKV, MP4 and MOV support "CC Closed Captioning". But if you want to hardcode subtitles to video, it can be applied to all video formats.
Step 4 - Start Subtitles Embedding