Update on April 26, 2020
MTS Video Converter - Convert Video and MTS Files
If you are a Sony or Panasonic camcorder users, you may be familiar to the MTS video format. But that is only possible. I believe that at least half users did not really understand the MTS. More important is that they would like to share their MTS videos with their friends, but they usually encounter a problem. What's that? OK, don't worry, just follow me.
How Much You Know About The MTS

According to Wikipedia, the MTS is the file name extension of HD supported format AVCHD, and it is short for Advanced Video Codec High Definition. It is a video file format created specifically for High-Definition (HD) digital camcorders. The format was developed jointly by Sony and Panasonic for their camcorders users. Support for the formats' family has grown and is now supported by Canon, JVC and Sanyo video camcorders. MTS itself is based on the MPEG4 video codec and it mainly supports both 1080i and 720p video modes.
What is The Problem That the Users Usually Meet
Recently I noticed that more and more people including my friends and colleagues would like to share their camcorder videos with more people and some of them want to upload these videos to YouTube, Yahoo! Video... But you know many portable digital devices (iPod, iPhone, iPad, Zune, PSP etc.)and almost all the online video websites can not support the MTS video format, they have to convert MTS files to AVI, FLV, WMV, MPEG, MOV, MPG, MP4, 3GP, etc. And they just need a good MTS video converter. As the MTS video format is fairly new, many MTS video converter to convert this format are only just starting to add support for this file type. Although many MTS video converters supplied to us, it is not an easy thing for everybody to get a professional and powerful MTS video converter. Many people often feel troubles about this problem.
Share My Professional and Powerful MTS Video Converter with You
For this problem, I searched on search engines and finally got an answer which can certainly do that perfectly - convert MTS files to popular video formats such as AVI, MP4, FLV, and MPEG... etc. So that you can play the converted MTS videos on your iPod, iPhone, Zune, PSP etc. and even upload your MTS video Files to every online video websites.
The best utility called HD Video Converter Factory Pro can do the conversion task easily and perfectly. This HD video converter can be seen as a MTS video converter, because it can easily support MTS video files conversion to AVI, MP4, FLV, MPEG etc. At the same time, it is also a versatile HD video converter. It builds in 150 video formats; it supports Multi-track HD video M2TS, MKV, AVCHD, HDTV BDAV and MPEG-TS videos. Supporting Multi-CPU and Hyper Threading, it offers up to 3x - 5x real time video converting speed, stable converting process and excellent video quality. What's more, the special function such as Merge, Clip, Crop, Effect and parameter settings make you have more choices to control for your movies.
Screenshot of HD Video Converter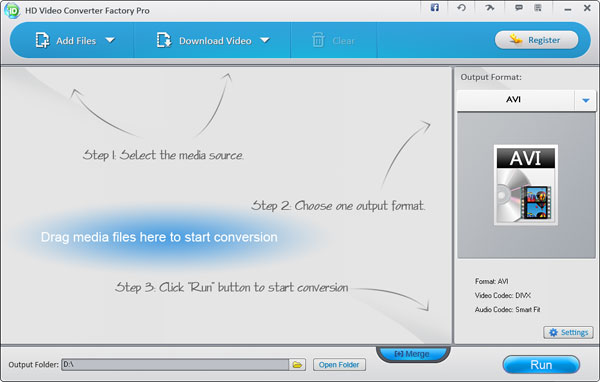 More Tips and Guides about HD Video Converter Factory Pro
HD Video Converter Factory Pro is an all in one video converterting software. This HD Video Converter builds in 150+ video formats, it can convert nearly all popular videos besides the SD video and HD video.
So, it cannot only help you solve how to convert MP4 to MKV, but also it can help you solve nearly all video conversion problems. For example, if you want to convert SD video to HD video, HD Video Converter Factory Pro will help you do it easily. And, if you want to convert videos from your Camcorders or DV like Sony HD camcorder, Cannon HD Camcorder or some other camcorders, this HD video converter will also help you convert them to your desire video formats without quality loss while in a high converting speed (Featured as Camcorder video converter), for example, it can help you convert MTS video, convert video taken from your DV (Featured as a DV file converter), etc. What's better, with its built-in 150+ video formats, you can convert virtually any video to a wide range of video formats, audio formats and popular digital devices with optimized presets.
If you are a video lover and would like enjoy videos without format limitation, HD Video Converter Factory Pro is one of your best choices.