About AIFF
AIFF, the abbreviation of Audio Interchange File Format, is an audio file format with the extension of .aiff or .aif developed by Apple in 1988. It contains raw audio data, channel information, bit depth, sample rate, and application-specific data areas. In addition, AIFF files can store metadata in Name, Author, Comment, Annotation, and Copyright chunks.
Why Convert AIFF to MP3 or Other Audio Format
1. The audio data in most AIFF files is uncompressed pulse-code modulation (PCM), which means an AIFF file is often large and taking up much more disk space than lossy formats like MP3 - about 10 MB for one minute of stereo audio at a sample rate of 44.1 kHz and a bit depth of 16 bits.
2. AIFF is not a widely used audio format, and it's not well compatible with smartphones, portable music players or other commonly used playable devices.
So the best solution is to convert AIFF to MP3, convert AIFF to WAV or other mainstream audio formats for reducing file size and playback anywhere and anytime.
How to Convert AIFF to MP3
Depend on your own preferences, there are various choices to convert AIFF file to other popular format. Regardless of those pricy and complicated audio editors, perhaps many people are apt to free online conversion service, but only if you have a good Internet connection in the process of uploading and downloading files. Another best option is to work with a totally free desktop AIFF converter - Free HD Video Converter Factory, which enables you to convert AIFF file to MP3 or other popular audio formats. Download and install this AIFF to MP3 converter on your Windows PC, then follow the step-by-step guide below.

Free HD Video Converter Factory
Free HD Video Converter Factory is the best and simplest AIFF converter for converting AIFF to MP3, WAV, AAC, AC3, FLAC, WMA, UGG, AU, M4A, etc and vice versa. Learn more >
Simple Guide to Convert AIFF File to MP3
Step 1 - Launch this program and open Converter option, click "Add Files" button to import AIFF files or a simple drag-and-drop.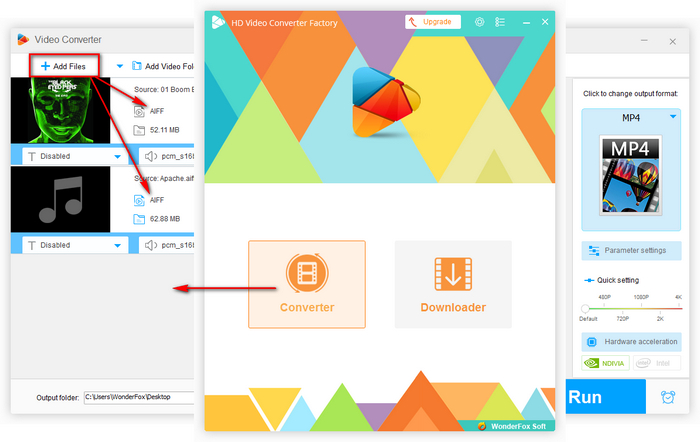 Import AIFF Audio Files
Step 2 - Open Output Format drop-down list on the right, select "MP3" profile under Audio Tab.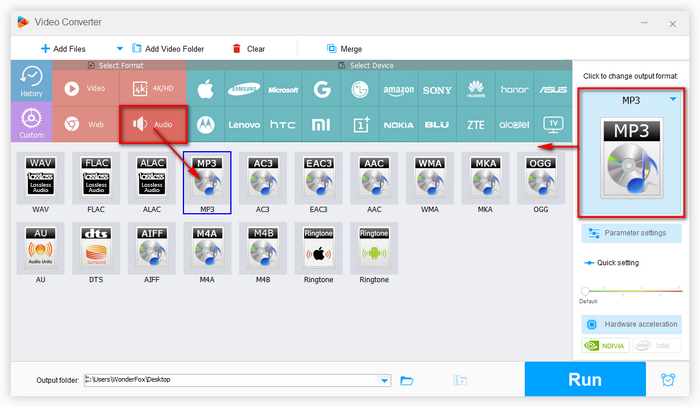 Select MP3 as Output Format
Optional - All popular audio formats are listing under Audio Tab for your need. After done, you are allowed to click Parameter Settings button to adjust audio parameters, such as change channels, bit rate, sample rate, encoder, increase audio volume or disable audio.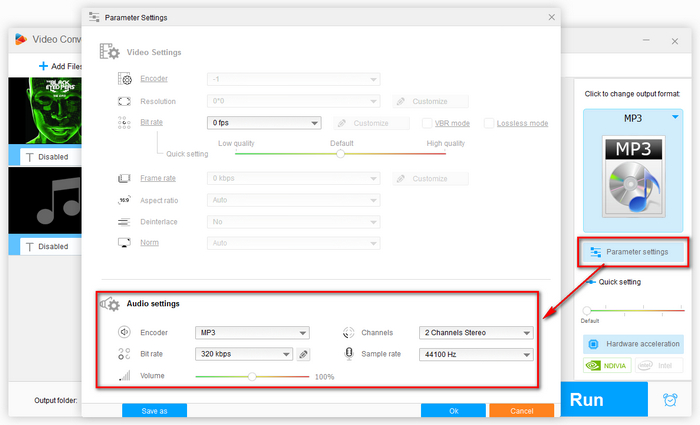 Adjust Audio Parameters
Step 3 - Set destination path and hit Run button to start the process of AIFF to MP3 conversion.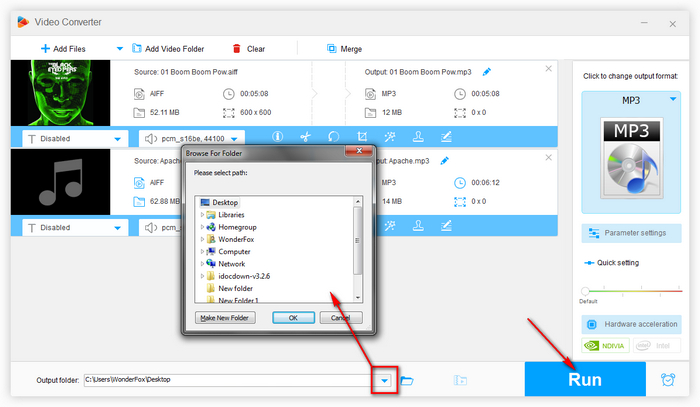 Start AIFF to MP3 Conversion
How to Convert Any Video/Audio to AIFF
As the best free audio converter, Free HD Video Converter Factory enables you not only to convert AIFF files to other audio formats, but also to convert any video/audio file to AIFF format. For example, you can convert MP3 to AIFF, FLAC to AIFF, even MP4/AVI/MKV to AIFF. Check out the following simple guide.
1. Import any video or audio file into this AIFF converter.
2. Select "AIFF" profile under Audio Tab.
3. Modify output folder and hit Run button to start conversion.
Wait a moment, Free HD Video Converter Factory can be used as a simple audio editor which empowers you to cut audio, merge audio, remove audio, extract audio from video, etc. Moreover, another fantastic feature is to download YouTube music, 4K/8K videos, 360-degree videos as well as VR movies download. You could not believe it's a totally free software, right?
Still got question? Submit it to us and get answer within 24 hours.