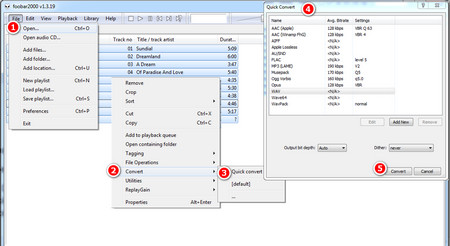 Cue File Splitter
foobar2000 is an advanced free audio player for the Windows platform. It can also be used as an audio converter and CUE splitting tool while playing music. Download foobar 2000 from http://www.foobar2000.org/.
Step 1. Open foobar2000 and click File > Open to import the .cue file. Or drag the CUE file directly into the player.
Step 2. The entire lossless music file has been divided into separate tracks.
Step 3. Press Ctrl+A to select all the tracks, right click and select Convert > Quick convert.
Step 4. Select the format you want to convert and click the Convert button.
Note: If the corresponding encoder is missing, you can get them from here: http://www.foobar2000.org/components.
Step 5. Customize the file name, select the output directory, and start the conversion.