WonderFox HD Video Converter Factory Pro offers the CPU Core Number and CPU Priority settings for users to designate CPU Usage to its process. You can change the two settings based on your own demands. So how to increase CPU usage for this software? Just Keep reading!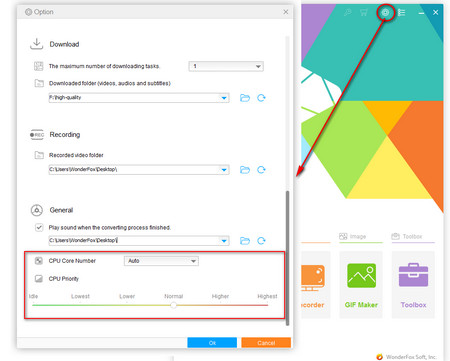 Set CPU Cores Number and Priority
CPU Core Number: How many cores does my CPU have? You can directly open HD Video Converter Factory Pro, go to the Option window, scroll down and open the CPU Core Number drop-down box. If your computer has 8 CPU cores, you can choose up to 8 cores here, and so on. When should you use this setting? Typically, if you've opened multiple programs simultaneously and are converting a large and high-quality video, it will certainly take up much CPU and your computer would even get stuck. To deal with such issues, you can allocate one or two, instead of the full amount of CPU cores to HD Video Converter Factory Pro.
CPU Priority: HD Video Converter Factory Pro also offers the CPU usage Priority setting, similarly, which enables you to set priority for the process with a Highest, Higher, Normal, Lower, Lowest, or Idle priority level to run on this program. While if there is sufficient CPU, setting the priority for HD Video Converter Factory Pro will not affect the process significantly.