Nokia C3 Video Converter - Convert Video to Nokia C3
"Nokia Video Converter Factory" - Convert all types of videos and audios to your Nokia C3 within only 3 simple steps.
When the Nokia C3 was released, it was popular with many young people because of its cool and fashionable appearance. This article will let you know more about Nokia C3 and the easiest way to convert video to Nokia C3 compatible video formats with a Nokia C3 Video Converter. Have fun!
All about Nokia C3
The Nokia C3 is a QWERTY bar feature phone with Nokia S40 mobile operating system released under the C-series line of phones by Nokia. It features a full 4-line QWERTY keyboard, like the Nokia 6800 series models. The Nokia C3 is designed to put messaging and social networking in the palm of your hand, installed with Ovi Mail and Ovi Chat where users can set up email and chat accounts straight from their C3. These are its outstanding business performances. In terms of its entertainment performance, it's also outstanding. Nokia C3 has a 2.4 inch high resolution screen and supports support by 8 GB of storage on a MicroSD card. That is, watching movies or keeping films is quite well. This is why it is so popular with young people. But the Nokia C3 also has disadvantages in playing movies. That is the limitation of video formats.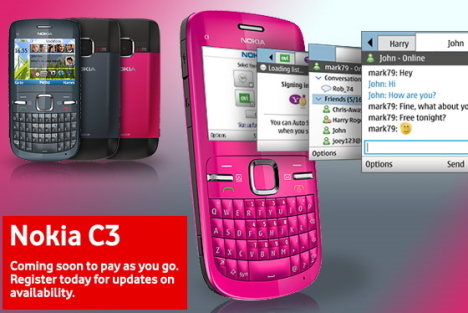 How to Solve the Limitation of Video Formats
Actually not all videos can be directly played on Nokia C3.Nokia C3 only supports MP4 and 3GP.In other words, if you download videos in the formats of AVI, MKV, MOV, FLV, SWF, etc, you can't enjoy them on your Nokia C3.So how to solve such issue? What you need is just a professional Nokia C3 video converter to convert video to Nokia C3.
There are lots of Nokia C3 video converters on the internet, but not all are professional or work great. So you have to learn how to choose a good Nokia C3 video converter or C3 series video converter, such as Nokia C3-10i/C3 touch and type video converter. The following tips could be helpful.
Tips for Choosing a Professional Nokia C3 Video Converter
According my experience, here is a brief guide that could help you make a correct decision. The choice depends on:
1. The number of formats supported. A Professional Nokia C3 video converter should support almost all popular video formats like AVI, MP4, MKV, WMV, MPEG and FLV etc.
2. Conversion Speed. This point is highly appreciated by users. Fast conversion speed let users save much time.
3. Ease of use. This is important for every user. Professional converters have intuitive and user-friendly interfaces. This should save you a lot of brain-racking.
4. Safe Conversion Process and Extra Functions. The video converter should not do any harm to the phone or PC with any viruses. Meanwhile it ought to have extra functions like video editing, extracting audio and DVD copying, which enable users to have more fun.
The Nokia Video Converter Recommended

The Nokia Video Converter Factory Pro provides you the most professional and easiest way to convert any video formats or copy protected DVD to Nokia cell phones. It is not only the Nokia C3 video converter or Nokia c3-10i/c3 touch and type video converter, but also the Nokia Family video converter. Moreover, you don't have to figure out what is the right video format, resolution, encoder or frame rate for your own Nokia phone. This software does all for you. All in all, it is simple enough for everyone. Apart from converting video to Nokia C3, Nokia Video Converter Factory Pro can also help you convert video to other Nokia C-series, for example, you can convert video to Nokia C6 compatible videos, convert video to Nokia C7 compatible videos, and convert video Nokia C5 compatible videos. How about download a free Nokia Video Converter and see if it meets your demands.
How to Convert Video to Nokia C3 in 3 Steps?
Step 1 – Input Video Files
First you need to install the video converter on your PC and then open it.
Input some video files by clicking "Load Video". You'll see the image below.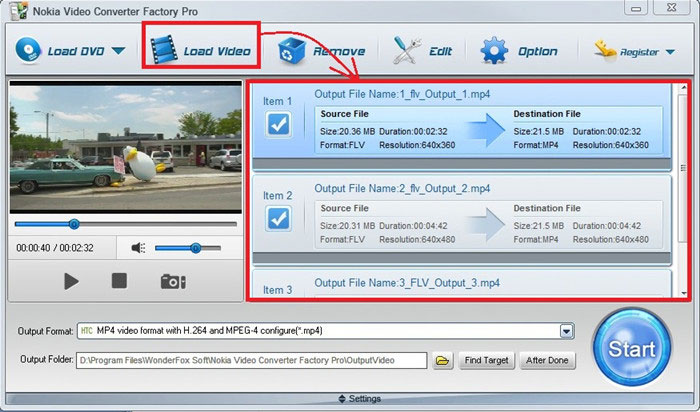 Note: You are also allowed to copy DVDs and transfer DVD movies to your Nokia cell phones like Lumia 920, Lumia 900, Lumia 800, Nokia X6, Nokia N9, Nokia E7 and any more.
Step 2 – Choose a Nokia C3 Compatible Video Format Like "MP4"
Hit the output format list and choose "Mp4".
Note: You are also able to ch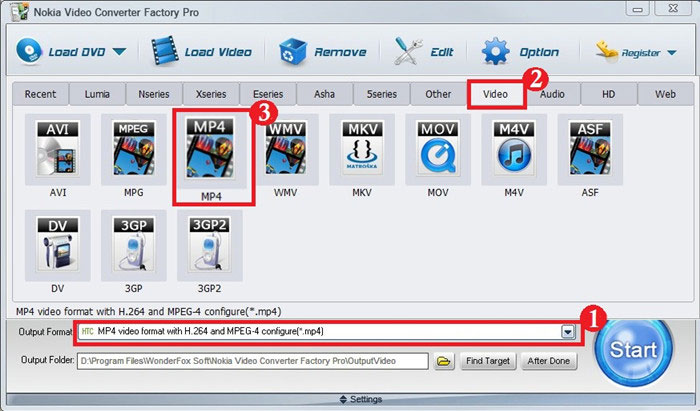 oose a certain Nokia cell phone model.
Step 3 – Start to Convert Video to Nokia C3
Click the big blue "Start" button. Just wait for minutes; you'll get what you want.
Nokia Video Converter Factory Pro unregistered version will put a watermark on processed video, please purchase license to remove this limitation. If you have any questions please contact order@videoconverterfactory.com
The Limits of Free Trial
License benefits
The unregistered edition will limited to converting maximum 5 minutes.

Secure Download

Free upgrade lifetime.
Free technical support.
Get back license key free.
30 day money back.

$19.95 (Save $10)
Related Software