How to Play A CAMPROJ File
Convert Camtasia's files to common formats
As you can see from its extension, CAMPROJ strictly, is not a format but a project file that is created by Camtasia Studio which means it is not able to be recognized by any common video players. In order to have a successful CAMPROJ playback, you will need to convert it to common formats at first, for example, MP4 and AVI.
Download and Launch Camtasia Studio 8.0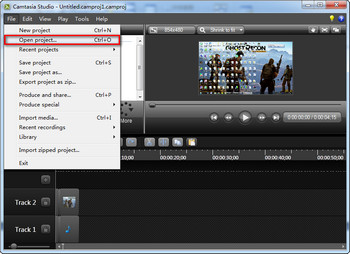 Add your CAMPROJ file to the timeline
1. Open "File". In the drop-down list click on "Open project" and then double-click on the CAMPROJ file you want to convert and then move it onto the timeline.
2. Open "File again and click on "Produce and share". Choose "Custom production settings" and click on "Next". Then you will find several formats including converting CAMPROJ to AVI or MP4.
3. After having selected your desired formats, continue and preset output parameters for the video file and at last begin conversion.
However, after conversion, sometimes you have converted CAMPROJ file to MP4, the file doesn't always play due to codec issues. You cannot still upload it to YouTube or play it on your phone. HD Video Converter Factory Pro, not only can help you change various video and audio formats, but also, it enables you to preset the optimal video parameters even for a single device or video-sharing website (Those CAMPROJ to MP4 converter online have no such functions) such as iPhone and YouTube for 100% successful video playback. The high video compression ratio and fast conversion speed of HD Video Converter Factory Pro is also a significant advantage you should never ignore.
How to Convert CAMPROJ File to MP4 - Free download the best CAMPROJ MP4 Converter
Convert CAMPROJ Files to Play Anytime Anywhere within 4 Steps
Step 1
Download and launch HD Video Converter Factory Pro. Pick Converter icon.
Click on "Add Files" and double-click on the converted CAMPROJ file or directly drag it onto the interface with your cursor. Don't forget to preset an output file location at the bottom.
Hint: Batch conversion is available as well.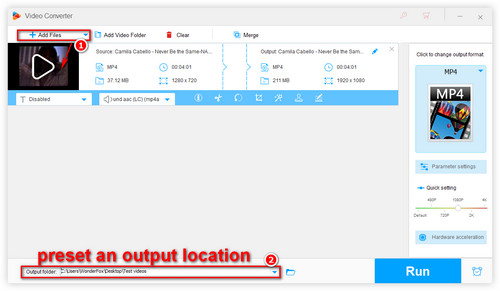 Add files onto the interface
Step 2
Open "Output Format" on the right side and find your desired section. For example, if you need a video which is compatible with YouTube, go to "Web" and choose "YouTube MP4" or WEBM which are specially designed for YouTube playback.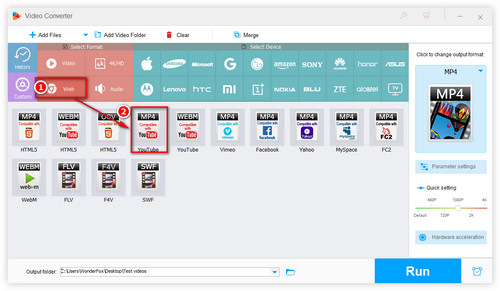 Choose a desired format
Step 3 (for Advanced Users who want custom settings)
Before starting conversion, you can customize the output parameters. Click on "Parameter settings" and then you will find various options of both videos and audios. You can change resolution and bit rate to improve output clarity, boost up frame rate to 60fps for smoother playback or adjust the aspect ratio to fit the screen. After finishing, click on "Ok" to continue.
Tips: You do not necessarily need to change your parameters which are only prepared for users who have special needs for video output quality.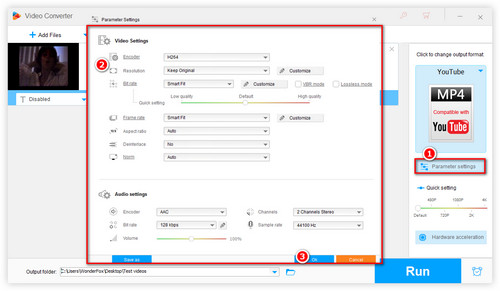 Preset parameters for an output file
Step 4
Click on "Run" to start conversion. Wait only for several seconds before a 100MB file gets totally converted.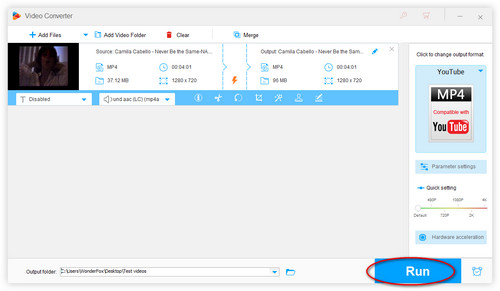 Start conversion
How to Make a Beautiful Ringtone for Your Mobile Phone
More than a powerful video converter, HD Video Converter Factory Pro is also a wonderful ringtone maker. If you already have music sources on your computer, you can directly make it as a ringtone with HD Pro or you should use the built-in audio downloader to download source files first from YouTube or other websites.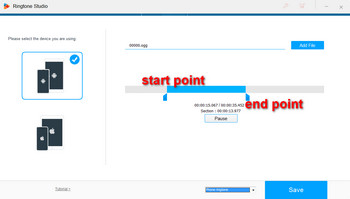 How to make a ringtone
1. Select Toolbox > Click on "Ringtone Studio". Choose between the 2 operating system - IOS and Android for your mobile phone.
2. Choose "Phone Ringtone" or "SMS Ringtone" and then click on "Add File" and double-click an audio or a video file from which you want to extract a segment of ringtone.
3. Move the two sliders to locate the segment which is going to be the ringtone.
Then click ick on "Save" and choose an output file location.
Now, please download the HD Video Converter Factory Pro to complete your jobs.
More Special Features Waiting for You to Have a Try Out
1.Supporting conversion of a great number of rare formats.
2.Downloading videos from main-stream websites like YouTube and Facebook.
3.Editing videos by trimming or rendering them by adding special post effects.
4.Dramatically saving storage space with more than 50% compression ratio.
5.Adding or disabling subtitles of video files.
6.Merging multiple videos to make a short movie.
7.Over 500 formats and codec for you to choose from.