What Is F4V Format?
You probably have seen F4V before and actually you're using it every day. That's right, the F4V and FLV are both flash videos that are developed by Adobe. Because FLV files have some functional limits in streaming H.264 or ACC and in order to meet increasing demand of HD videos, the Adobe released F4V as solution. Well, compared to FLV, the F4V is standard format supporting H.264 (MPEG-4) which enables you to have a greater experience to enjoy embedded HD video on the web. Although F4V is widely used but it does not support certain video/audio codec in FLV, including vp6, ADPCM, etc.
More Info about F4V
With the Adobe Flash Player and web browser plug-in, the F4V is compatible with most operating systems, however, there are sometimes without flash player or plug-in too, like embedding video in PowerPoint, using iTunes or QuickTime. The fact is most media players like Windows Media Player, iTunes can't play F4V files; as well as the import problem happened in iMovie, Windows Movie Maker and Final Cut Pro; let alone the mobile devices we used every day, the F4V is not playable on Apple or Android devices.
How to Play the F4V Files without Trouble
To open and play F4V files smoothly on media player and portable devices as well as to import and edit F4V files with video editing tools, the best way is to convert F4V to some video format more compatible with most devices and players, like converting F4V to mp4, F4V to avi, F4V to mov or F4V to mkv.
I guess you already have the answer, to find one suitable F4V converter to solve problems once and for all, but with so many F4V file converter in the searching results, how to choose one good for you?
Suggestions for F4V Converter
If you only want to transfer F4V files, then many tools can do this job for you. But there are many devices and systems having different technical requirements and parameters, converting software with single function is not helpful at all. That's why I recommend the Free HD Video Converter Factory; it's a one-step free video converting tool for handle with various video formats issues.
User friendly features also includes:
1 Supports Multiple Video Formats
More than a tool to change F4V to MP4 or other video format, the Free HD Video Converter Factory also enables you to handle other formats, like converting PVR video, converting M2V or converting TREC files etc.
2 Supports Video Editing
The Free HD Video Converter Factory is equipped with HD video editing functions; you can cut video, merge videos or change video volume as you want.
3. Supports Video Sharing
After you done with these files, you can just uploading video to YouTube and shares it with friends. Of course, you can use it to download 4k video or 360 degree video losslessly.
How to Transfer F4V to MP4 and Other Formats
Only three steps you can enjoy your video without any limits. But before that, you need to download it here and install it
Note: the Free HD Video Converter Factory is a 100% free and clean converter, there's no adware or plug-in during installation and process, no watermark left in the output file either.

Free HD Video Converter Factory
Want to enjoy and play F4V video in portable devices with quality remaind? The Free HD Video Converter Factory will help you more in video editing and convertsion. Learn more >
1 Import Video
Click "Add Files" to import videos to this F4V to MP4 converter
Note: you can also import audio files; this software is also a convenient audio file converter, it's easy to cut music or merge audios too!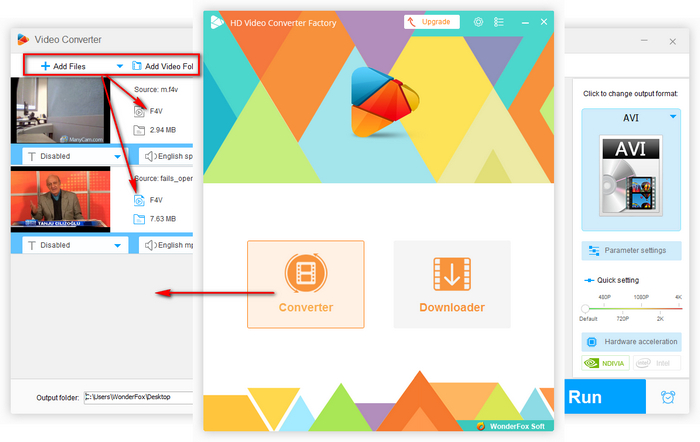 Three steps needed only
2 Set Output Format
As you can see from the picture below, the Free HD Video Converter Factory provides various choices for users. Except "MP4", you can set output format as you want. Besides, it supports many commonly used output devices, like Apple, Samsung and Sony, etc. Or if you are fond of HD experience, it can help you convert video to 4K resolution as well.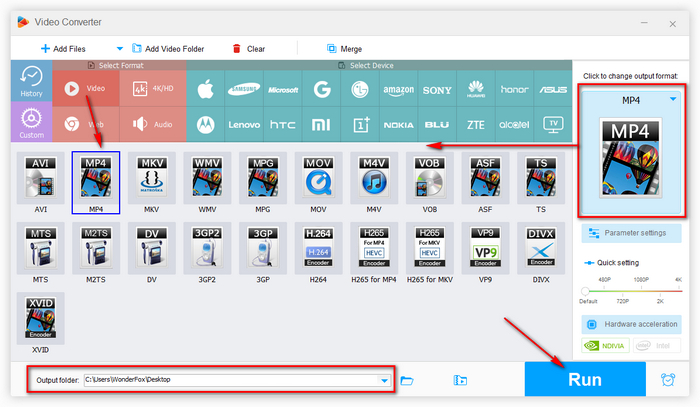 Various choices for users
3 Start Conversion
Click the button "Run" to begin converting process. Then you can open output profile to get the output video.
Still got question? Submit it to us and get answer within 24 hours.