Step 1. Import TS Files
Launch Free HD Video Converter Factory after you install it on your PC. Enter the "Converter" module from its initial interface and then press the "+ Add Files" button in the upper right corner or the center "+" button to load TS videos. You can also directly drag and drop the source files into the workspace.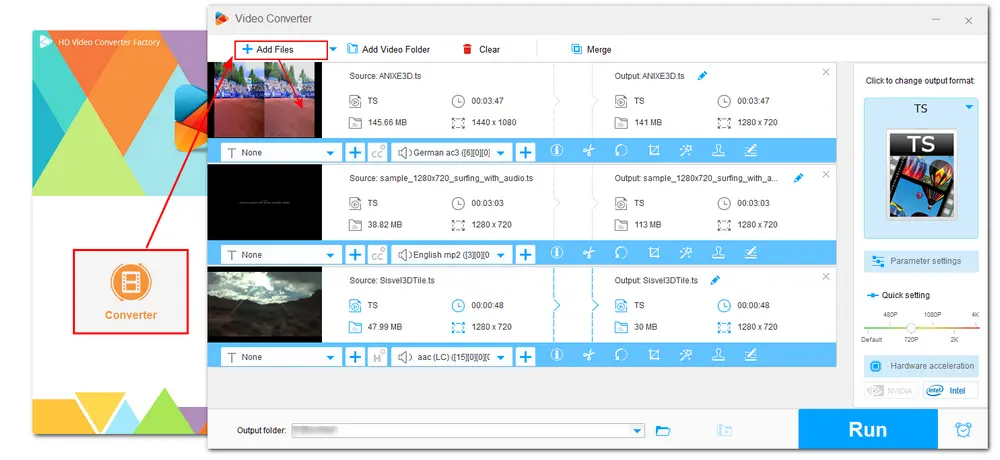 Step 2. Cut TS Files
Click the scissors icon below the video to enter the cutting window.
Drag the two sliders on the timeline to select the time section you want to save. You can also type in the exact "Start & End" times to create a more accurate segment. Then press the green "Trim" button to produce a video clip. In the video cutting window, you can also repeat the process to create more clips from one video. Finally, hit "OK" to save the change and go back.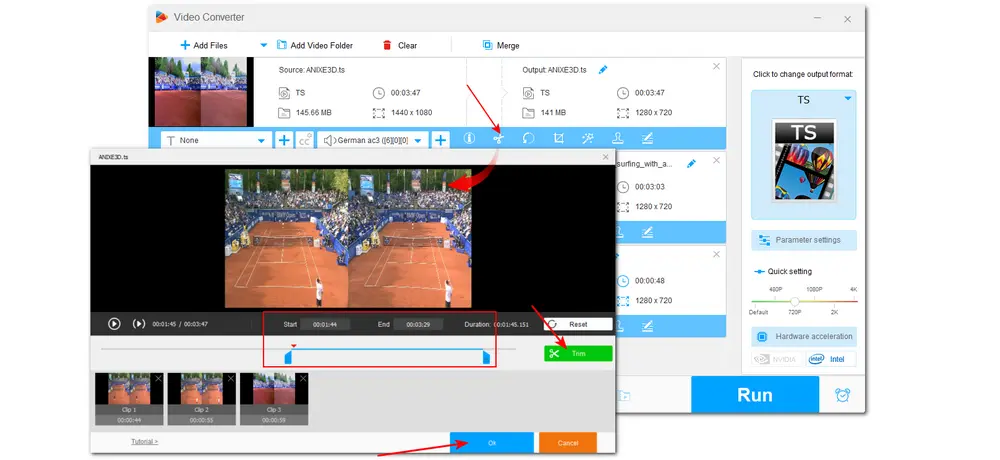 Step 3. Export the Final Files
Click the profile image on the right side of the interface to select an output format under the "Video" tab. You can then modify video resolution, codec, etc. in the "Parameter settings" window. Don't forget to specify an output path by clicking the inverted triangle button at the bottom of the interface. Finally, press "Run" to start the exporting process.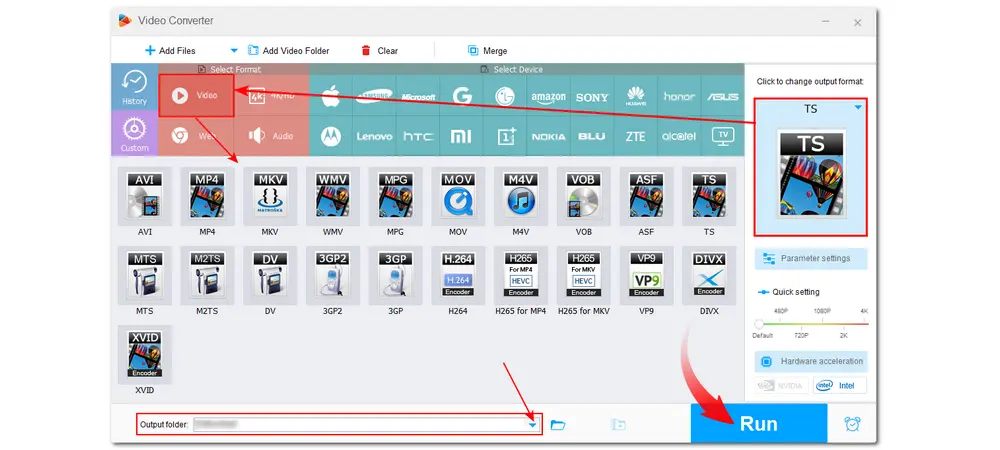 Tips: If you want to further edit, upload, and play the trimmed TS videos, you're recommended to choose a video format with better compatibility, like MP4, to avoid some video compatibility issues.
Apart from Free HD Video Converter Factory, Avidemux is also an open-source video editor that can work as a TS cutter for Windows, Mac, and Linux. It is designed to provide some basic video editing like cutting, filtering, rotating, flipping, and adding audio track/video effects.
Its video-cutting feature is easy to access, but other editing tools may be a little hard to find and start.
How to cut TS files with Avidemux?
Step 1. Download Avidemux if you don't have one from its official website. (https://www.fosshub.com/Avidemux.html)
Step 2. Launch the software and drag a TS file into the interface, or press "File" > "Open" to import the video file.
Step 3. Drag the slider on the timeline to the point you want to start cutting and click "Start Marker A". Then drag the slider to your desired end point of the clip and click "End Marker B".
Step 4 (Optional). You can modify the output video's settings on the left side of the interface.
Step 5. Click "File" > "Save" to set an output destination, and then press "Save" to export the trimmed TS file.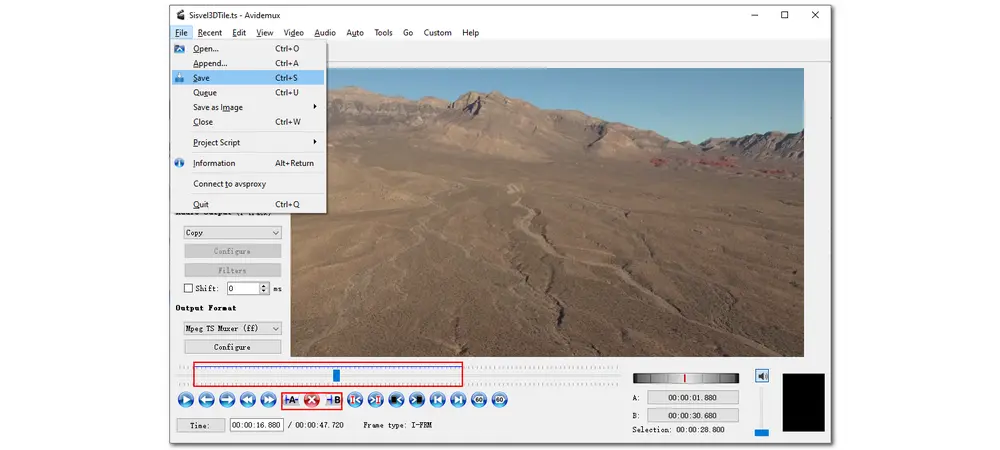 Besides using desktop to cut videos offline, there are also some handy-to-use online video cutters that supports cutting TS videos.
ASPOSE combines multiple video, audio, image, e-book, etc. editing tools on the main interface. Its video editing features include conversion, watermarking, compression, merger, resizing, cutter, mutter, etc. With this online TS video cutter, you can easily cut videos online on any operating system that has a web browser. Not just TS files, it also supports other video files, like AVI, FLV, MKV, MOV, MP4, etc. But this online video cutter doesn't offer a video viewing window for people to view the selected segments.
How to trim TS videos with the ASPOSE online video cutter?
Step 1. Open your web browser and paste this link (https://products.aspose.app/video/cutter) to launch the online video cutter.
Step 2. Click "Upload your file" to select the video file you want to trim and press "OK".
Step 3. Enter the "Cut Start" and "Cut End" times. Then select the output format or leave it as default. Press the green "Cut" button to start the cutting process. (For some large or long video files, it may take a long time to process.)
Step 4. Press "DOWNLOAD NOW" to save the trimmed video to your local folder.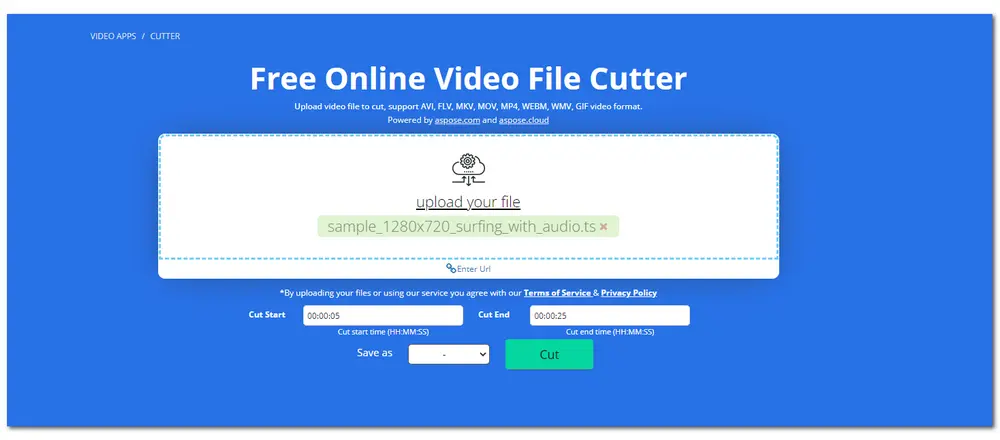 Clideo is also a free video editing tool that you can access from the Internet. With this TS trimmer, you can easily cut off the unwanted sections from your TS videos. It can even help you cut the middle part of the video and then combine the rest video clips. With it, you can also export the trimmed video with or without conversion. Other video formats are also supported well for editing and conversion. But the free version of Clideo will leave a watermark on the video.
How to cut TS video with Clideo?
Step 1. Access the Clideo video cutting feature by visiting this site: (https://clideo.com/cut-video) on your web browser.
Step 2. Click the "+ Choose file" button to import a TS video from your local folder. You can also press the down arrow to select other video-uploading sources. (The video uploading process depends on the length and size of your video.)
Step 3. On the right side of the interface, you can choose the "Extract Selected" mode or "Delete Selected" mode and then drag the two sliders on the timeline to modify the selected segment.
Step 4. Choose an output format at the bottom left corner of the interface and then press "Export" to start the cutting process.
Step 5. Click "Download" to save the video to the browser's default output destination.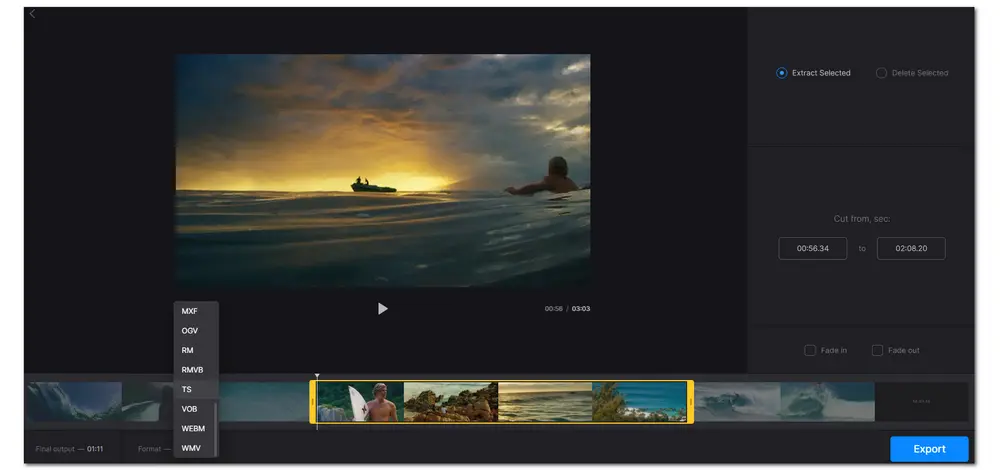 Q1. Can I play TS videos in VLC Media Player?
Yes. VLC Media Player includes all media codecs and constantly updates its codec libraries to decode various video file formats. So it can play TS files without hassle. You can also find more TS file players in this post: TS Players: How to Play .ts Files.
Q2. Can I cut TS files without re-encoding?
Yes. To cut video without re-encoding, you should better choose the same output format or a format that supports the original video encoder and keep output settings like resolution, frame rate, etc. the same as the input.
Bottom Line
This post has discussed 4 TS video trimmers (2 offline and 2 online) for you to cut TS videos. You can just feel free to choose your preferred one to start your video-cutting process. But if you want to cut TS files most efficiently and without a watermark, you should give Free HD Video Converter Factory a try!