When it comes to video compression, people always wonder does compressing a video ruin quality. Sadly, in most cases, compressing a video will downgrade the quality. The common video compressing methods, including re-encoding video into another format (lossy), changing the video bitrate, downscaling resolution, and reducing frame rate, will lead to quality loss inevitably. But by using a high-efficiency encoding format such as HEVC and VP9, you can compress video without losing any noticeable quality. Moreover, cutting out the unnecessary parts from a video is another way to make the video smaller without quality loss.
In the next part, we will see details of how to compress video without losing quality with a powerful video-size compressor. Please read on.
As mentioned earlier, you can remove unwanted parts from your video and use a high-efficiency video encoding format to shrink video size without losing quality. To make this happen, we will need a proper video compressor. Here, I'd strongly recommend the all-in-one application WonderFox HD Video Converter Factory Pro, one of the best HD video compressors that can minimize video file size while keeping its quality.
With advanced encoding technology and support for lossless video editing, this software can compress 4K video files without sacrificing quality. It is also a batch video compressor that can convert multiple videos to a smaller size. Without further ado, let me show you how to use this software to compress a video file without losing quality.
Please free download free download the software and follow the instructions.
Step 1. Add a Video File to the Program
Launch WonderFox HD Video Converter Factory Pro and open the "Converter" program. Next, click "Add Files" to import a video into the interface. You can also directly drop a file here.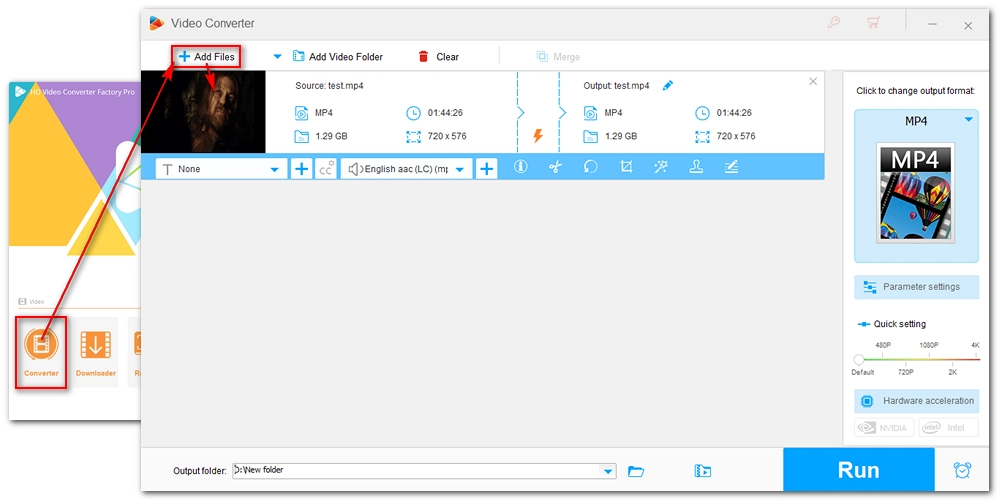 Step 2. Trim the Video (Optional)
If your video has unnecessary parts at the beginning or end, you can cut them off to reduce video size without losing quality. Just select the scissor-shaped icon in the video task to open the Video Trimmer. Then, drag the sliders to select the part you want to keep and click "Trim" to create a trimmed clip. You can also enter the exact Start and End time to cut the video more accurately. Hit the Play button in the parentheses and you can preview the trimmed video. Click "OK" when you are done with the change.
Tips. You can cut the video into multiple parts and combine them into one without losing quality using the Merge function.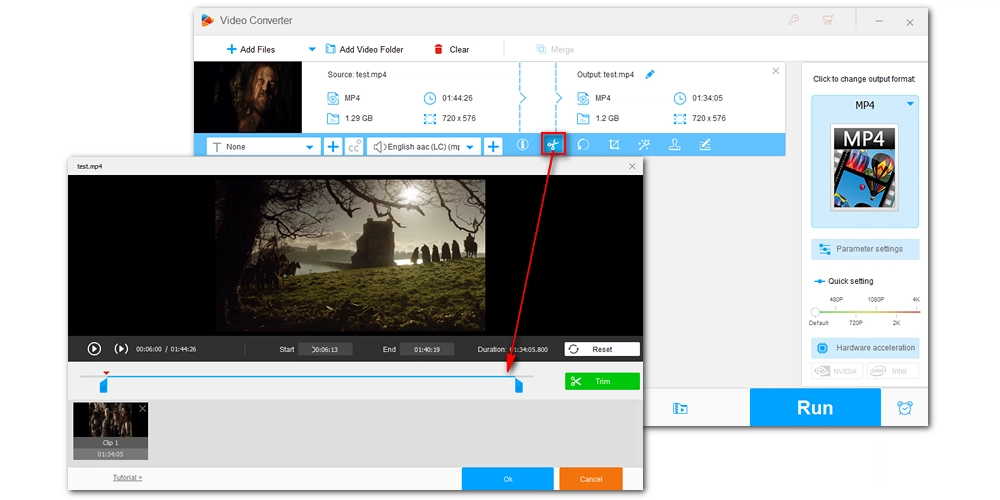 Step 3. Pick an Output Format
On the right side of the program, click to open the output format page and go to the "Video" section. Here, you can select your preferred format. MP4 is most recommended. But if you have trimmed your video, you are advised to keep the same format as the original.
Step 4. Choose an Advanced Encoder
* To trim video without losing quality, skip this step.
Now, open the "Parameter settings" below. Then, find the video Encoder option and choose H265 as the encoding format. Please note that only MP4 and MKV formats support the H265 codec. If you have chosen WebM as the output format in Step 3, you can use VP9 as the video encoder. Then click "OK" to save the settings.
Note. H265 and VP9 are not supported by some devices and applications. You can use the free VLC media player to open these files if you encounter a playback error.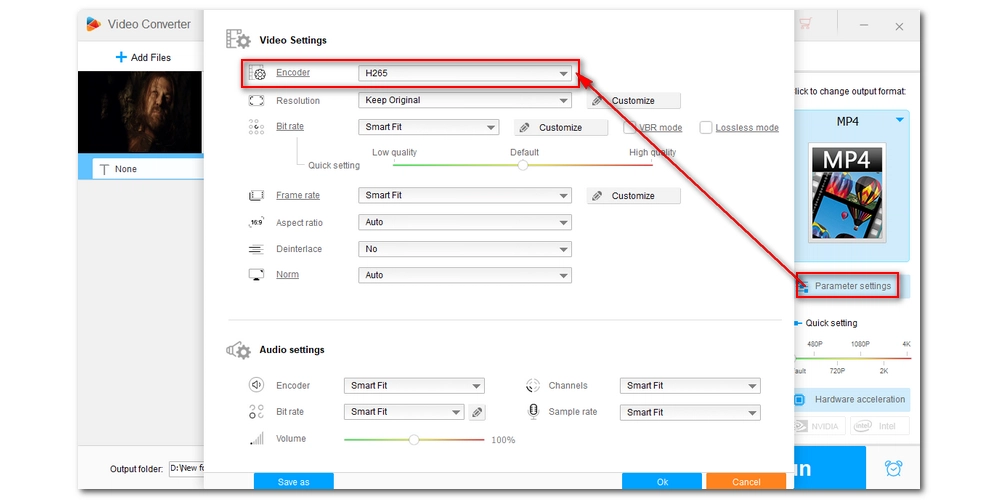 Step 5. Start Video Compression without Losing Quality
Finally, choose an output folder at the bottom of the program and click "Run" to output your compressed video without quality loss.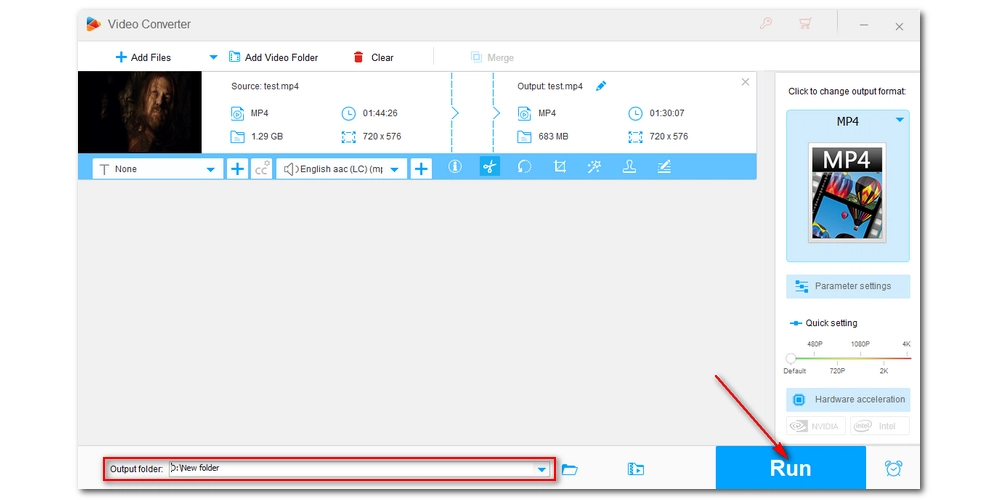 Tips. If you are not satisfied with the output file size, you can try other ways to reduce video MB to an even smaller size, such as decreasing the video resolution, bitrate, and framerate. But that will lead to some quality loss. However, if you compress a video from high quality/bitrate, you may not interpret much difference on a small screen.
Now, download download the video compressor software to complete your work!