Configure FFmpeg
Step 1. Configure FFmpeg and Plug-in Component
For the man who first uses FFmpeg, you have to modify one of the system variables - Path. Find the binary folder address of FFmpeg, copy and paste it to the end of the original Path value. Please do not forget to add ; first.
Now, cut and paste the plug-in component to the binary folder of FFmpeg. Now the FFmpeg TS downloader is ready to use. Double-click the plug-in component to Run the download window.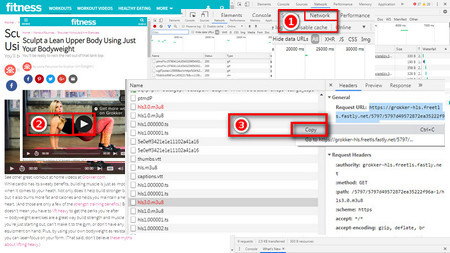 Find the Video Download URL
Step 2. Find the Video Download URL
Many TS clips on the video-sharing sites are introduced by an M3U8 request. In the request, you can find the real URL storing the whole videos. What you should do is just copying the URL and pasting it into the download DOS window. By the way, right-click the top border of the DOS window and click Paste so as to paste content therein.
For a more detailed operation, you can refer to the video below.