What to Watch out for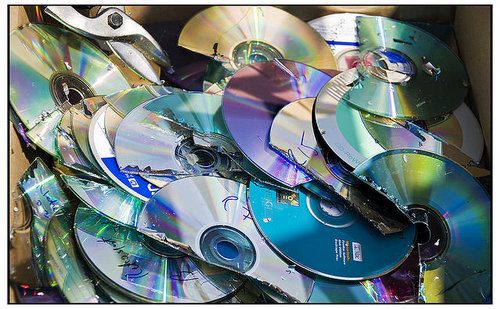 Damaged DVDs
Why so many DVD discs can not be read after purchasing one or two years later, the reason is: improper to use and store. In fact, DVD discs can be greatly affected by the daily living environment. The DVD disc that is stored improperly will be deformed, and its data surface will be scratched, resulting in difficulties in reading, or worse, it can no longer be read out. By using of such kind of disc will also cause great damage to the DVD drive, so that the drive capacity will be reduced and the life of the drive will be shortened. So do you know ways to store DVDs and what is the best way to store DVDs? Let's summarize how to store DVDs long term.
DVD Care Tips
1. Hold DVD at the edges or keep your finger in the center hole. The most common sense is to keep your fingerprints off the disc data interface if possible.
2. The disc should be immediately placed in the disc case after using to avoid DVD scratches. Don't pull a DVD up by its edges--repeatedly doing so can bend or warp a disc. Likewise, never force a disc out of its case.
3. Make sure that the disc is already in place when you close the disc cartridge of player.
4. As far as possible, remove a small plastic bag of disc, or once melted, then your disc will be also scrapped.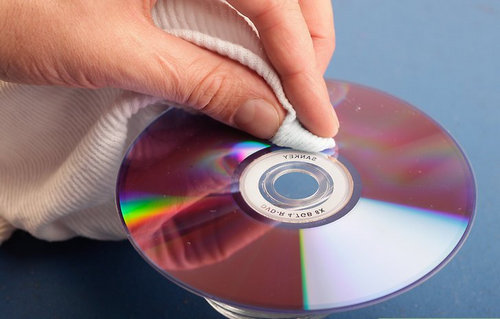 Keep DVD Clean
5. Keep discs free of dust. Anything that gets in the way of a DVD drive's pickup assembly can cause problems with the mechanism. Use a lint-free cloth and clean in strokes from the inside of the hub to the outside of the disc.
6. Avoid direct heat and light. Typically, DVD media can withstand 20 to 50 percent relative humidity, and are rated for use in environments ranging from 23 to 131 degrees Fahrenheit. But actually, the optimum temperature for the disc storage environment is around 20 degrees Fahrenheit.
7. Disc should be placed away from children and pets.
8. DVDs are two discs chemically bonded together, so you can't put as much pressure on a DVD when you take it in and out of its case. DVDs should be placed vertically.
If you want to pack DVDs, then it is necessary to remember to put the desiccant to prevent moisture.
The Best Way to Store DVDs without Cases
In addition to the necessary DVD care and handling, it's a wise idea to grab DVD to digital for storing DVDs and it can also effectively avoid irreversible loss. Besides, by ripping DVD discs to digital formats like AVI, MP4, MOV, etc., you can conveniently watch any favorite DVD on iPhone/iPad/Android/PC/Mac without the physical discs and DVD player. You can easily access the digital DVD on the hard drive no matter when and where, moreover, you will no longer be bothering to bring a large pile of discs with you on the journey. In order to convert DVD to a digital file, you may not refuse a helpful DVD to digital converter, powerful, safe and easy-to-use.
With WonderFox DVD Ripper Pro, there is no need to worry about how to prevent disc rot. You can easily get a decent digital copy of DVD with highest quality at fastest conversion speed thanks to NVIDIA's GPU shares the occupation of the computer's CPU.
free download DVD ripper for better DVDs storage.
Simple Guide to convert DVD to Digital File
Step 1
Insert your DVD into DVD-ROM and launch the software. Click "DVD Disc" to load, read and analyze the whole DVD files in a few seconds, and the main title will be marked automatically after that.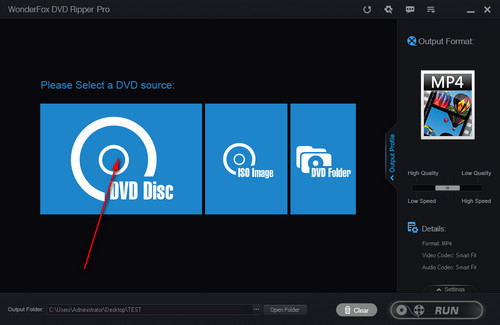 Load DVD
Step 2
Open Output Format list on the right side of the interface, there are 300+ optimized preset profiles of video/audio formats and portable devices here. No matter you wanna rip DVD to MP4 or any other formats, the program will meet your needs perfectly.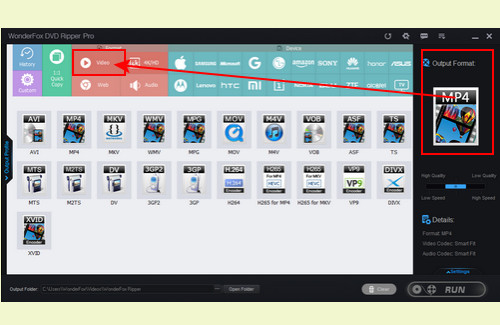 Choose Output Format
Step 3
 As shown in the figure, you only need to set your output folder path and click the "Run" button to complete the conversion.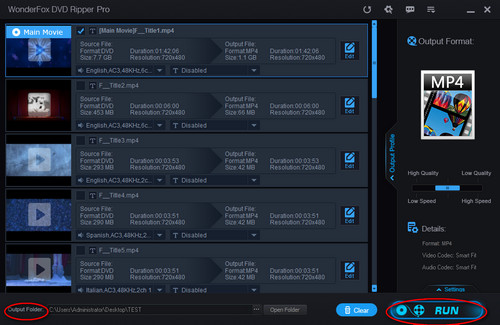 Click Run to Rip DVD
This powerful DVD ripper for Windows is especially designed for ripping any DVD to digital file or devices, like ripping new Disney DVD to MP4, rip DVD to WMV, rip DVD to H265, rip DVD to iPhone 7/7 Plus, iPad Pro/Air 3/Mini, copy DVD to Android Huawei phone, and almost any popular video formats/devices. It supports all DVD copy protections including older and recent ones and remove copy protection from DVD with Disney X-project DRM, Cinavia Protection, CSS, RCE, Sony ArccOS, UOPs and unlock region code. Besides, the ripped files can keep original quality with small size.
WonderFox DVD Ripper Pro is an extremely convenient tool for those who want to store DVDs for a long time.
Now, please download the DVD Ripper Pro to complete your jobs.
More Special Features on WonderFox DVD Ripper Pro
Rip any DVD including home-made and copy-protected DVDs you own
Add and disable subtitles for your own demands
Performing as an excellent DVD Player with high-quality output
Edit videos by clipping, cropping and adding special effects
Full support DVD Folder and ISO image as well
Set parameters according to your needs like output video resolution, bit rate and frame rate