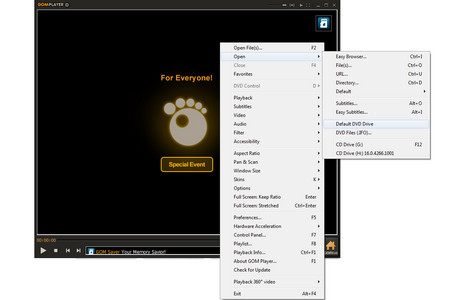 GOM Player Free
5. GOM Player Free
https://www.gomlab.com/gomplayer-media-player/
GOM Player Free is a totally free video player that can play not only virtually all popular videos like AVI, MP4, MKV, FLV, WMV, MOV and more, but also DVDs, and CDs. The exclusive feature of sharing and downloading subtitles through its library and the link with OpenSubtitles.org is useful if you want to watch a specific subtitle when playing DVD. However, there are some ads on GOM Player Free, which impacts the user's experience. Besides, the improper settings would lead to DVD not playing issue. Despite that, GOM Player Free is still a good free alternative to Windows 10/11 DVD Player. After inserting DVD disc into DVD drive, then run GOM Player Free and right click on the window, select Open and go to Default DVD Drive. You can also play IFO files.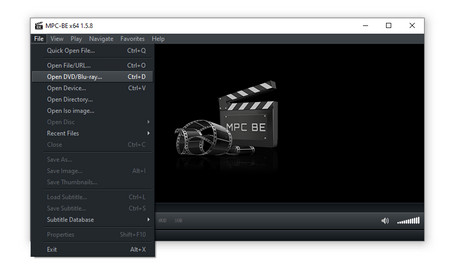 MPC-BE
6. MPC-BE
https://sourceforge.net/projects/mpcbe/
Media Player Classic, also known as MPC, is an open source and lightweight media player with support for a wide variety of media files, including DVDs, Blu-rays, and ISO images. The original Media Player and its most well-known fork, MPC-HC, come with simple UI and included most playback setting options and features you may use in daily life. On the basis of the two editions, the latest fork, MPC-BE, adds additional features to enhance the user experience and it is an up-to-date version that is competent to deal with some new media files. MPC-BE is a Windows dedicated program and can quickly recognize the DVD you have inserted into your computer optical disc drive.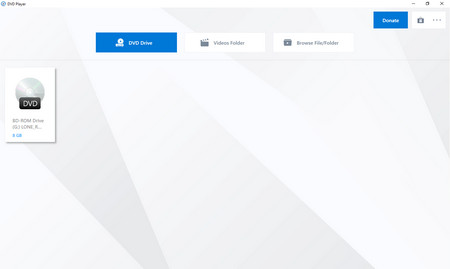 DVD Player – FREE
7. DVD Player – FREE
https://www.microsoft.com/en-us/p/dvd-player-free/9nsntzljhtx4?activetab=pivot:overviewtab
As you might expect from the name, it is a free media player for DVD playback. What's more, this program can handle Blu-rays, VCDs, and video files. DVD Player – Free has a simple interface with minimal settings. It can deliver a rather smooth and high-quality video playback experience. The only flaw sometimes a pop-up appears when you close this program.
DVD Player – Free is available for download on Microsoft store.