Method 1 - Burn MP3 Files to DVD Disc without Software
If all MP3 files are saved in the same folder, it's pretty simple to burn them to a blank DVD without any software. Insert the DVD-R or DVD+R disc into your internal/external DVD Drive Burner.
Step 1. Open the folder where stores all the MP3 files you want to burn, press "Ctrl + A" to select all of them.
Step 2. Right-click on one MP3 file, select "Send to" > "DVD RW Drive" in the context menu.
Step 3. Select "With a CD/DVD player" option, and click "Next" button.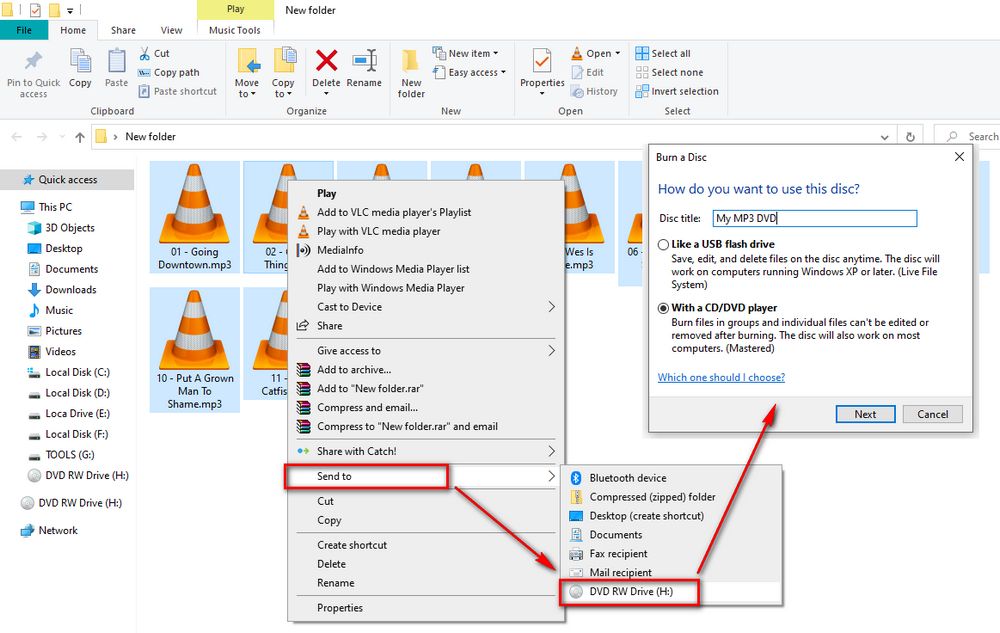 Step 4. You'll be automatically led to the DVD drive folder, and all MP3 files are ready to be written to the DVD disc.
Step 5. Navigate to "Drive Tools" on the ribbon toolbar and click "Finish burning".
Step 6. Modify DVD title and change "Recording speed", click "Next".
Step 7. Select "Make a data CD" and click "Next" to start burning MP3 files to DVD disc. The disc will be automatically ejected when the burning work is complete.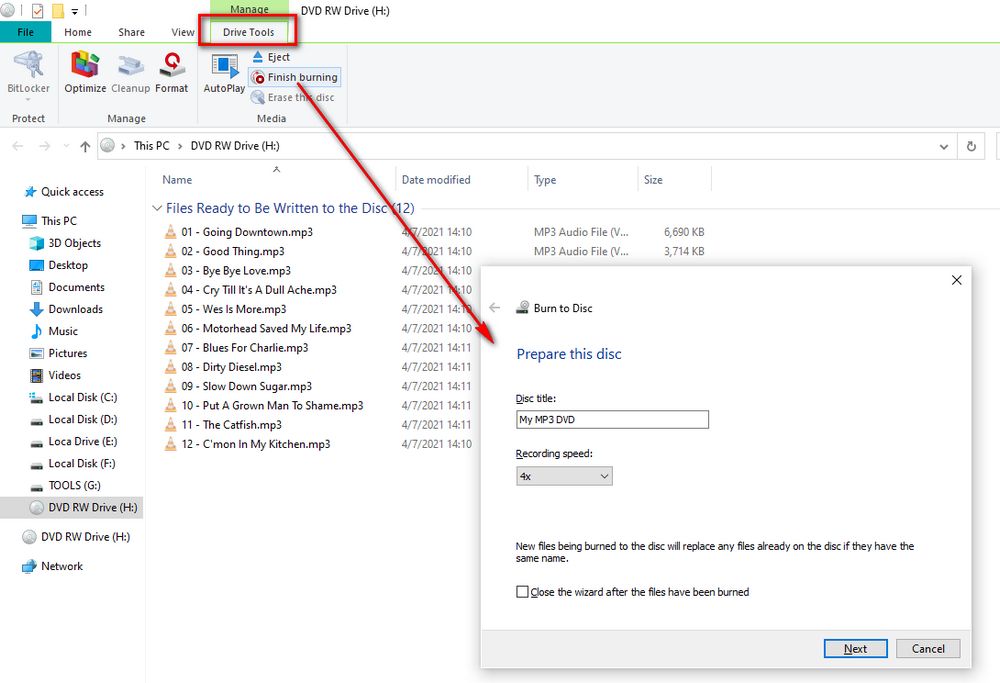 Method 2 - Burn MP3 to DVD in Windows Media Player
If you use Windows Media Player to manage your MP3 collections from different folders, it has the nature ability to burn MP3 files to Audio CD, Data CD or DVD. Insert a blank DVD disc to CD/DVD Recorder Drive and get started.
Step 1. Open Windows Media Player and enter the "Library" mode. Then click "Burn Tab" at the top right corner.
Step 2. Click "Burn options" button and select "Data CD or DVD".
Step 3. Drag MP3 files from your library or created playlists to the "Burn list" on the right side of Windows Media Player.
Step 4. Finally, press "Start burn" button for MP3 to DVD burning.
Tips: Here are several solutions if you run into Windows Media Player Won't Burn CD issues.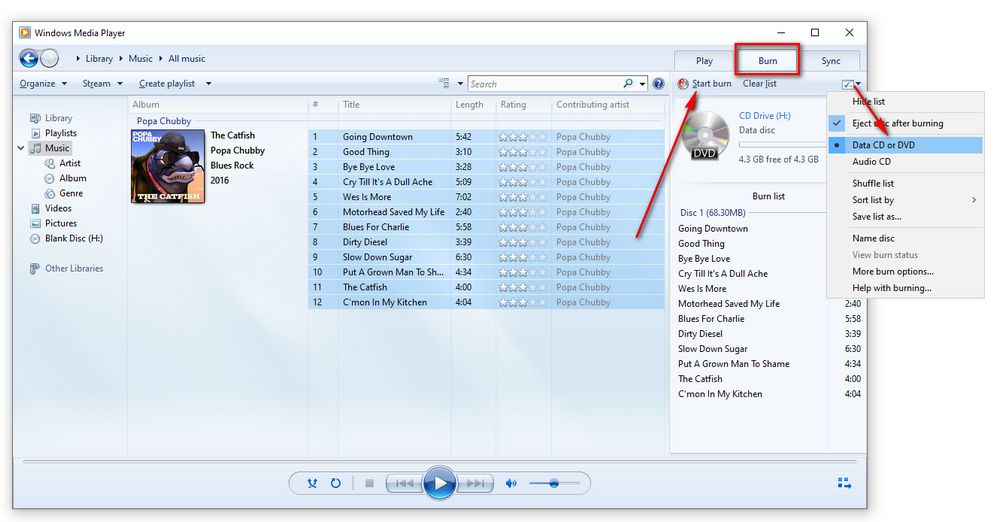 Method 3 - How to Burn MP3 to DVD in iTunes?
Similar to Windows Media Player, you can also burn MP3 music files to DVD disc in iTunes, which shares the similar steps with how to burn songs from iTunes to CD. Let's see how it works.
Step 1. Insert a blank DVD disc into your computer. Launch iTunes, and switch to "Music" category.
Step 2. Since iTunes only allows to burn a DVD from playlist, you have to create a playlist in iTunes and move all MP3 files into it. You're able to name the playlist, and re-arrange the MP3 tracks by drag-and-drop.
Step 3. Right-click on the playlist, select "Burn Playlist to Disc" option. On "Burning Settings" window, select "Data CD or DVD" option.
Step 4. Finally, click "Burn" button to burn MP3s onto a DVD using iTunes.
Also Read: Make Music Video DVD | Convert YouTube to DVD | Burn a CD from YouTube | Download Music to a CD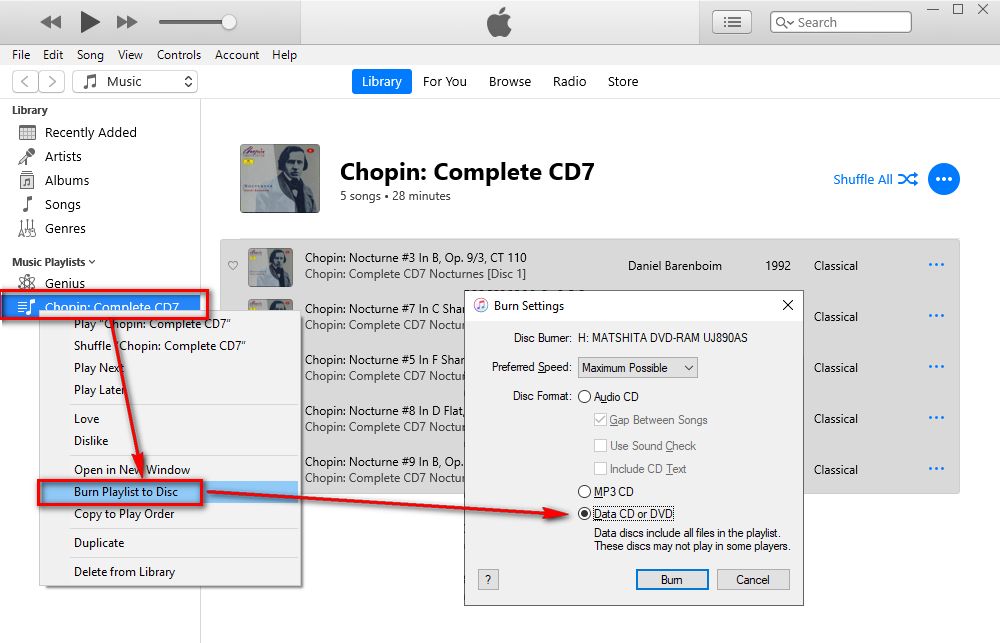 Final Words...
That's all about the 3 obstacles-free methods to burn MP3 to DVD. You see, it's simple to finish the job without any paid or sophisticated software installed. If you have large number of lossy and lossless music files in different audio formats, with some free audio converters, it's much easier to convert to MP3 format before you burn them on a DVD. Thanks for your reading!