Get Fed up with Those Annoying ADs on Streaming Sites?
As the movies and TV series are released and distributed by different on-demand streaming services, the subscription fee would be a large expense each month. I bet quite a few people opt to go to some piracy websites with all the content available entirely for free streaming. However, you know that every coin has two sides. All those streaming websites are stuffed with all sorts of ADs, which is definitely a pain in the butt.
What even more irritating is, there are possible overlays, redirects, keyloggers, clickbaits, sneaky trackers, browser hijackers and other scam malware that are hard to guard against for non tech-savvy people. So in this post, I'll guide you through how to stop pop-ups on streaming sites for distraction-free viewing experience. Let's get started.
Also Read: Watch Anime Without Ads | Remove YouTube Ads | Skip DVD Previews, Trailers & ADs
Complete Guide: How to Stop Pop Up ADs on Streaming Sites?
The First Step - Get Rid of Most ADs Using an AD Blocker
Most of mainstream browsers come with a weak ability of blocking pop-ups and redirects for those streaming sites. To complement the defect, a really good option is to install an AD blocker extension or application to eliminate annoying ads, banners and more. To this day, there are multiple sought-after AD blockers available for your choice:
1. AdBlock
Website: https://getadblock.com/
AdBlock is one of the most popular browser extensions available on Chrome, Firefox, Edge, Safari, iOS and Android. In addition to efficiently blocking all sorts of ADs, it can also be used to help protect your privacy by blocking trackers. Furthermore, you're allowed to create custom filters to improve your distraction-free Internet experience.

2. Adblock Plus
Website: https://adblockplus.org/
Despite the nearly identical names, Adblock Plus is unrelated to Adblock Plus. If anything, Adblock was developed after inspiration from Adblock Plus. Similarly, it can also be added on a wide range of mainstream web browsers. A list of filter subscriptions is maintained on the Adblock Plus official website, which is also applicable to AdBlock.

3. uBlock Origin
Website: https://ublockorigin.com/
uBlock Origin is another critically acclaimed browser extension available for several browsers, which is reported to be much less memory-intensive than other extensions. uBlock Origin has been acquired by AdBlock since 2018, but it is still actively developed and maintained by the original developer.

4. AdGuard
Website: https://adguard.com/
AdGuard covers both standalone application and extension that provide a one-stop solution to blocking pop-ups, ads, web tracking, obscene content, malware and phishing on Web browsers, Windows, Mac, Android and iOS. The products range from open-source, free to premium shareware. On balance, AdGuard does exactly what you want it to do.

The Second Step - Install OpenVideo Extension
The first step is supposed to make you get rid of most pop-ups and ads while surfing streaming sites. However, most streaming sites just act as the search engines, all media sources are hosted on third party services like StreamCloud, RapidVideo, StreamTape, GoUnlimited, etc., which come with native pop-ups and ads for earning money based on view counts. Even worse, some services adopt anti-Adblock script or system to force you to turn off AD blockers for normal playback. In this case, the OpenVideo extension would save you from the AD-filled mess.
OpenVideo is a heavenly good browser extension that creates a safe space on every video playing webpage. It comes with its own AD-free video player, which allows you to bypass all pop-ups, switch between resolutions, add subtitles, add player hotkeys, download video, enable picture-in-picture mode, etc. Now let's see how it works.
Step 1. Download and install OpenVideo to Chrome and Firefox through https://openvideo-streaming.github.io/. Based upon my experience, it's also available for Edge from Microsoft Edge Add-ons.

Step 2. Visit your frequently-used streaming site and find a movie, TV episode or anime, before you click the "Play" button which will produce more pop-ups and ADs, OpenVideo will detect the video stream hosted on the 3rd-party platform and show a number on the icon.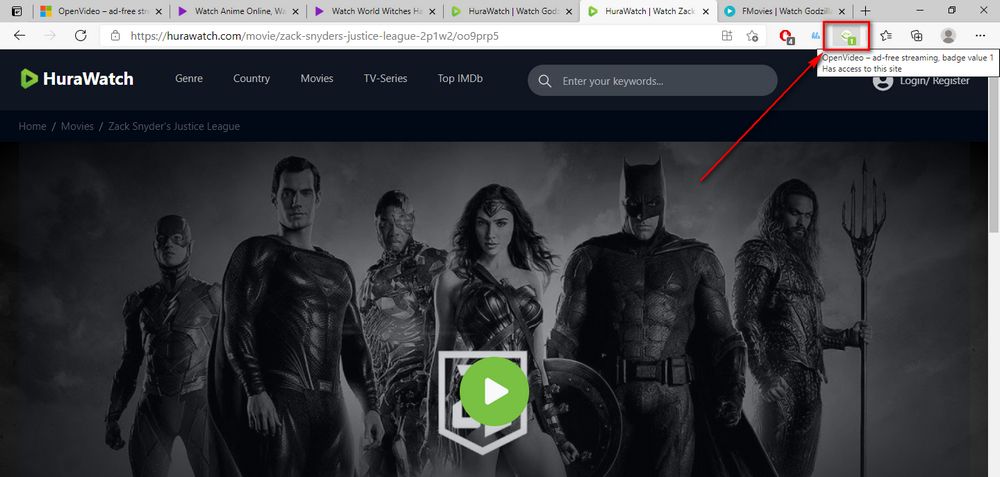 Step 3. Click the extension icon to replaces the video player of the most commonly used streaming sites with its own AD-free player for distraction-free streaming. It also allows you to slow down or speed up playback speed, add closed captions, download video, add favorites and more.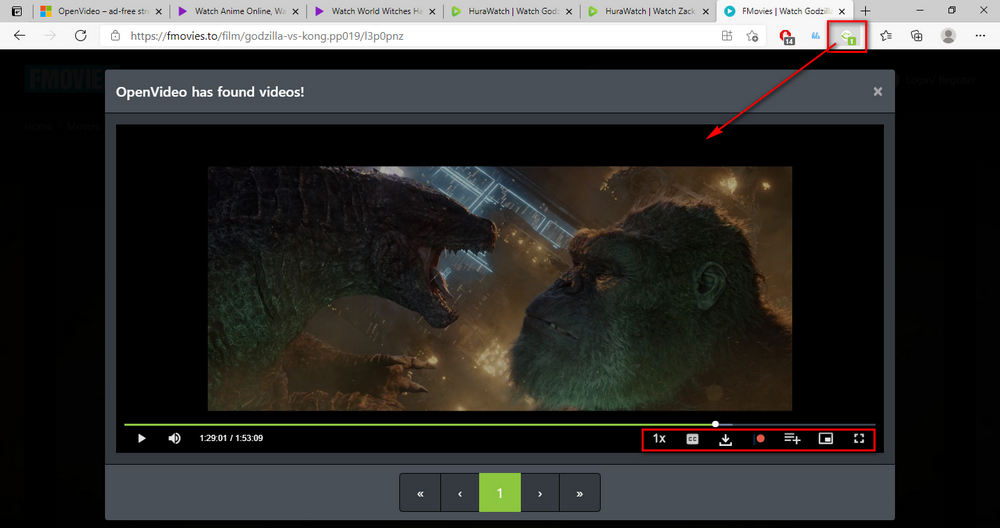 Warm Tips: Click the extension icon, select "Library" to open a new tab where you can add and bookmark frequently-visited streaming sites, check history and favorites, and even create playlists. Press "Options" and you'll see a list of common video streaming hosters, where all your preferred streaming content and whatnot are hosted. By default, all options have been enabled, which means, when OpenVideo detects videos stored on those platforms, you're able to watch the content in its AD-free player.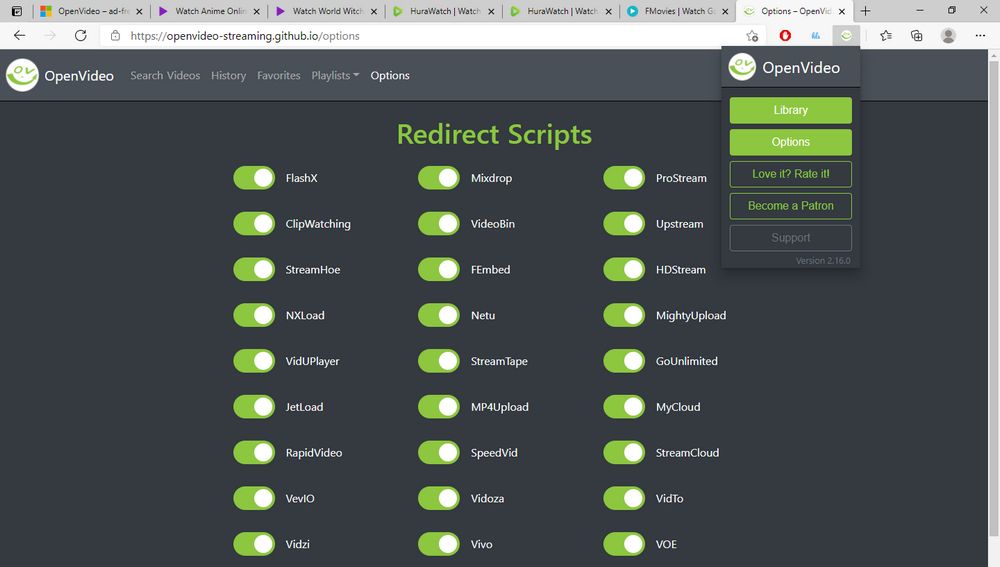 Final Words...
AD is the only source of income for the streaming website owners to run and maintain the free service, but it seems to become increasingly invasive to get people freaked out. Fortunately, this two-step approach can help you efficiently stop intrusive pop-up ADs and so-and-so. Just enjoy AD-free streaming comfortably. If this post deserves a positive thumbs-up or review, don't forget to share it via your social media.