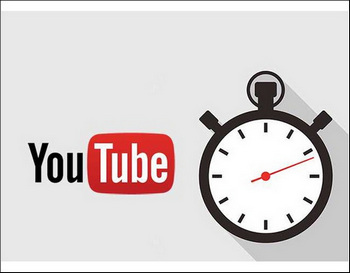 YouTube ads take times
YouTube lets you watch all kinds of content for free, but at the cost of watching ads as well. In order to provide a better viewing experience for users who prefer not to watch ads, YouTube created YouTube Premium, a monthly paid subscription service that allows you to watch (and even download) any video on YouTube without ads. However, YouTube Premium is not available in all countries and has a high monthly cost, so this article will discuss how to remove YouTube ads effectively for free.
Part 1: The Best Solution to Watch Videos on YouTube without Ads
You may have used some third-party plugins to remove YouTube ads, but this doesn't always work. Also, some ad blockers can cause unexpected YouTube errors such as YouTube not responding, YouTube video freezing, etc. To avoid these problems, downloading the YouTube videos you want to watch becomes the easiest way to remove YouTube ads.
By downloading YouTube videos, you can effectively remove YouTube ads. You just need a YouTube video downloader like Wonderfox Free HD Video Converter Factory. Its built-in YouTube downloader can quickly download any YouTube video in high quality. It also supports video editing by cropping and clipping. Thus, you can remove any advertisements from YouTube videos that you don't want to watch.
Free download and install the software to your PC. Then follow the next steps to download YouTube video to remove YouTube ads easily.
Note: We do not advocate downloading any copyrighted content for commercial purposes. The guide is only for personal fair use.
Download YouTube Videos and Remove the Ads
Step 1. Open the YouTube Downloader
Launch the program and open Downloader. Click the New Download button on the top bar to open a new window for preparation.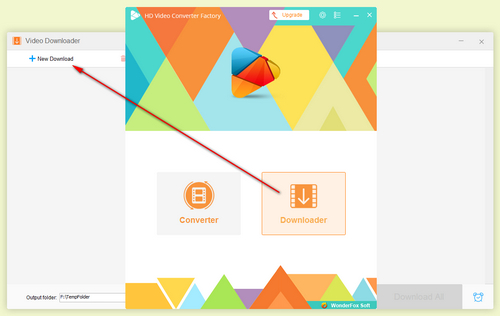 Download YouTube video
Step 2. Download YouTube Video to Remove Ads
Find the want YouTube video and copy the URL of this video from the browser address bar. Then go back to the software and press "Paste and Analyze" for video information analyzing. After a few seconds, all download options will appear. Select your preferred download option and click OK to add it to the download task. With the same steps, you can download multiple videos. Set an output folder and hit the Download All button.
YouTube no ads
That's all for downloading YouTube video. Now you can watch YouTube without ads completely. However, some videos will embed ads on the middle part and even some ads will appear on the videos as image, subtitles and so forth. If you happened to encounter with such YouTube ads, you can follow the next step.
Step 3 (Optional). Cut Ads from YouTube Video
After downloading the video, if you find that the video is embedded with ads, you can import the video and trim the needed parts out in Converter and then press Run to finish removing the unwanted parts. Then you'll get several video clips, just merge the clips by tapping the Merge bottom on the top bar, then click Run to finish the merging.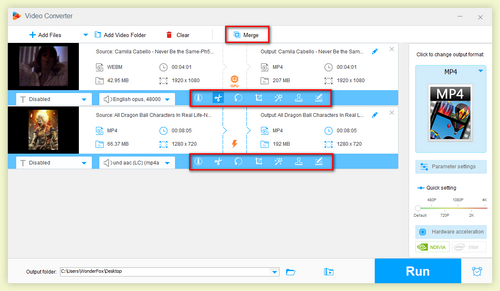 Remove ads from YouTube
In fact, most of ads will just play at the beginning when you watch video online, so downloading the videos can solve most all of the YouTube ads problem. Meanwhile, this program is not only work as YouTube ads remover but a powerful video converter, which can help you convert 300+ formats videos to the one you need, such as convert MP4 to AVI, MOV to MP4, and so on.
Additional Methods to Disable YouTube Ads
1.Install add-ons to remove YouTube ads
Various add-ons and browser extensions for removing YouTube ads are available. For no ads YouTube, many people are dazzled by those add-ons. There are some popular ads blockers for you.
Adblock: It is free to download and use. This add-on can stop the ads from being downloaded to your computer and makes pages load faster by preventing files from being downloaded automatically. What's more, it doesn't slow down the browser as it hardly occupys any memory.
Ghostery: A privacy and security browser extension that can protect blocking third-party tracking scripts that are used by websites to collect data on user behavior for advertising.
UBlock Origin: It's another efficient blocker like Adblock. It's said that uBlock uses significantly less resources than Adblock Plus. With fast speed and small occupation, it can help you block the ads effectively. However, comparing with ABP, this blocker can't do the whole things ABP do.
2.A trick on browser's developer console
A technical method can help you to watch YouTube without ads is using browser's developer console. When you watch YouTube video, open the developer console with the keyboard shortcuts.
Google Chrome: Ctrl-Shift-J
Firefox Mozilla: Ctrl-Shift-K
Internet Explorer: F12 and then click Console
Safiri: Ctrl-4
After opening the developer console, copy and paste the code and press enter.
"document.cookie="VISITOR_INFO1_LIVE=oKckVSqvaGw; path=/; domain=.youtube.com";window.location.reload();"
One fact is that this method can't work sometimes, and if you're the newbie of computer, it maybe takes you some times to figure the method out.
It's noticeable that there exist many limitations no matter you choose to install add-ons or writing script in developer console. And the two methods can't always be work. What's more, YouTube don't work because of some mistakes during trying the methods. So I really recommend you to download YouTube videos to avoiding the ads issue.
Now, please download the Free HD Video Converter Factory to complete your jobs.
More Special Features of Free HD Video Converter Factory
Downloading videos from main-stream websites, such as Facebook, Vimeo, CNN
Converting any video to various formats and hot devices
Compress videos at sharp speed without quality damage
Enhancing video by changing bit rate, frame rate, and resolution
Making personalized ringtone for your own smart phone
Extract audio from video with high quality