5 Flexible Ways to Minimize Size of Video
Now that you've come to this page, which means you are rummaging around for a credible video size minimizer, right? Then I bet the WonderFox HD Video Converter Factory Pro will completely fit the bill, which provides 5 different ways to minimize file size of video with great ease. Thanks to its clean interface and neat layout, minimizing video size has never been much easier than you might imagine. All operation steps are quite comprehensive and straightforward.
Free downloadFree download this versatile program and learn how to minimize video file size.
Step 1 - Import Large-sized Video Files
Install and launchInstall and launch WonderFox HD Video Converter Factory Pro, you'll be impressed by a colorful yet clean interface with five major modules embedded: "Converter", "Downloader", "Recorder", "GIF Maker" and "Toolbox".
To minimize size of video files, just open "Converter" module. Then click on "Add Files" or "Add Video Folder" button to import your large-sized videos. To make it easier, simply perform a drag-and-drop action.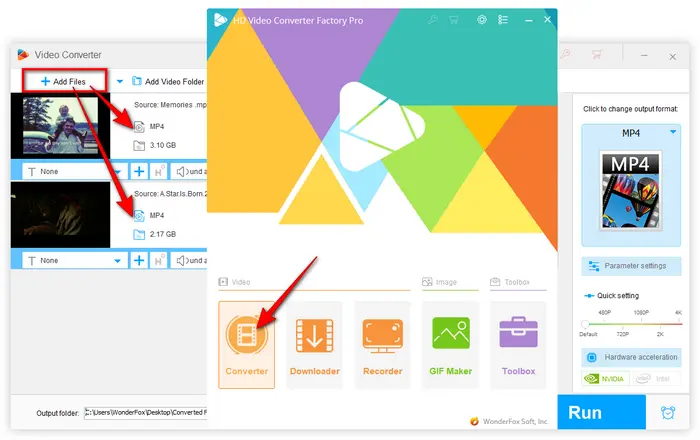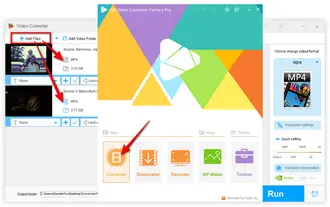 Step 2 - Determine a Way to Minimize Video File Size
Way 1 - Select Advanced Encoders to Minimize Size of Video File
Press the Format Profile on the right side to open a complete list of 500+ optimized presets, navigate to "Video" category and directly select "H265 for MP4", "H265 for MKV" or "VP9" profile.
As the successors to the well-known H.264 and VP8, HEVC/H.265 and VP9 are two advanced video compression standards that offer up to 50% better data compression at the same video quality level. This is the only credible method to minimize video file size without quality loss.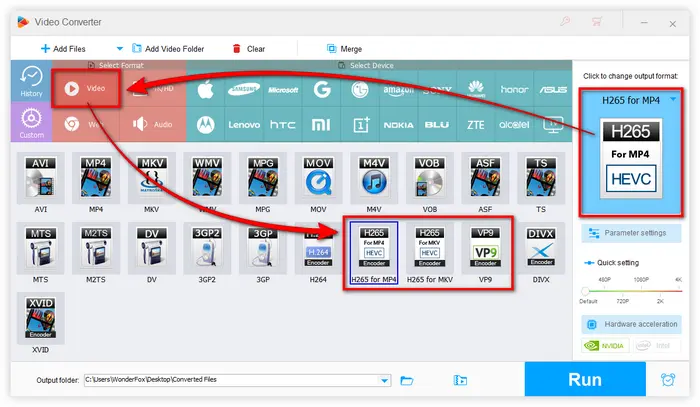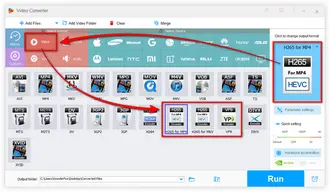 Way 2 - Lower Video Bit Rate to Minimize Size of Video File
Since video bit rate determines video file size and quality, you can choose to minimize the video file size by sacrificing a certain degree of video quality. So, after you select an output format, there are two options to decrease video bit rate:
1). Click on "Parameter settings" button underneath format profile, and you can lower the value of video bit rate or switch to VBR mode (Variable Bitrate).
2). Press the "Batch compression" icon next to the output folder on the bottom to activate "Compression Setting Bar". Once the icon becomes orange, drag the slider to the right side to increase the compression ratio.
Note: As this method refers to lossy compression, the smaller the file size, the lower the video quality. So, you have to keep the balance between the quality and file size.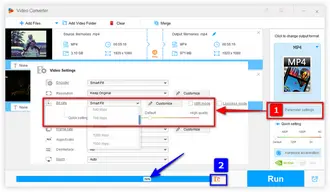 Way 3 - Downscale Video Resolution to Minimize Video File Size
Despite a fact that resolution doesn't determine the video quality, a higher resolution can accommodate a higher bitrate. Think about it, a video file produced with higher resolution like 1080p/2K/4K/8K typically has a better quality, because cameras always record video at a higher bit rate for the corresponding resolution.
When you select an output format, head over to the "Quick setting" bar underneath "Parameter settings" button, you can drag the slider to downscale 8K to 4K, 4K to 1080p, 4K to 2K, or 1080p to 720p for fast video size minimizing.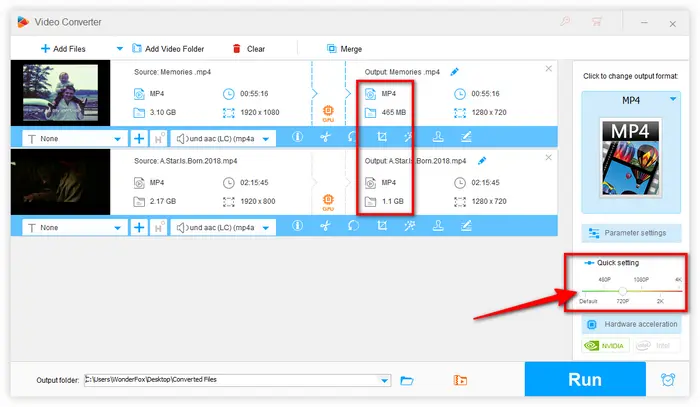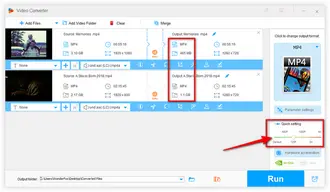 Way 4 - Reduce Video Frame Rate to Minimize Video File Size
Video frame rate, commonly expressed as "frames per second" or "FPS", can be used to measure the fluency of videos as it indicates how many complete images are displayed on-screen each second. High FPS values usually deliver smoother video playback. The higher the FPS of your video, the larger number of still images will be, the larger the video file will be.
So, if your video was shot in 60fps or higher, open "Parameter settings" window and change the frame rate to 24fps or 30fps to minimize file size of video to a large extent, which is fully adequate for general use.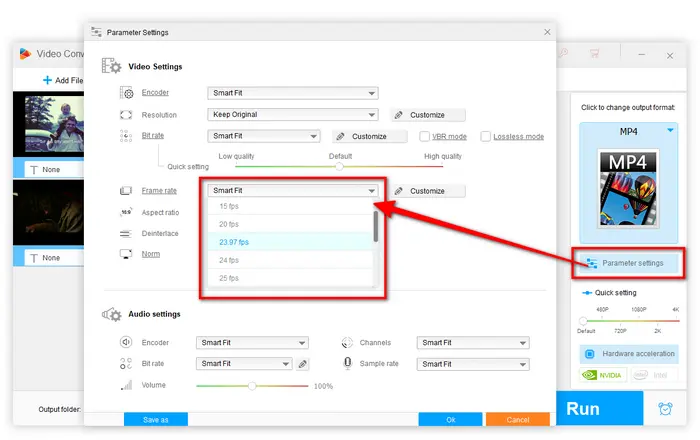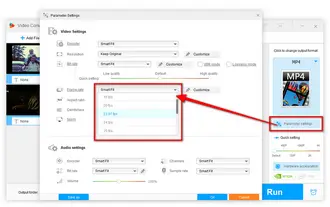 Way 5 - Trim Video File to Minimize Size of Video
Removing the unnecessary scenes in a video will minimize the video size greatly. Click "Scissors" icon on the toolbar to open "Trim" windows. Drag both sliders to split video into parts, or input start time and end time to make it accurate, then click OK. If needed, you can also combine multiple video clips into one later.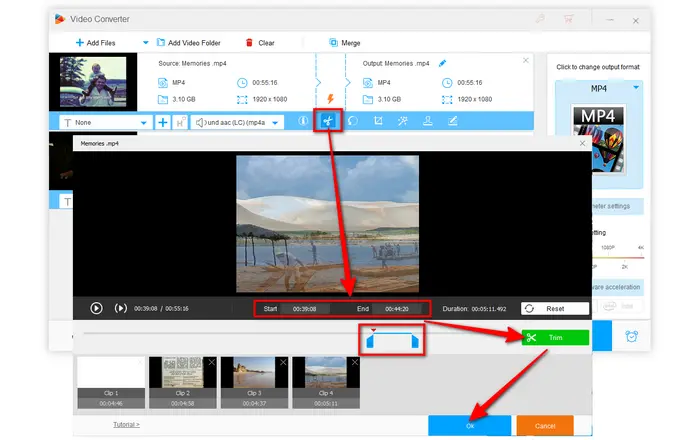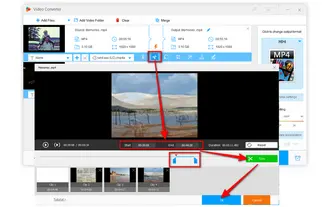 Step 3 - Minimize Size of Video File