Step 1. Import FLAC Music
First, you need to install the best FLAC to ALAC converter - HD Video Converter Factory Pro and then launch it. Select the "Converter" section and there is an "Add Files" in the upper left corner of the interface, clicking the button for import. And you can drag the FLAC file you want to convert to this interface. In addition, as you can see, you can also clip your audio. For example, many friends can directly clip the climax part of the music, and then make ring tones.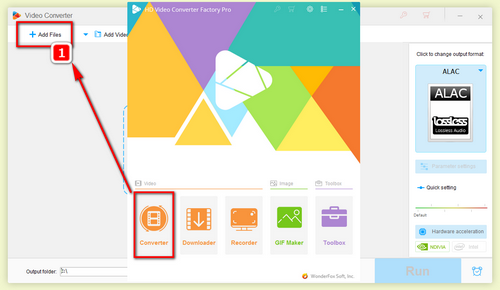 Import your FLAC file
Step 2. Choose ALAC as the Output Format
Click the "Output Format" on the right side of the interface, as shown, selecting ALAC in the pop-up interface. By the way, under the Audio Tab, you can not only convert FLAC files, you can also convert FLAC to WAV, or directly convert to iTunes and other formats.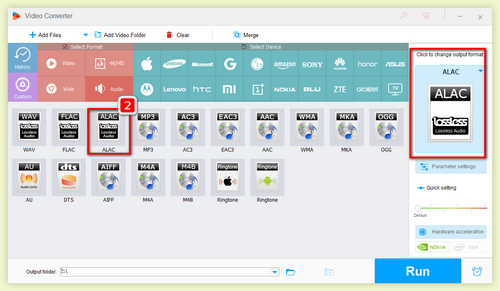 Select ALAC output format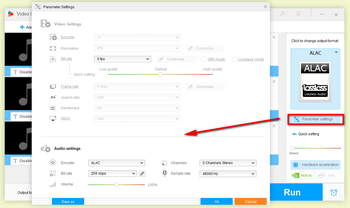 Change audio parameters
Tips: Before starting the conversion, for advanced users, you are allowed to change audio parameters. Open Parameter Settings Window, you can change audio bitrate, encoder, audio channel, sample rate and increase audio volume.
In addition, for the difference between FLAC and ALAC, MP3 and AAC, many friends are not very clear. Hence, I want to share the relevant knowledge with you.
① FLAC (Free Lossless Audio Codec) VS ALAC (Apple Lossless Audio Codec)
Both of two formats are lossless, open source, and of equal audio fidelity. FLAC can be supported by more devices and applications .And we all know that Apple devices cannot play FLAC.
② MP3 and AAC
MP3 and AAC are both lossy audio codecs. AAC uses a more advanced compression algorithm, and inclines to produce better fidelity at the same bit rate. AAC also supports more audio channels and higher sampling rates. By practice, 320 kb/s of MP3 and 256 kb/s of AAC are roughly the same in terms of sound quality. These two codecs apply to all modern devices. While MP3, because of its development time earlier, can also support the old equipment. By the way, some friends want to enjoy a better sound quality, and then you need to convert MP3 to AAC. Of course, there are some friends want to convert WAV to MP3 because WAV occupy too much memory. Besides, some friends asked if there was a way to convert FLAC to ALAC on Windows. I can be sure that there is no problem. Just install HD Video Converter Factory Pro, your needs will be satisfied.
Step1: Select "Downloader", copy and paste video .url.→ Step2: Click the Analyze → Step3: Click "Download" to start downloading videos