Common Situations When You Need to Cut Audio Files
1. Prefer certain part of favorite songs and want to keep them alone.
2. I just want to split few seconds from an audio extracted from YouTube video.
3. The interview of my idol was hilarious last night and I want to save her conversion as ring tone. Wooh!
4. Some chapters of audio book are so great, so I want to trim audios from it and share those with my friends.
And actually there are many more different reasons. We can type our needs in Google and choose exactly what we need, just like now, put "cut audio" or "split mp3 files" in search blank. Among these results, there are three ways I found that could helpful for users of different levels.
Method One: Cut Audio Online
To do it online is the simplest way to meet our needs, like to download YouTube video, to convert video free or the other way around, to merge audio. You may try this convenient site when you consider online solution: https://mp3cut.net/.
You can either click "Choose file" button or directly drag audio files therein for uploading audio.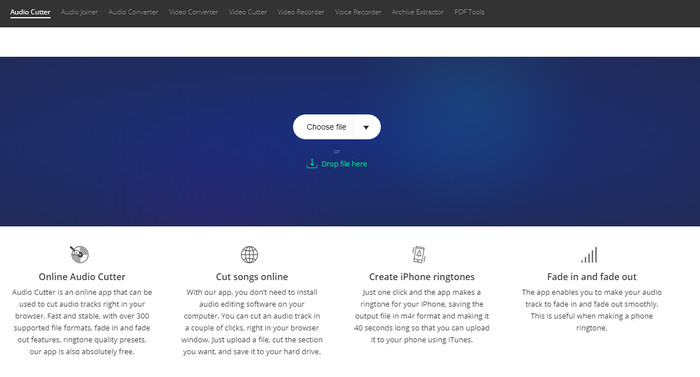 Easy operation interface
After you load music files, the interface will change, just like picture shown below. Click the triangle playbak button to play the audio. Drge the two blue vertical sliders to choose the start point and the end point of the section you want to preserve. Or you can fill in the accurate time.This free mp3 splitter always supports you to preview the selected part.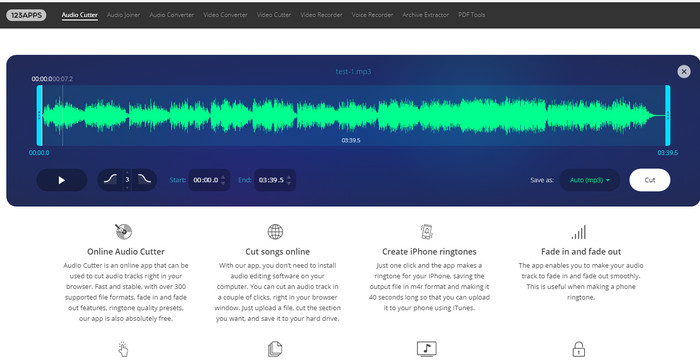 Choose audio part and cut it
Choose an output format. Mp3 is commonly selected and you may also save files as M4R to make iPhone ringtone. Click "Cut". This tool will trim audio for you automatically.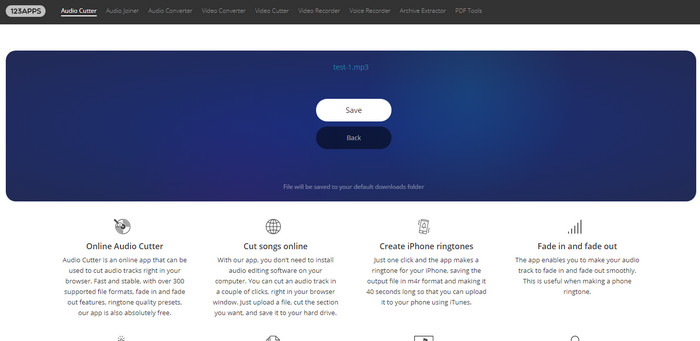 M4R can be used in iPhone and iPad
Then, click "Save" to download the cutted audio to your device.
This method is used to cut music when you don't have certain tools or applications installed on computer, simple and fast in one way, but on the other hand, disadvantages also include limited output audio format, uncertain network speed and risk of cracked browser.
Method Two: Cut Audios Simultaneously with Best MP3 Splitter
If you want to upload created music files to YouTube, or want to increase audio sound a little bit or playback created audio files in smart phone, most importantly, to trim audios by audio cutter equipped with batch cutting and conversion function. Then the HD Video Converter Factory Pro is your best choice.
Just download this tool and install it on your computer. Here is a simple guide of using it to cut mp3 files in batch mode.

HD Video Converter Factory Pro
A HD solution for your digtial life which supports video/audio conversion and editing in batch mode. It can cut, merge your files easily and it supports downloading/uploading video to online sites. Learn more >
Step 1 Add Files to Audio Cutter
Go to "Converter". On the Video Converter interface, add your music files or simply drag them into this tool. There's a scissor icon in every process bar.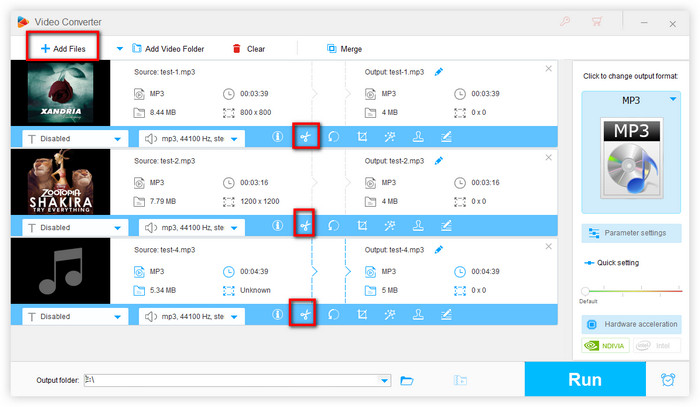 Freely add or remove your files
Step 2 Split Mp3 Files
Before you trim audio, these scissor icons are in blue background color, after clicking it, a pop window will show up. Now you just need to drag these two blue sliders to adjust the start and stop points of your music segment. Or you just type the precise time parameters to "Start Time" and "End Time" blank directly. Click "Split" to cut off the selected part.
Now, press OK button, just repeat process above to another audio. Through this, you can cut music files in batches. And background color of these scissor icons will be highlighted.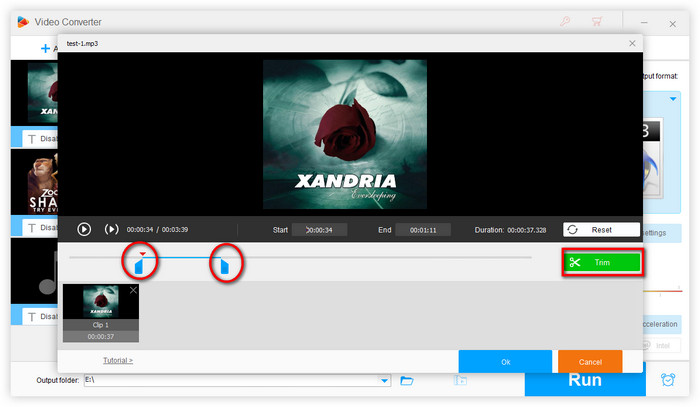 Freely adjust your start and end points
Step 3 Set Output Parameters
The HD Video Converter Factory Pro supports various output audio formats and common devices; you can set it based on your own needs.
Then, click the big blue button "Run" and start to cut audio clips in batches, the last thing to do is to press "Open Folder" to find your created audio files or you can set your own destination too!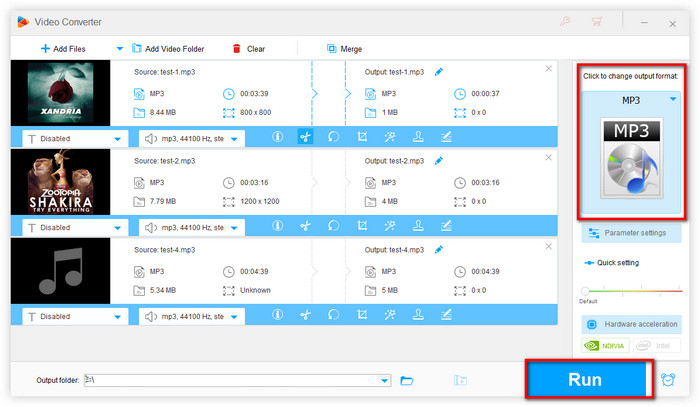 Cut music files in batches
Now all your favorite music clips are saved with this best mp3 splitter. More than a tool to cut sound or split mp3 files, the HD Video Converter Factory Pro is also a helpful HD video editing tool. It can help you shrink video file size and merge it to save your storage space, and more user-friendly features including cut video clip, upload video to YouTube etc.
Method Three: Cut Audio with VLC Player
If you have some installed software already, like VLC player, then this simple guide would give you some hints.
1 Open VLC player and add the song you want to cut.
2 Click on "View" (on VLC top menu) and Select "Advanced Controls". Once selected, the advanced controls will show at the bottom of VLC player (a red record icon).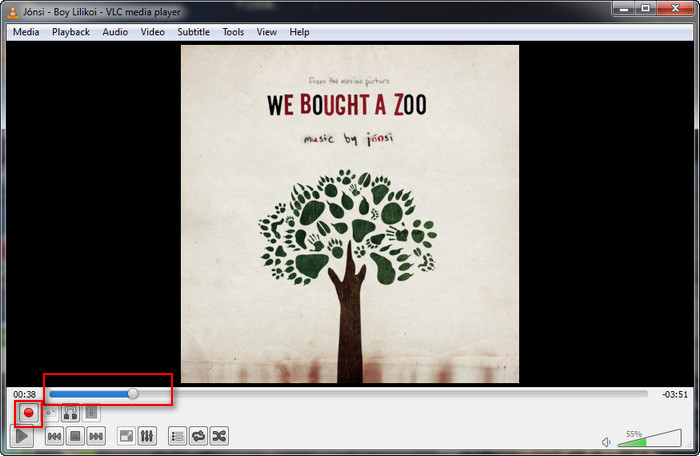 Song is recorded between two clicks on red record icon
3 You can select beginning point by dragging the slider. Click on red record icon to start recording.
4 To click the same red record icon again to stop recording. These created audio files are normally stored in C: Users\Your System Name\MyMusic or Music.
VLC player is most people's first choice because this player has many useful tricks for users, such as rotate video, increase video volume and add subtitles to videos etc. But it's not convenient when you need to convert audio files to certain format while cut sound in the same time. Furthermore, you can't move the slider bar; instead, you need to let the audio file playing because the setting of VLC is real time.
Sums up, I believe you can find the best way among the three methods suggested above; sometimes you just need to figure out by yourself. Hope this article would help you out.

Congrats, problem solved now! Why not keep the full-licensed program for
LIFETIME
at lowest price of the year now!
Still got question? Submit it to us and get answer within 24 hours.