Way 1. Cut Audio with the Best MP3 Splitter
For Windows users, there is a top-rated multimedia program called WonderFox HD Video Converter Factory Pro that can work as an excellent audio cutter to trim audio in Windows 10 and 11. It can cut audio of any format, length, and size. In addition, it can join audio files to make a new track. As a feature-rich program, you can also adjust the audio format, bitrate, channel, sample rate, and volume before export. And the export quality is pretty good.
Let me show you how to cut MP3 files with this audio cutter below. Free download the program to get started.

Best Audio Cutter for Windows
WonderFox HD Video Converter Factory Pro is the easiest and fastest program to cut audio files. It can split MP3 files, cut Ogg, cut audio from video, and so much more. No format, length, or size limit. Try the program now!
Step 1 Add Files to Audio Cutter
Open WonderFox HD Video Converter Factory Pro and go to "Converter." On the Video Converter interface, add your music files or simply drag them into this tool.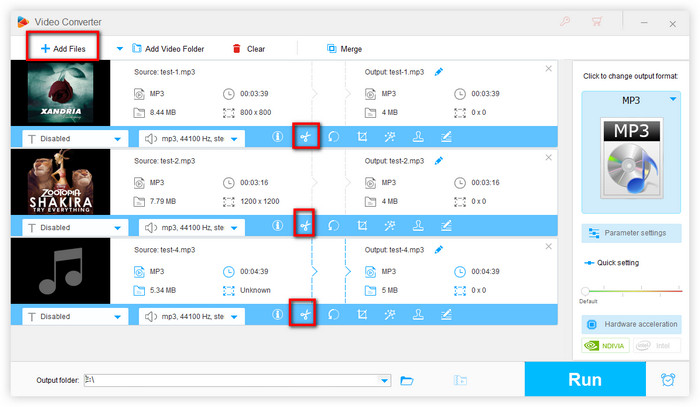 Freely add or remove your files
Step 2 Trim MP3 Files
Click the scissor-shaped icon and a new window will show up. Now you just need to drag these two blue sliders to adjust the start and stop points of your music segment. Or you just type the precise time parameters to "Start Time" and "End Time" blank directly. Click "Trim" to cut off the selected part.
Now, press OK button, just repeat process above to another audio. Through this, you can cut music files in batches.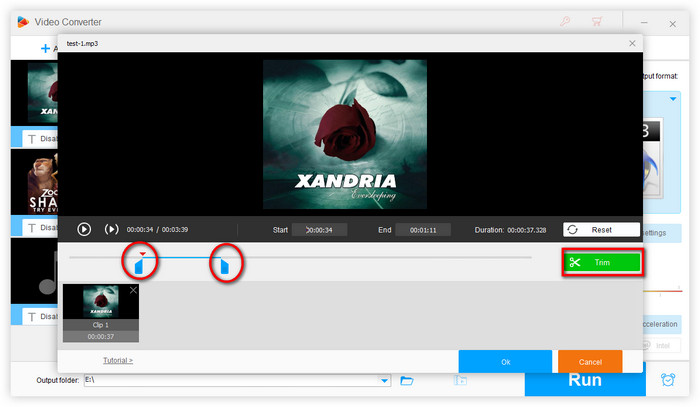 Freely adjust your start and end points
Step 3 Set Output Parameters
WonderFox HD Video Converter Factory Pro supports various output audio formats and common devices, you can set it based on your own needs. Just open the output format page on the right side and choose your preferred audio format.
Then, click the big blue button "Run" and start to cut audio clips.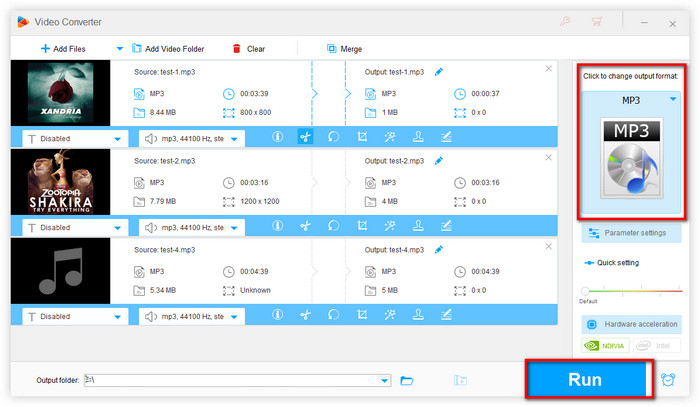 Cut music files in batches
Now all your favorite music clips are saved with this best MP3 trimmer. More than a tool to cut sound or split MP3 files, WonderFox HD Video Converter Factory Pro is also a helpful HD video editing tool. It can help you shrink video file size to save your storage space. More useful features including cut video clip, upload video to YouTube, screen recording, GIF making, etc. are available.
Way 2. Cut Audio Online
If you don't feel like downloading any audio cutter offline, you can try this convenient site https://mp3cut.net/ to cut audio online.
You can either click "Choose file" button or directly drag audio files therein for uploading audio.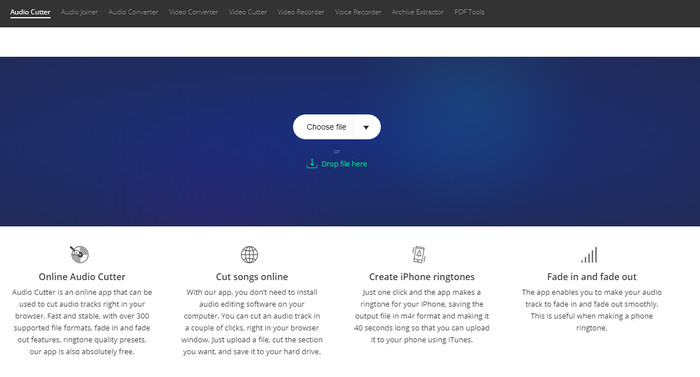 Easy operation interface
After you load music files, the interface will change, just like picture shown below. Click the triangle playback button to play the audio. Drag the two blue vertical sliders to choose the start point and the end point of the section you want to preserve. Or you can fill in the accurate time.This free mp3 splitter always allows you to preview the selected part.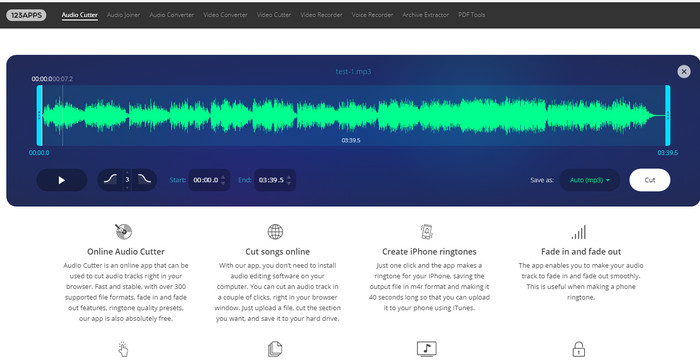 Choose audio part and cut it
Choose an output format. MP3 is commonly selected and you may also save files as M4R to make iPhone ringtone. Click "Cut". This tool will trim audio for you automatically.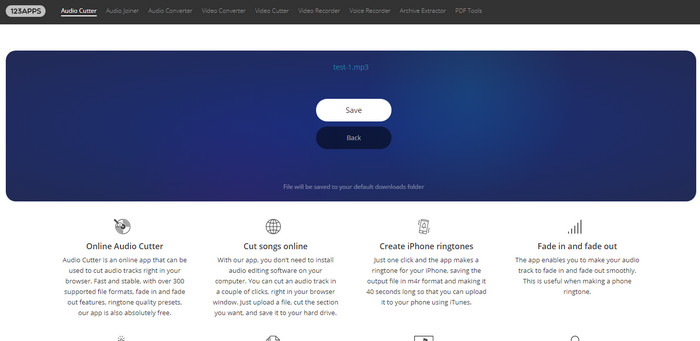 M4R can be used in iPhone and iPad
Then, click "Save" to download the cutted audio to your device.
This method is used to cut music when you don't have certain tools or applications installed on computer, simple and fast in one way, but on the other hand, there are disadvantages including limited output audio format, uncertain network speed and risk of cracked browser.
Way 3. Cut Audio with VLC Player
If you have VLC player installed on your computer, you can also take advantage of the app to trim audio as you like. Note, however, that VLC trims audio by recording the part of audio you want. Let's learn how to cut audio with VLC below.
1 Open VLC player and add the song you want to cut.
2 Click on "View" (on VLC top menu) and Select "Advanced Controls". Once selected, the advanced controls will show at the bottom of VLC player (a red record icon).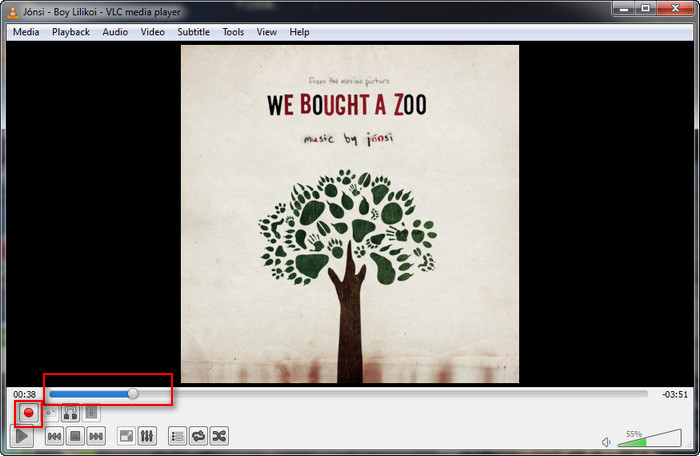 Song is recorded between two clicks on red record icon
3 You can select beginning point by dragging the slider. Click on red record icon to start recording.
4 To click the same red record icon again to stop recording. These created audio files are normally stored in C: Users\Your System Name\MyMusic or Music.
VLC player is most people's first choice because this player has many useful tricks for users, such as rotate video, increase video volume and add subtitles to videos etc. But it's not convenient when you need to convert audio files to certain format while cut sound in the same time. Furthermore, you can't move the slider bar; instead, you need to let the audio file playing because the setting of VLC is real time.
Sums up, I believe you can find the best way among the three methods suggested above; sometimes you just need to figure out by yourself. Hope this article would help you out.

Congrats, problem solved now! Why not keep the full-licensed program for
LIFETIME
at lowest price of the year now!
Still got question? Submit it to us and get answer within 24 hours.