For people who don't want to download and install any third-party software, some online audio editors are also accessible. Below are some well-received ones:
https://audiotrimmer.com/
https://inettools.net/audio/cut-mp3-music-or-song-direct-online-free
https://mp3cut.net/
http://mp3cutter.toolur.com/ (DOWN)
Here, we take Audio Trimmer as an example to explain how to crop audio online.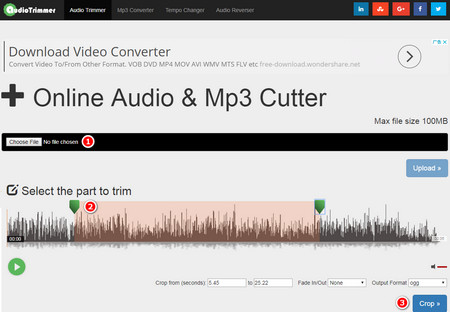 How to Crop Songs Online
Step 1: Visit Audio Trimmer official site: https://audiotrimmer.com/
Step 2: Click "Choose File" to upload your music file. Then drag the handles to define the part you want to crop. Fine tune your selection using your keyboard's arrow keys or input boxes above.
Step 3: Once the music meets your needs, click on "Crop"!
Also see: Extract Audio from Video Online | Top 5 Free Online Audio Compressors
Audio Trimmer only supports audio files below 100MB. Besides, compared to desktop software, online programs often cover a lot of advertising. Please pay attention to cyber security to avoid loss.