EZGIF.COM is an online tool I frequently use to make refinements to my GIF. It is free and easy to use and has a tutorial of each feature on the bottom of the webpage. The following are the detailed steps on how to overlay image on GIF.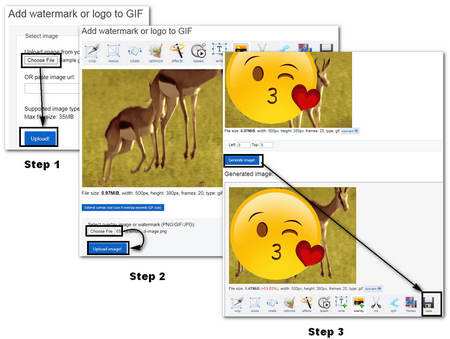 Step 1. Visit https://ezgif.com/overlay, and click "Choose file" or "paste image URL" and then hit "Upload!" to import GIF into the website.
Step 2. After the page refreshed, click the "Choose file" to select the image and "Upload image!".
Note: The image could be still or moving.
Step 3. After the second refresh, there will appear a GIF for you to preview the output effect. You can only change the position but not the size or any other parameters of the image. When you are done with the image, hit "Generate image!" to combine image to GIF. Finally, click "save" on the rightmost of the bottom menu to download it to your local folder.