DVD-playing is a default feature on most laptops, and many people like to watch DVDs on laptops in their free time. Yet, some ASUS laptop users find their computers not playing DVDs as expected. If you are experiencing one such problem on your ASUS laptop, read the following causes and fixes to the ASUS laptop won't play DVDs issue to find the possible solution.
There are four parts to playing a DVD on a laptop. Generally, a DVD, a DVD drive, a DVD player, and of course the laptop itself is required to complete the DVD playback process. If there is a problem with any of these four parts, it will cause the DVD to fail to play. Below we have analyzed how different parts can cause "DVD won't play on ASUS laptop".
1. Scratched DVD/DVD in Different Region Code
A scratched DVD is a rare but possible cause for your DVD playing failure. Due to improper DVD preservation, such as handling the disc without cleaning hands, your DVD may have gone through some minor damages on the surface. And DVD player can hence only partially read or cannot read the disc at all. You can see How to Fix a Scratched DVD for solutions.
If your DVD is purchased from abroad, the encrypted DVD region code could also be the reason why your ASUS laptop won't play the DVD. Most commercial DVDs contain region code to prevent playback in foreign regions. That your ASUS DVD player isn't from the same region the DVD is produced can lead to failed DVD playing. To play this kind of DVD, you can remove the DVD region code with a DVD decryptor.
Jump to #Solution 4 to decrypt DVD and make DVD digital copies for smooth viewing on ASUS laptop error-free.
2. ASUS Laptop DVD Drive Not Working
If the DVD drive of the ASUS laptop is not working properly, the DVD won't play too. To see whether the problem comes from your DVD drive, insert your DVD into the DVD-ROM and see if it can get recognized by the computer. Next, right-click on your device to open "Properties" > "Device Manager." Then expand the "DVD/CD-ROM Drives" menu. If you see a yellow exclamation mark beside the device, your DVD drive is not functioning well.
You can try to solve the problem by restoring or updating the system and see if the DVD drive works. If not, it could be a physical hardware problem and you should consider replacing the CD/DVD drive.
3. ASUS DVD Player Not Working
This complaint comes mostly from Windows 10 users who had just transited from Windows 7.  These users might have used the default Windows Media Player on Windows 7 to play their DVDs and would naturally think that Windows Media Player on Windows 10 can also play the DVDs. But unfortunately, that's not true. Windows 10 no longer supports DVD playback natively. You have to buy Windows DVD Player app from Microsoft Store to play DVDs on Windows 10 or switch to other DVD players.
4. ASUS Laptop System Issue
The ASUS laptop system environment could also be the culprit. There could be many programs running in background and hence making the computer too slow to read your DVD. There could also be a system bug that's causing the trouble. Try to kill the unnecessary software when you want to play DVDs or update the system to fix potential bugs.
We have found four general fixes to the ASUS laptop won't play DVDs problem below.
Step 1. Click on the Start menu and open the Settings.
Step 2. Open Update & Security.
Step 3. Go to Troubleshoot and run the Playing Audio and Video Playback troubleshooters.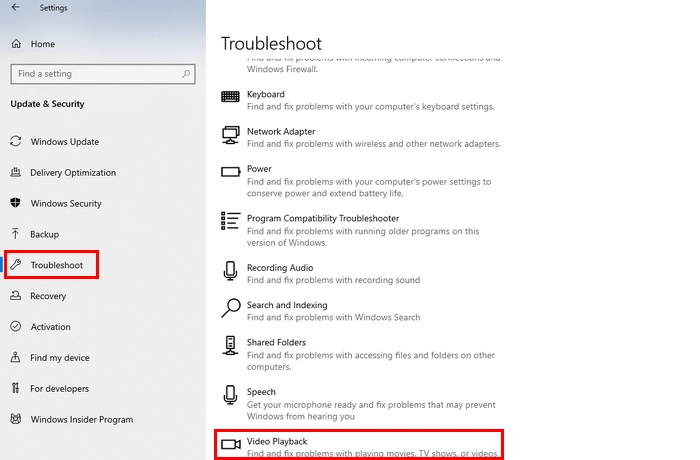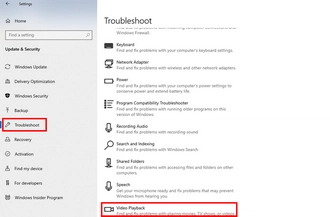 Step 1. Click Start > Settings.
Step 2. Click Start > Settings.
Step 3. Click Check for updates. When the updates are available, click Download to install.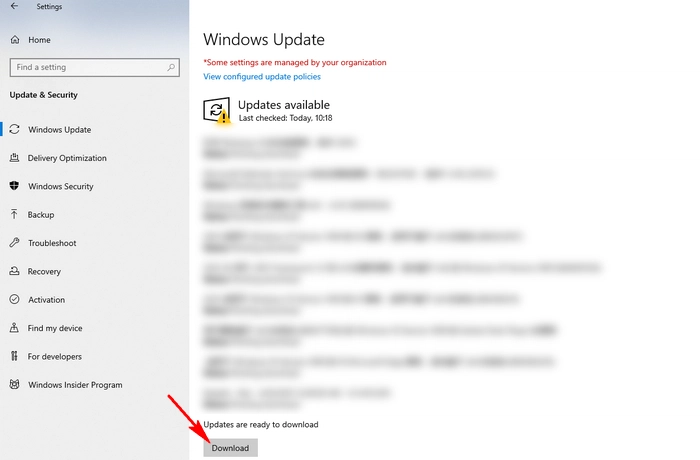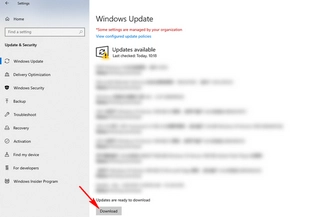 Some free DVD players, such as VLC, GOM Player, and PotPlayer, can play DVDs regardless of region code and copy protection. Taking VLC as an example. The following steps show you how to play a DVD in VLC.
Step 1. Insert DVD into your computer's DVD drive and then open VLC.
Step 2. On the top menu bar, click Media > Open Disc… (Or press "Ctrl + D")
Step 3. Click Browse to select the DVD path.
Step 4. Hit Play and enjoy the DVD.