How to play DVDs on Windows 10? That might be a serious question with the maturity of region code and copyright encryption technique and the leaving of Windows Media Centre. But don't worry, WonderFox DVD Video Converter is able to remove any kind of region codes and decrypt DVDs made by Disney, Warner, Paramount and all those famous film companies you ever know at a fast speed in the most efficient and convenient way, and also, DVC itself is an media player which can help you play DVD discs. Windows 10 will not play DVD? No, you just didn't find the right way.

by Michael
What Has Windows 10 Brought Us
As we all know Windows 10 is the latest generation of cross-platform operating system developed by Microsoft as the last independent version of Windows series. Windows 10 has given us quite a lot convenience such as the access to play Xbox games, Cortana Intelligent voice assistant and the brand-new Spartan browser which take IE' place. However, it also brings us some problems and inconvenience for example the incompatibility with some pc games and the " Windows 10 can't play DVD " issue. This article will mainly discuss and find the solution to the latter one.
How to Play DVDs on Windows 10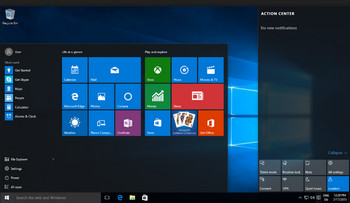 Windows 10 operating system
Windows 10 has removed Windows media centre which means users can no longer play their DVDs on a computer under Win 10 system. WonderFox DVD Video Converter is not just as its name tells us, a video converter, but also a digital player helping you play DVD Videos without any quality loss. But this is not its main function and here comes another more significant character - decoding dvd files on Windows 10.
Many famous movie maker such as Sony, Warner and Paramount use a series protection and encryption techniques just like CSS to protect their copyright
and the aspects of a release of movies and make sure their DVDs run the way they want. So if your Windows 10 still can't play DVD after having installed VLC ( if you don't want to play it on WonderFox DVC ) or similar media players that might be caused by DVD encryption. WonderFox DVD Video Converter, as the best Windows 10 DVD Ripper, are always glad to deal with those strict encrypted tough ones at a fast speed with 0% quality loss
Free download the multifunctional DVD Ripper under Window 10.
Windows 10 Cannot Play DVD? Here Is A Guidance to Handle the Windows 10 DVD Issue Within 3 Steps
Step 1
Launch WonderFox DVC and you will see a pretty brief interface with clear instructions. On the top, you can see two words "Load DVD". Needless to say, click on it to choose your DVD files and then click on " Ok " to begin the preparation before conversion.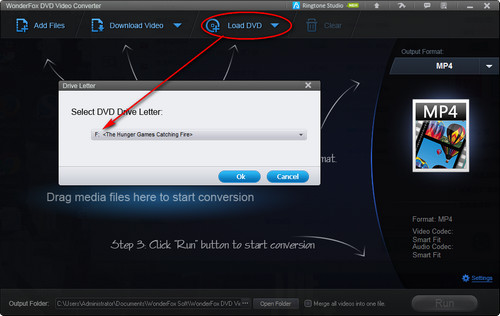 Input a DVD file
Step 2
After loading, you will see a list of videos on the interface. The one labelled as "Main Movie" is your target. Go to the right side, click below "Output Format" and next, in the open page you will see rows of format icons. Choose the video section and click on MP4 ( for it's a format supported by most media players ) .
Tips: You can also convert DVD to PS4, Android, Apple and other common formats.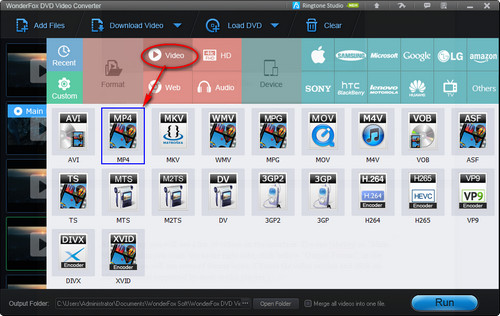 Choose the format you need
Step 3
Click "Run" to launch the ripping process. Be patient and wait for less than 20 minutes before a 10GB movie gets totally converted.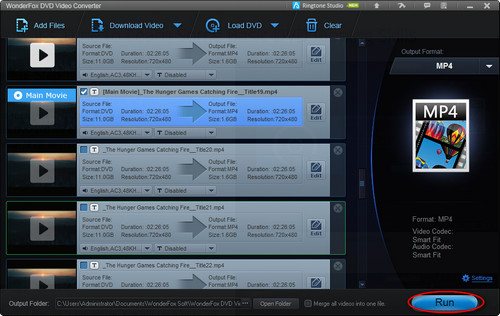 Starting ripping process
Secondary Functions of WonderFox DVD Video Converter
A Flexible Video Editor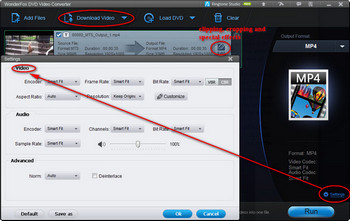 Video Editor
Now, since, you' ve already get the answer of "what if Windows 10 won't play dvd" from this powerful product , I have something more special to share with you about its unique functions. This time I am going to briefly introduce two secondary ones of them.
First of all, it is the inner editor. Similar to the ripping process above, add your video files from your folders then click on the Settings on the lower right side of the interface to open a page of various parameters where there exist options of resolution, frame rate, bit rate and aspect ratio. Customize and preset the parameters to meet your own demands.
Changing the frame rate to 60fps to make the video run more smoothly or improving video quality by changing the resolution from 720p to 1080p for higher definition. ( Clipping, cropping and special effects can be found in Edit and subtitle option can be found in "T" beside Edit )
Secondly, WonderFox DVD Video Converter can also be used to download DVD moviesd from YouTube, FC2, Twitch and most of the mainstream video websites, at a fast speed and with more than 50% higher compression rate. On the top of the interface you can find the icon of "Download Video" ( You can download up to 10 videos simultaneously ).
Now, please download the DVD Video Converter to complete your jobs.
Conclusion on the Functions of WonderFox DVD Video Converter
Acting as a powerful Ripper able to decode any DVDs fast and safely
Performing as an excellent DVD Player with high-quality output.
It is a simple but practical video editor to customize your own video settings.
A Ringtone maker to create enchanting phone rings.
A Video Compressor to save space for your storage.
Freely download videos from YouTube and other websites.
Converting your videos to more than 300 formats and codecs.