1. Converting 1080p to 720p Is a Doddle
Actually, 720p is fully adequate for our daily life at the present stage if you don't have special needs. So, how to convert 1080p to 720p? Luckily, without any technical knowledge, a versatile, foolproof yet powerful 1080p to 720p converter - WonderFox HD Video Converter Factory Pro should be your ideal choice. It features strong ability to help you not only convert 1080p video to 720p, but also compress 4K/8K video to 1080p, 720p, 480p and so forth for compress video file size or upscale SD video to HD/4K with imperceptible quality loss in 50X faster conversion speed.
Free download and install this program on your PC, then follow the guides below to convert video from 1080p to 720p.

Let's Start the 1080p to 720p Conversion
WonderFox HD Video Converter Factory Pro offers a straightforward and fast solution 1080p-to-720p conversion. The batch mode and GPU acceleration support will save you lots of time and energy. Visit Product Page >
Step 1 - Load 1080p Video Files
Open this 1080p to 720p video converter, click on Converter on the interface and enter a new window, import 1080p videos through "Add Files" or a simple drag-and-drop. This program supports batch processing to downsize video.
Tips: You are able to download 1080P YouTube videos, download 4K/8K/360-degree/VR movie/music videos by opening "Downloader" module.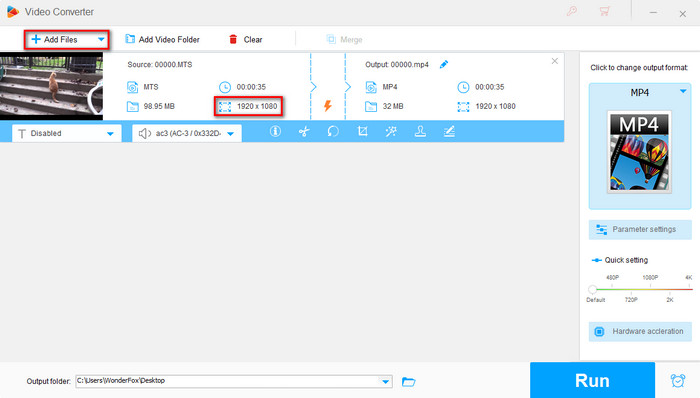 Import 1080p videos
Step 2 - Pick out Output Format
Open the Output Format list on the right, choose any format as you wish. The built-in 500+ optimized presets offer you a great convenience for avoiding complicated terms and operation. For instance, you can directly convert to HEVC/H.265 video, VP9 video, HTML5 video.
Tips. If you want to reduce video size greatly, H.265 for MP4 is the best output format.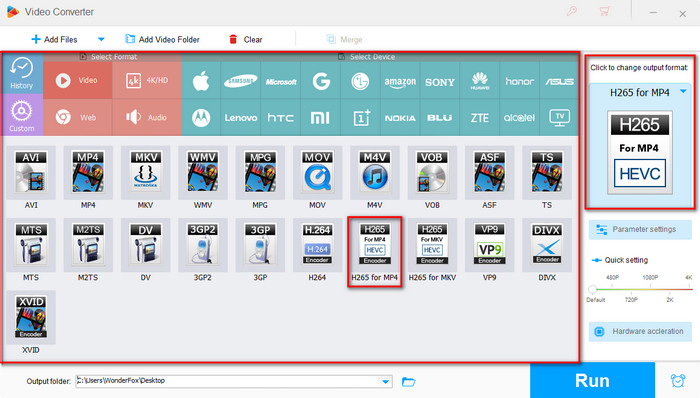 Select Output Format as You Wish
Step 3 - Change Resolution from 1080p to 720p
Drag the slider along resolution bar underneath the Format Profile to downscale resolution to 720p, or click "Parameter settings" button to change resolution on the new pop-up window or customize your desired value directly.
Optional: Here you can also change aspect ratio, change frame rate, encoder, bit rate, boost volume, deinterlace video, etc.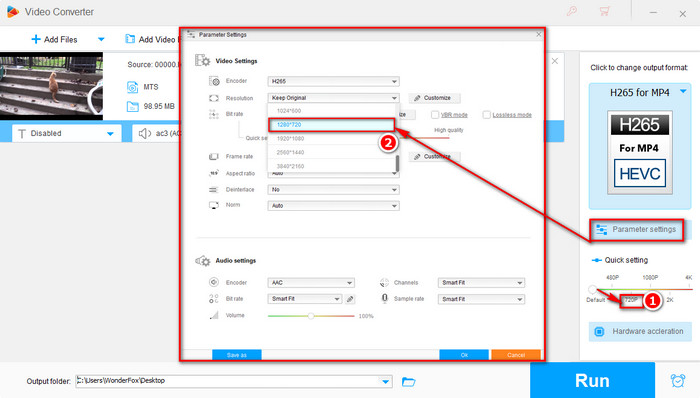 Set Resolution to 720p
Step 4 - Start to Downscale 1080p to 720p
Set output folder and hit Run button to start conversion. The whole process will be complete within the shortest time.
Amazing? Free download and install this handy 1080p to 720p converter on your PC for a rainy day. Meanwhile, it can also bring you more practical features and surprises!
2. The Merits of Converting 1080p to 720p
Along with the continuous advancement of technology, people never stop their footsteps in the pursuit of High Definition. When I was a kid, people had a vague idea about video resolution, only a small handful of them deliberately concerned 360p or 480p. Up to this day, although hardware is still immature and cannot keep pace with development, 4K and 8K resolution have already been put on the agenda. And more and more innovative high-definition devices are emerging in an endless stream. It is an undeniable fact that the mainstream video resolution are still 1080p and 720p at present. By contrast, most people are more willing to convert 1080p video to 720p. Why? Let's make a simple analysis.

HD Video Converter Factory Pro
HD Video Converter Factory Pro is an outstanding 1080p to 720p converter, and also offers the simple and useful HD encoding solution for you to convert videos to 500+ formats. Visit Product Page >
720p is the minimum standard for HD at a resolution of 1280x720 pixels, while 1080p represents Full HD video quality at a resolution of 1920x1080 pixels. There is no doubt 1080p offers you richer and more well defined viewing experience, but there are still some major benefits for using 720p.
Reason 1 - Downsize 1080p Video to 720p for Saving Space
Actually, you are not able to distinguish the difference between 1080p and 720p if you don't have a large screen and a sufficiently viewing distant. Since people are always watching videos & movies on mobile and handheld devices, why not downsize 1080p video to 720p to save more space?
Reason 2 - Compress 1080p Video to 720p for Easy Streaming and Uploading
Streaming 720p video over the Internet will be twice faster than 1080p as well as uploading to YouTube, FaceBook, Google Drive or other sharing sites. It will save your bandwidth and storage.
Reason 3 - Convert 1080p Video to 720p for Better Compatibility and Smooth Playback
You'll always experience 1080p video lag or audio out of sync issue, even the incompatibility error on old-fashioned devices. Conversely, 720p video has a better performance.

Congrats, problem solved now! Why not keep the full-licensed program for
LIFETIME
at lowest price now!
Still got question? Submit it to us and get answer within 24 hours.