Developed by Microsoft and IBM, WAV (WAVE) is a widely-used audio file format for storing audio bitstreams on computers. It's used for raw and uncompressed audio files and has been a standard computer audio format for system and game sounds, radio broadcasting, etc. The WAV file has good compatibility and is supported by most audio players. Here I've picked 6 best WAV player Windows 10 to help you play WAV files. Read on for more info.
* Unable to play WAV audio files on Windows 10? Try this powerful audio converter to repair your WAV file or convert WAV to other Windows-compatible audio formats for smooth playback: WonderFox HD Video Converter Factory Pro
The 6 Best WAV Players for Windows 10
1. Windows Media Player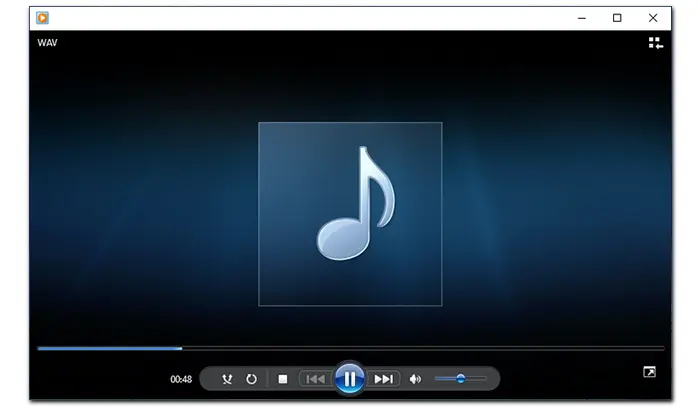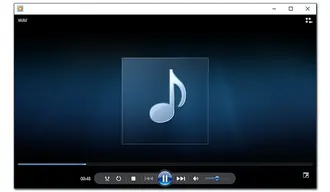 Windows Media Player is the default WAV file player for Windows 10/11/8.1/8/7. It's the first application developed by Microsoft to play audio and video on personal computers. Besides WAV, it supports MP3, FLAC, M4A, AAC, WMA, OGG, MP4, WMV, MOV, MPEG, etc. Apart from playing audio and video files, Windows Media Player can trim audio, cut, crop, and loop videos, convert WAV to MP3, play and rip DVDs, copy or burn audio CDs, and more.
The interface of the WAV player Windows 10 is simple and it's easy to use. During the music playback, it can also show visualizations. But there's no volume normalizing for audio playback in the player.
2. VLC Media Player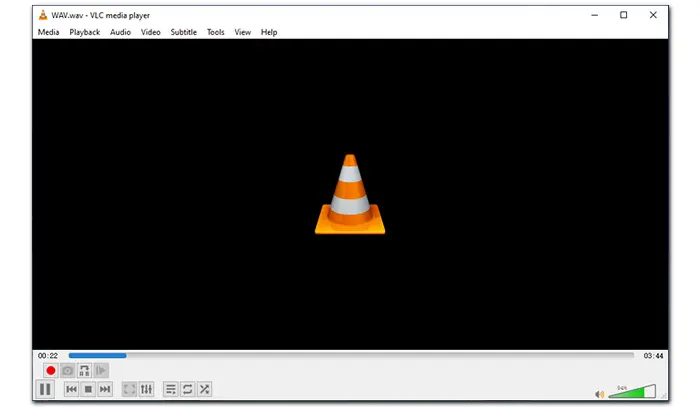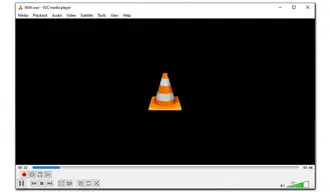 Official website: https://www.videolan.org/vlc/download-windows.html
VLC is one of the most popular media players for Windows and other operating systems. It supports a wide range of input formats, e.g. WAV, DTS, AAC, AC3, MP3, FLAC, Raw Audio, MKV, MP4, AVI, ASF, MIDI, Raw DV, VOB, DVD, Blu-ray, Audio CD, VCD, and so on. This WAV file player Windows 10 allows you to play multiple files at once on your computer. It also provides a simple user interface and additional features like converting audio and video, editing video, recording video, adding subtitles, effects, and filters, and ripping DVD to a digital video.
Since VLC Media Player is available on multiple platforms, it can also work as a good WAV player for MAC and Linux.
3. Audacity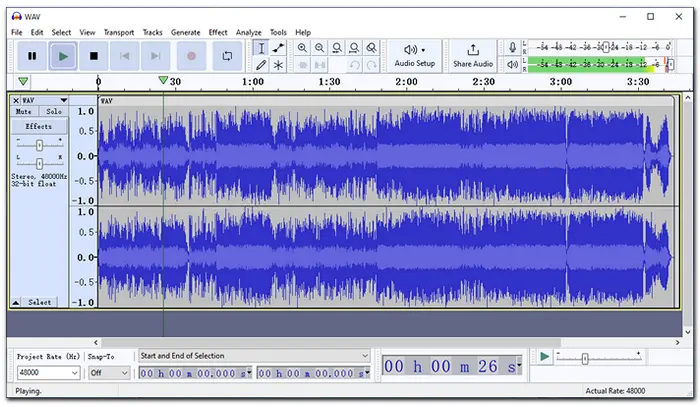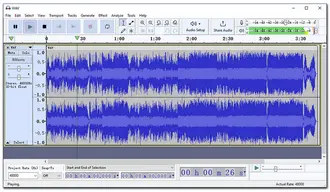 Official website: https://www.audacityteam.org/
Another top-rated WAV player Windows 10 is Audacity. It's an open-source and cross-platform audio program that lets you record live audio, record computer playback on Windows, convert tapes to digital recordings or CDs, play and edit WAV, AIFF, FLAC, MP2, MP3, and Ogg Vorbis sound files, and more.
As you can see, the interface of Audacity is more complex than Windows Media Player or VLC. If you are not familiar with this program, it's a bit hard to operate. Moreover, it's not convenient to move the playback progress bar. But for experienced users, Audacity is a good choice for recording high-quality WAV files on Windows 10.
4. Winamp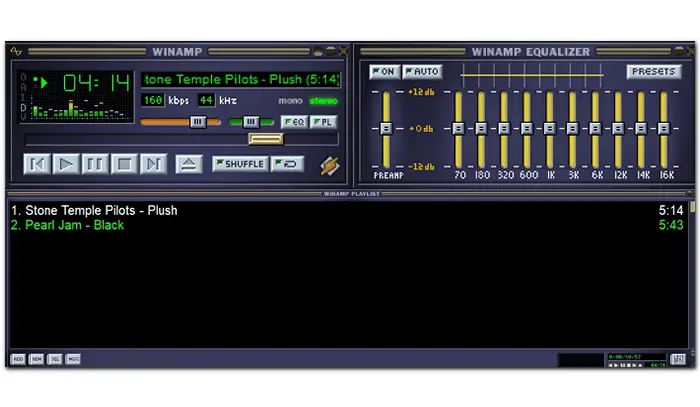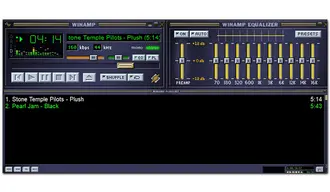 Official website: https://www.winamp.com/downloads/
Winamp is a free WAV file player Windows 10. Apart from WAV, it can play other music files in MP3, WMA, FLAC, MIDI, and MOD formats. It enables you to enjoy all your music, such as audiobooks, podcasts, and radio, in one place, and customize your listening experience by adjusting the sound filters. Music visualization, playlist creation, plug-ins, skins, and media library are also available. Moreover, the Winamp Player can stream and download audio files, allows you to add album art to WAV files, edit ID2 and ID3 metadata, and more. You can download the freeware to explore more details by yourself.
5. Final Media Player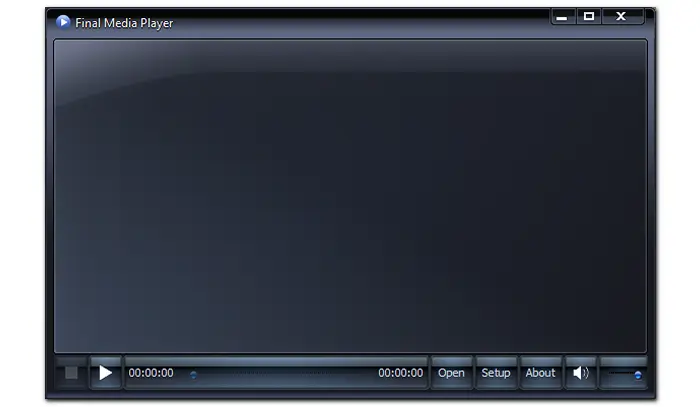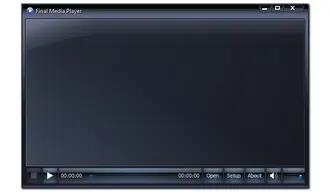 Official website: https://www.finalmediaplayer.com/index.html
Final File Player is an excellent WAV player Windows 10, 8, 7, Vista, and XP. It supports 40+ audio file formats, including WAV, AAC, AC3, APE, AU, FLAC, EAC3, MP3, WMA, OGG, OPUS, RM, RA, W64, etc. Video files like MP4, FLAV, MKV, MOV, MPEG, and VOB are also supported. In addition to playing audio and video files, this software can help you solve the "Windows can't open this file" error without installing third-party software or codecs (which enable the support for a particular type of file you want to play). It's free and powerful.
6. MusicBee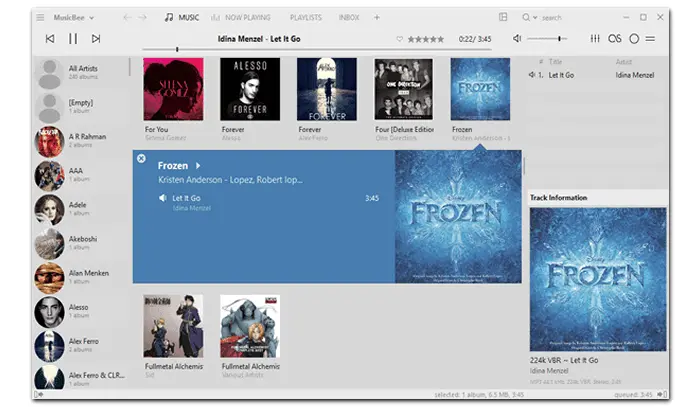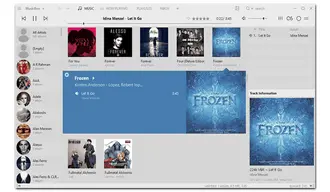 Official website: https://www.getmusicbee.com/
MusicBee is the ultimate music manager and player for Windows. It can turn your computer into a music jukebox and clean up your messy music library through auto-tagging to bring you a great music listening experience. As a powerful WAV file player Windows 10, it's capable of playing WAV, MP3, FLAC, M4A, AAC, OGG, WMA, and other audio files without a hitch. Whether you play your music on an audiophile or a laptop, MusicBee can fulfill all your needs with comprehensive features. Also, it lets you sync music from various devices to your computer and rip audio CDs. It offers an easy way to manage music files on your computer.
Extra Tips: Searching "WAV file player for Windows 10" on your browser, you may find some online audio players like FIleProInfo. Visiting the site, you'll find it not helpful. There are too many ads on the interface, and it's slow to upload a WAV file or even fails to play. Therefore, online playback tools are not recommended. You'd better not upload any private files online for privacy security.
Wrap-up
This article shares the best WAV player for Windows 10 with their main features. Generally, you can play WAV files on Windows 10 with the built-in Windows Media Player. If you encounter WAV playback issues in the default player, you can turn to other 3rd players introduced in the post or fix the incompatibility problem with WonderFox HD Video Converter Factory Pro. This software can also help you increase WAV bitrate and sample rate for better sound quality.
Get it free download on your PC:
https://www.videoconverterfactory.com/download/hd-video-converter-pro.exehd-video-converter-pro.exe