And for those who have a bunch of videos that break the Tumblr limits, you can upload them to YouTube, Vimeo or other video sharing sites first. Then you can share them on your Tumblr blog. And the methods are as follows:

Repost the Large Video to Tumblr from YouTube
Method 1: Repost the video from the video sharing site
If you have uploaded your large videos to YouTube and then you can repost them on your Tumblr page easily. There's a share button on the YouTube video page, click it and choose to share to Tumblr.
If you have posted the videos to other video sharing sites, just follow the same way.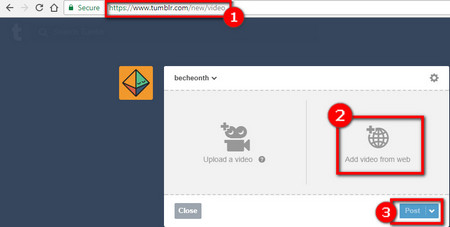 Repost the Large Video to Tumblr from YouTube
Method 2: Directly repost the large video on Tumblr
- Visit [https://www.tumblr.com/new/video].
- Hit the "Add video from web" icon.
- Copy and paste the video URL or embedded codes.
- Tumblr will analyze the URL and load the video automatically and you are allowed to add a caption and #tags if you like.
- Last, press the "Post" button to share video on your Tumblr blog.
With the above solution, I believe you are able to easily upload video to Tumblr now. If it's useful to you, please share this article with friends.