How to Rip DVD to OneDrive, Dropbox and Google Drive
For whatever reason that you want to know how to upload DVD to Google Drive or Dropbox, mine is that I can store those files on a server and stream them anytime, from anywhere. NAS offers a local way to stream DVDs but I am looking to download a DVD onto my Windows 8 and then compress the file so that I can upload it to Google Drive for Business DropBox and sometimes OneDrive. I will then be looking to share those files with others or stream them myself. After reviewing other DVD rippers, it sounds like I can rip and convert DVDs effortlessly but before I rip DVDs to digital formats that Google Drive, OneDrive or Dropbox supports, I'd like to know if the DVD ripping software does the job of compressing DVDs down to a reasonable file size that can be uploaded to cloud for sharing? And, there is no better ripping solution than WonderFox DVD Ripper Pro. It is also working as an amazing Google Drive video converter and OneDrive video converter, as it offers a clean way to rip and upload DVD to Google Drive and OneDrive,customizes video parameters such as resolution, frame rate and aspect ratio and accurately estimates the output file size for you to see if it fits your needs.
WonderFox Facilitate toRip DVD to Cloud
WonderFox DVD Ripper Pro is a plain but effective DVD ripping solution that works on Windows 10, Windows 8, Windows 7 for every single user to rip every possible DVD, either encrypted by Disney or protected by CSS, Region code, to any video formats AVI, MP4, MPG or HD videos MKV, HD WMV, HD MOV, AVCHD, and iPhone, iPad, to name but a few. The simple and brief UI clearly shows the estimation of output file size and you will see if it is a reasonable size before ripping and you're free to customize any profile and save it as your own so that you can rip your DVD collections to store or share on Google Drive, Dropbox, OneDrive, iCloud and other cloud storages.
Get Ripping DVD to DropBox, Google Drive
I will take one of the most popular cloud Dropbox as an example to show you how to rip DVDs to cloud (to copy DVD to Google Drive is a similar process).
Getting Ready:

WonderFox DVD Ripper Pro
Helps you rip any of your DVDs to DropBox, Google Drive with fastest speed and keep original high resolution.
More features >
Free download the time-tested DVD ripping program here. Solve the DropBox DVD issue and OneDrive and Google Drive DVD transferring problems in a more convenient method. The DVD in my example is THE EXPENDABLES 2.
Step 1. Seeing the three large buttons on the top of the interface, you are able to add your DVD files to the programs with ease before ripping. The DVD Disc will ask you load the DVD in the DVD drive and you can load a DVD ISO file or DVD Video on HDD to the program.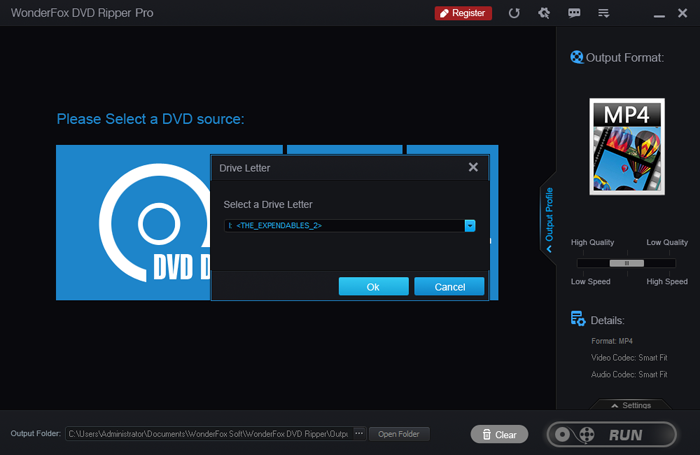 Step 2. After the DVD is loaded, it will take you a few seconds to analyze the DVD and the program will automatically select the right title and MP4 comes as the default output profile. Dropbox app supports numerous video formats, including MOV, MP4, M4V, MKV, AVI, WMV, FLV and ASF, so MP4 would be out of question available and you can just leave itas it is. FLV will save you lots of space if you don't care much about the video quality. You can click on Settings above the button "Run" to customize the best setting for Dropbox and save it as your own for quick access next time. WonderFox's smart settings are supposed to fit most users' needs.
Tips:1.if you want 5.1 sound for Dropbox, make sure you have 6ch as the source and you'd better select DTS or AC3 as the output audio encoder and set the channel to 6. Because we are not sure how the Smart Fit actually works for us, and MP3 as far as know, does not support 6 channels.
2. You can customize the output image quality by clicking on "Settings" where you can change resolution to improve video quality, boost frame rate to 60 to make it look smoother or adjust aspect ratio to let the output video perfectly fit the screen size.
Step 3. There are actually no more settings and we just need to click on Run and let the program do the rest things for you.
How to Upload A DVD to Google Drive
After ripping, you will then need to upload the MP4 file to Google Drive or Dropbox via web or their apps. Simply, if you have the Windows desktop app for Dropbox and Google Drive, you can set the output folder to it and the drive will automatically sync the ripped file to cloud.
How to Watch DVDs on Portable Devices?
Besides Google Drive, Dropbox you can export your DVDs videos into your portable devices to tote around. For example, convert your DVDs to tablets, or put your DVDs to USB so that you can watch it where there is a computer. In a similar method you can choose the output format right after the analysis is over by clicking below the two words "Output Format"
Submit Your Question to Us, Get an Answer within 24 hours
Related Resource