Disclaimer
The following content is demonstrated for personal fair-use and educational purpose only. You're forbidden to download copyrighted SoundCloud songs for illegal sale, distribution and any commercial intention. The end-users should be responsible for their own behaviors.
Part 1 - How to Download Music from SoundCloud?
You know what, not every track on SoundCloud is allowed to download unless the artists or uploaders empower you to download specific songs in the account dashboard. So quite a few people wonder if there is a workaround to download the songs to MP3s no matter whether there is a download button or not. Definitely, but compared with those precarious online SoundCloud downloaders, I highly recommend this free and safe desktop program - Free HD Video Converter Factory. With it, it will be a cinch to download either a single SoundCloud track or a whole SoundCloud playlist by several mouse clicks.
DownloadDownload and install it, then follow the steps below.
Step 1. Visit SoundCloud, and find a single track or a playlist. Copy the URL from browser address.
Step 2. Run Free HD Video Converter Factory and open "Downloader".
Step 3. Click "New Download" button to create a new download task. Press "Paste and Analyze" button to parse and detect SoundCloud songs.
Step 4. Select "MP3" option below "Download Audio" section as the output format, then click OK. For a SoundCloud playlist link, it will display and select all tracks.
Step 5. Specify a directory to save the downloaded songs, press "Download All" button to download SoundCloud to MP3s.
Optional. If required, you're able to add your music files to "Converter" for SoundCloud to WAV conversion, or make some basic music editing.
Also Read: SoundCloud Ripper | Download Mixcloud Music | Bandcamp Downloader | ReverbNation Music Download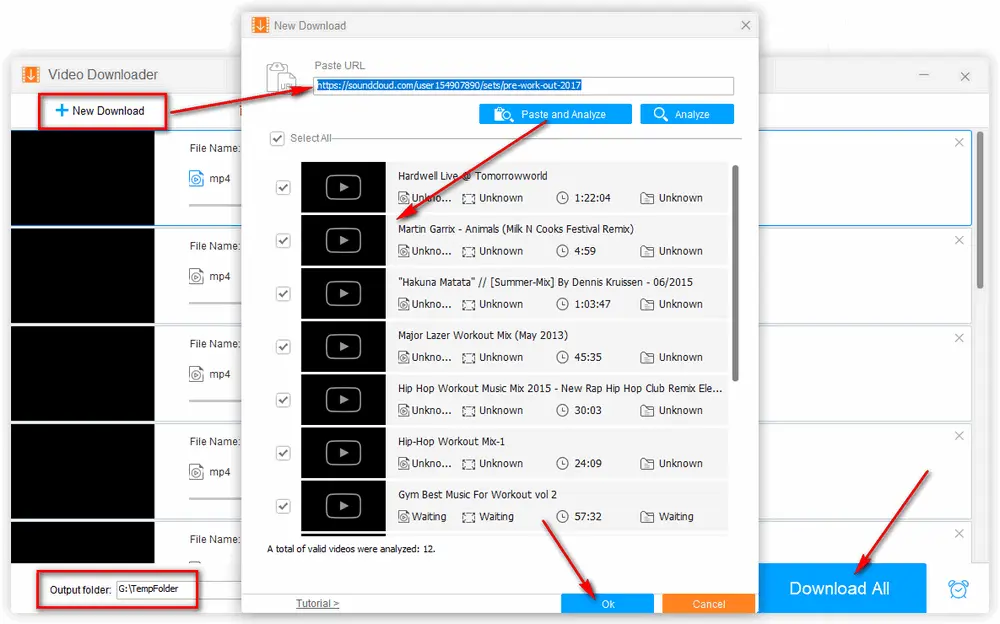 Part 2 - How to Put SoundCloud Songs on a CD?
Now you've got a heap of your desired SoundCloud songs. Next, let's get started to burn them onto a CD disc. Before that, make sure you've prepared the following stuff in advanced:
1. A blank recordable CD-R disk (never used).
2. An internal/external CD/DVD drive burner that can read, write and burn CD disk.
3. Windows Media Player, iTunes or other free CD burner applications.
How to Burn SoundCloud onto a CD Using Windows Media Player?
Step 1. Insert a blank CD-R disc into CD/DVD drive burner of your computer.
Step 2. Launch Windows Media Player and switch to the "Library" mode.
Step 3. Navigate to "Burn" tab at the top right corner and click "Burn option" icon. Then select "Audio CD".
Step 4. Drag and drop all your downloaded SoundCloud songs into the "Burn list" column.
Step 5. Finally, press "Start burn" button to burn SoundCloud to CD.
Tips: You can also try to burn CD with iTunes or some familiar CD burning software if you run into Windows Media Player Won't Burn CD issues.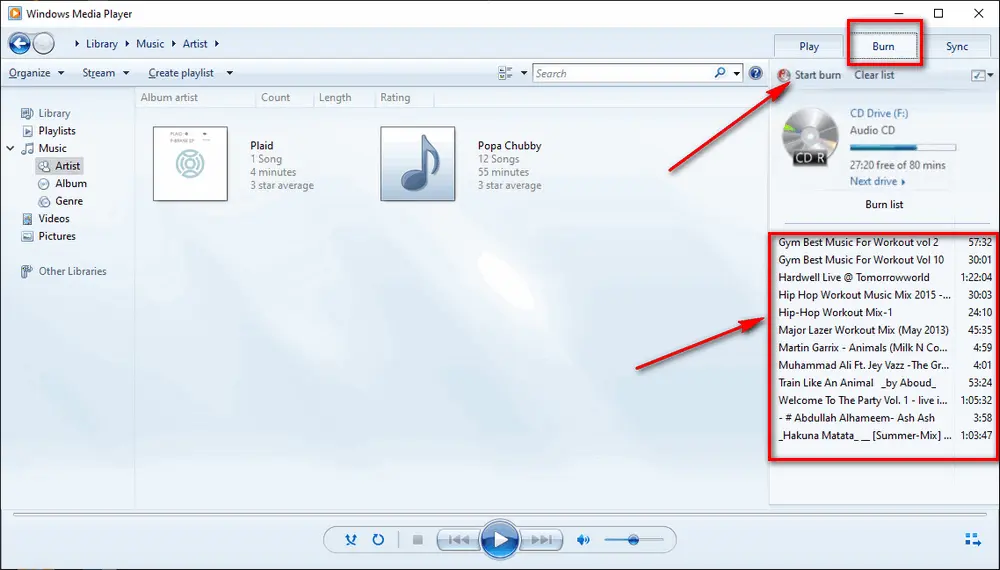 Final Words...
That's the complete workflow of burning SoundCloud songs to a blank CD disc. The difficulty lies in the downloading part, you know, most alleged SoundCloud downloaders cannot handle playlist download, yet Free HD Video Converter Factory offers a one-stop solution to that. Furthermore, with the same steps, you're able to burn YouTube music to CD as well as other music streaming websites. Hope you've succeeded in the CD burning, enjoy your music with ease!