When you record some videos with your iPhone, and then transfer those iPhone videos to your computer to watch, you may encounter a playback error, that is, iPhone videos cannot be played on your PC for unknown reasons. In fact, this is a common problem with iPhone video playback, and the causes vary. Luckily, there are various ways to fix iPhone videos not playing on PC. Continue reading!
There are many reasons why iPhone videos cannot be played on PC, such as follows:
The file transfer was interrupted.
The media player is outdated.
Your PC does not support the iPhone video format.
Your PC lacks the codecs to decode iPhone videos.
The iPhone video is incompatible with your media player.
The iPhone video file is damaged or corrupted.
Now you know the common causes behind iPhone videos not playing on PC, let's explore the solutions to it one by one.
1. Transfer the video from iPhone to PC properly
If the file transfer is interrupted, it may result in data loss, making the video file unplayable. If you still have original videos on your iPhone, this time you should try to transfer those video files from your iPhone to your computer properly to avoid file corruption.
Now play the video with the Windows media player and see if the problem goes away. If the problem persists, try the next solution.
2. Update Windows Media Player to the latest version
If you're using an outdated version of Windows Media Player (WMP) to play iPhone videos (.mov), it may not recognize and play the files. You should reinstall WMP or update it to the latest version – Windows Media Player 12, which added native support for the MOV format. Follow the instructions to complete the update.
Step 1. Click the Start menu on your desktop and search for "Turn Windows features on or off". Open the matching option.
Step 2. In the popup, scroll down the options and expand Media Features.
Step 3. Unselect the checkbox before Windows Media Player. Then click OK.
Step 4. Restart your computer. This will remove the current version of WMP from your PC.
Step 5. Repeat steps 1 – 2.
Step 6. Select the checkbox before Windows Media Player. Then click OK.
Step 7. Restart your computer again. This will install the latest Windows Media Player to your PC.
Now, you can try to play your iPhone videos on your PC with WMP and see if it works.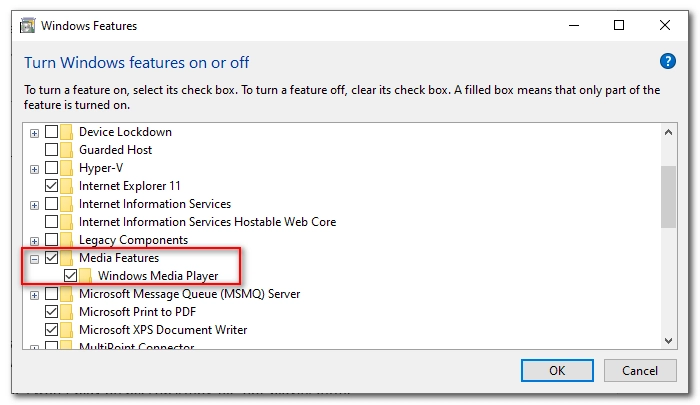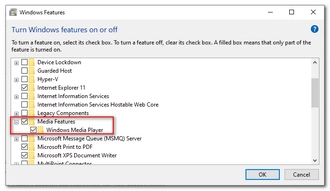 3. Convert iPhone video to play on PC (
best solution

)
iPhone Video is designed primarily for use with Apple products. Although Windows now supports the MOV format, it still doesn't fully support the Apple video format. That's the main reason why you can't play iPhone videos on PC. Fortunately, this problem can be solved in no time by converting iPhone videos to a format compatible with your PC.
For this, you can use a simple iPhone video converter for PC, such as WonderFox HD Video Converter Factory Pro. It can help you convert iPhone videos to play on PC with just a couple of clicks. Just install install the iPhone video converter and follow the steps below.
Step 1. Open the software and click the Converter option.
Step 2. Next, click Add Files or drag your iPhone videos into the converter program.
Tips.
1. You can drag multiple iPhone videos for batch conversion.
2. Click the play button in the video thumbnail and you can play the iPhone video instantly.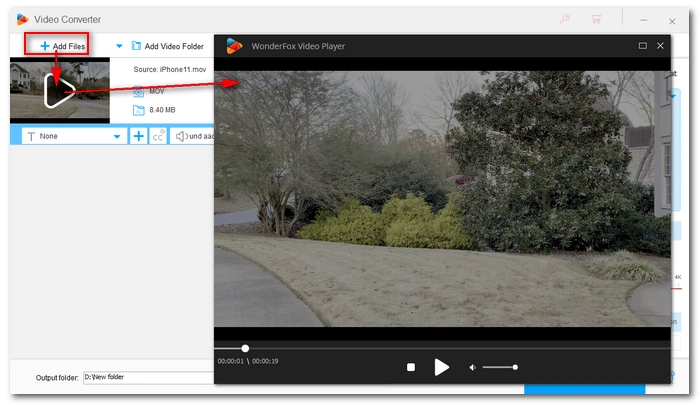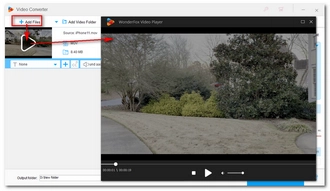 Step 3. Click the format image on the right side of the program, then select H264 (MP4 H.264/AAC) or WMV under the Video tab. These two formats are natively supported by Windows.
Optional. If your iPhone video plays stutter on PC, it may be that the video resolution is too high. You can downscale the resolution in the Parameter settings to fix the issue at the same time.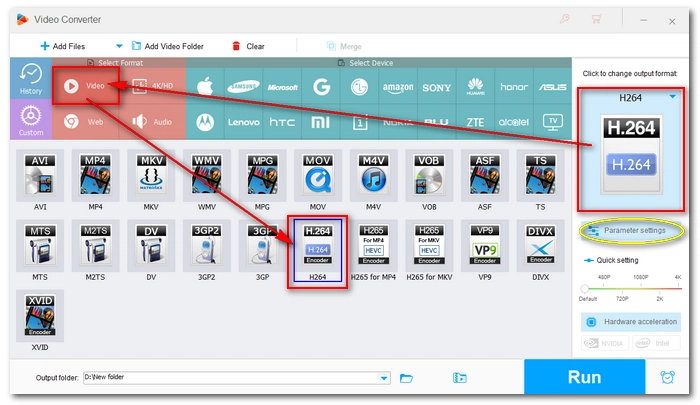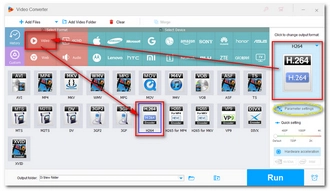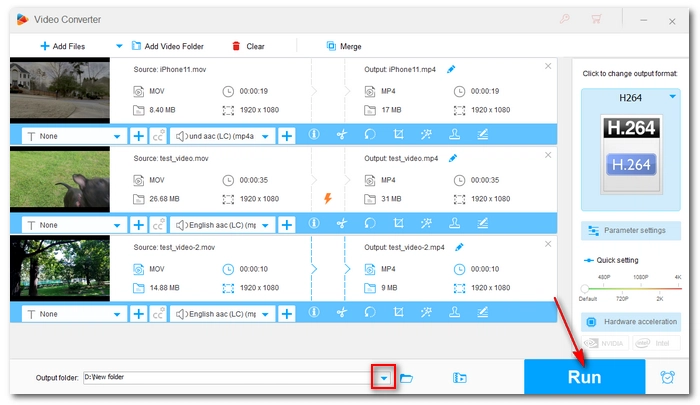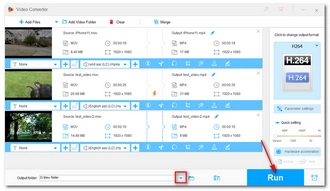 4. Install iPhone video codecs for Windows
Media players need codecs to decode and play media files. It is possible that your iPhone videos contain unsupported codecs, such as HEVC, Apple ProRes, etc., so your iPhone videos won't play on PC.
You can check the codec of your iPhone video and download the exact missing codec for your media player. Alternatively, you can install iPhone video codecs from a codec pack called K-Lite Codec Pack, which provides a comprehensive library of codecs for common video playback. Just go to K-Lite Codec Pack official website and download the standard version. Then run the installer and finish the setup. The codecs are now installed on the media player on your PC. You can check to see if you can play iPhone videos on your PC now.
5. Play the iPhone video in the VLC media player.
In fact, the native media player on Windows can play only a handful of media formats. That's why format conversion and codec installation are often required. But you can try to play iPhone videos directly with other video players.
VLC media player is the best video player overall that can play virtually any video and audio file without format conversion and third-party codec installation. When Windows Media Player fails to play your iPhone videos, it is always recommended to try playing them with VLC.
Besides VLC, there are other universal video players you could try:
MPC-HC
MPV
PotPlayer
GOMPlayer
KMPlayer
6. Repair the corrupted iPhone video.
If all the above methods fail, then there is only one last case left - corrupted or damaged iPhone video files. Suppose you have deleted the original videos on your iPhone, now only video repair tools can be used to fix iPhone videos. One of the best video repair software you can try is Stellar Video Repair Tool, which can help you repair inaccessible and corrupted videos effectively.
Videos from iPhone not playing on PC is mainly due to unsupported video format and codec, incompatible media player, and corruption in the video file. Fortunately, there are multiple ways to solve the problem. Just try out these solutions till your problem gets fixed.
That's all I want to share about how to fix iPhone videos not playing on Windows. I hope this article was useful to you. Thanks for reading. Have a great day!
1. How do I make my iPhone videos playable on my PC?
First, you need to transfer videos from iPhone to PC properly. You may then need to use a video converter program to convert the iPhone video to a format your PC accepts. Or you can find a video player for iPhone videos on PC to play your iPhone videos directly.
2. How do I convert iPhone video to MP4?
With an iPhone video converter like WonderFox HD Video Converter Factory Pro, you can easily convert iPhone videos to MP4 in just three simple steps.
3. What Windows program plays iPhone videos?
There is plenty of Windows programs that can play iPhone videos. Such programs include VLC, PotPlayer, GOMPlayer, Media Player Classic, and others.
4. Why iPhone video only plays audio on computer?
If your iPhone video only plays audio on a computer, it may be that only the audio codec is supported while the video codec is not. You can convert the video codec or try another media player to play your iPhone video.