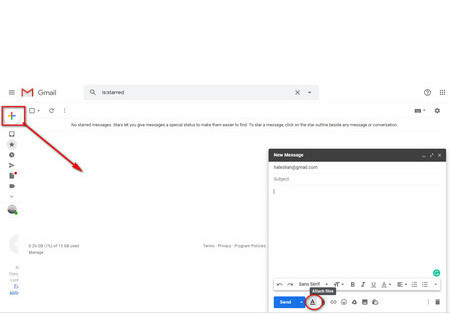 How to Send MP3 Files Through Email
1. Gmail
Step 1. Log onto or create your account: https://mail.google.com/mail
Step 2. Click on the + icon on the top left corner to open New Message.
Step 3. Add the email address of the recipient and type the subject. Subject is a brief description of the email message, which helps the recipient know what this email message involves.  
Step 4. Click on the Attach files icon and upload your audio file. Yet if it exceeds the maximum attachment limit of 25MB, it will give you a prompt. In such a case, it can help you upload the file to google drive and generate a sharable link.
Step 5. Click on Send to share the audio file.
Also Read: Fix Google Drive Upload Slow for Large Media Files | Gmail Attachment Size Limit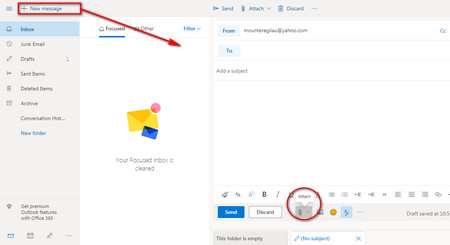 How to Email Audio Files through Outlook
2. OutLook
Step 1. Go to this page: https://outlook.live.com/
Step 2. Create a free account and enter your account.  
Step 3. Click on the New message button, add the email address of the receiver and subject. Then click on the attach button and select the audio you want to share from your computer or One drive. The outlook's maximum size limit is 20MB. If the audio file is too large to embed directly, you can upload it to OneDrive in advance. 
Step 4. After that, click on Send for emailing audio files.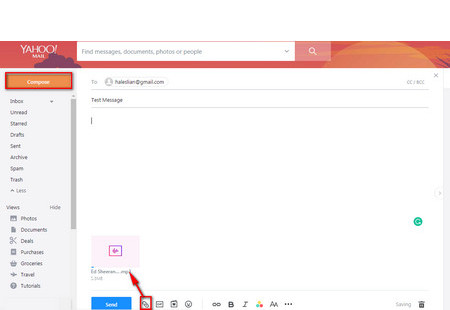 How to Email MP3 Files Using Yahoo Mail
3. Yahoo Mail
Step 1. Open this email service: https://mail.yahoo.com/
Step 2. Click on Compose on the upper left corner.
Step 3. Enter the email address of your recipient, and add the subject.
Step 4. Click on the paperclip icon next to Send and choose a song file from your computer. Similarly, the maximum file size of Yahoo Mail is set at 25MB. If your audio file is over 25MB, you can upload the file to a cloud service and click on the Link icon, copy & paste the URL. Don't want to upload audio to the internet? You can also compress the audio with an audio compression tool.
Step 5. Press Send to send the audio.
Related Searches: MP3 Compressor | Online Audio Compressor | Compress Audio Size for Whatsapp
This article has introduced three simple and popular methods of how to send audio files through email. Besides the methods above, you can also take advantage of other email service providers to send audio files like music. And most audio emailing tools are easy to use. If you have any question on how to send music through email or how to compress files, feel free to contact us!