If your video size is not that large, you can choose WhatsApp Web to send videos. Compared with 16MB restriction, WhatsApp Web allows you to send up to 64MB video file. So WhatsApp Web is a good choice to send large videos on WhatsApp. And WhatsApp Web is also easy-to-use, just follow the steps to figure out how to send large video files on WhatsApp.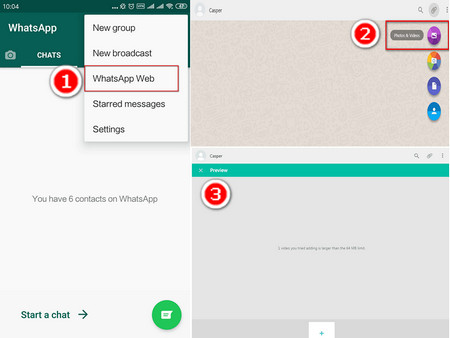 How to Send Large Videos on WhatsApp
Step 1. To solve how to send large videos on WhatsApp, first, click the below link to visit WhatsApp Web:
https://web.whatsapp.com/
Step 2. The next step on how to send long videos on WhatsApp is to open WhatsApp on your phone, tap Menu or Settings, and choose WhatsApp Web.
Step 3. Point your phone to the screen and scan the QR code, and then you will log in the WhatsApp Web successfully.
Step 4. Open a new chat, click the paper clip icon at the top right corner, and then choose Photos & Videos.
Step 5. The last step is to choose the video you want to send, and then you can preview, upload and share it with other people.
But if the size of the video you want to send is larger than 64MB, then you will be warned "1 video you tried adding is larger than the 64 MB limit." At this time, WhatsApp Web cannot help you, so you can choose to compress video for WhatsApp, or keep reading to the next 2 methods.
UPDATE: Now the video file size limitation has been regulated to 16 MB on all platforms. And there are 3 solutions here, you have to compress video to below 16 MB, send a video as a document (the maximum allowed size is 2 GB), or share video link using some video sharing websites or cloud services.