Zoom offers a built-in recorder that allows users to record Zoom meetings for later viewing. However, this feature is only available to hosts and authorized participants. You cannot record in Zoom without the host's permission. However, if you have a third-party screen recorder, you can still record Zoom without permission.
So how to record Zoom meeting without permission? Take it wasy. Below, we will introduce a reliable Zoom meeting recorder and show you how to record a Zoom meeting without host permission on Windows. Just read and follow.
Also read: Fix Zoom Recording No Audio | Record Online Meeting | Record Screen Secretly
As one of the best screen recorders for Windows 10, WonderFox HD Video Converter Factory Pro shows an easy way to record Zoom meetings without permission. Simply open the recorder program and choose your recording region, you can start recording Zoom with no fuss. With this recorder, you can also record Zoom with audio included or record the Zoom audio only. There is no length limit for screen recording and you can record hours of video at a stretch. Moreover, the recorder will record and output high-quality videos without watermark.
The whole recording process is pretty simple. Now, free download free download this software and see how to record Zoom meeting as a participant.
Step 1. Open Screen Recorder
Run WonderFox HD Video Converter Factory Pro. You will see five modules on the startup interface – Converter, Downloader, Recorder, GIF Maker and Toolbox. Enter the Recorder module.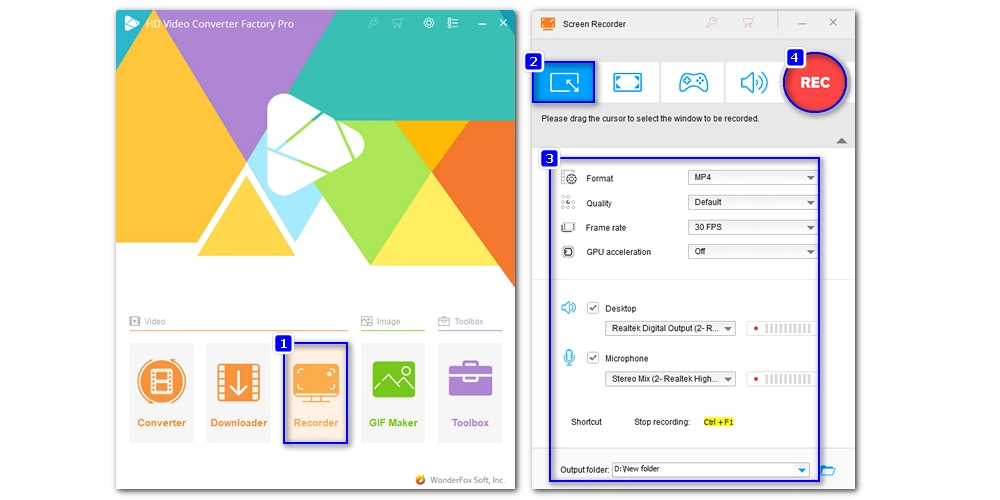 Step 2. Select Zoom Meeting Window to Record
Click the left Custom mode and move your mouse over the Zoom window. It will auto-detect Zoom, and you can click to select the detected region. Alternatively, you can customize the area for Zoom recording manually. Then click OK and go to the next step.
Tips. Besides recording part of the screen, you can also maximize your Zoom window and use the second Full-Screen mode to record the whole desktop.

Step 3. Adjust Recording Settings and Record Zoom without Permission
Now, click the ▼ button to open the settings. Choose a recording format, quality, and frame rate based on your needs. Next, check the audio source you want to record, including the desktop system sound and the microphone. Don't forget to set an output path for your recording in the "Output folder" box.
Finally, click the big red REC button to record Zoom meeting as attendee. When the meeting is over, press hotkey 'Ctrl + F1' to exit the recording. You can find your recorded video in the folder you just set.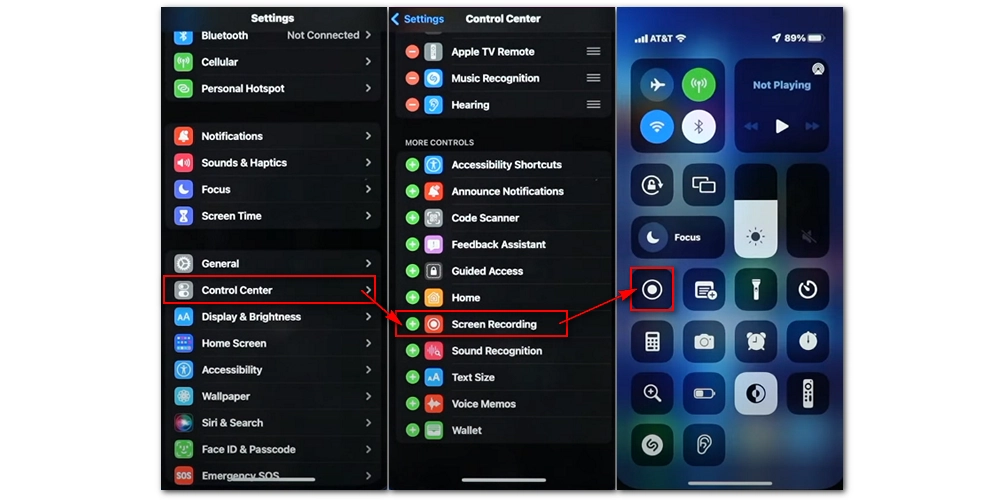 1. Can Zoom Detect Screen Recording?
Zoom will detect your recording if you use its built-in recorder. When you hit the Record button, it will notify other participants that you are recording the meeting now. And if you are a participant, you will receive a message 'Please ask the Host to give you permission to record'. However, if you are using a third-party recorder, Zoom won't detect your screen recording.
2. Is It Legal to Record Zoom without Host Permission?
Whether is it legal to record Zoom meeting without permission depends on where you and other participants live. Different regions have different laws on screen recording without permission. It's best to ask for permission first or inform the participants that you are going to record, though.
3. How to Record Zoom Meeting without Permission of Host on Android?
There are many excellent screen recorder apps available on Android platform, such as Mobizen, which can help your screen record Zoom in HD 1080p with simple steps. If your Android phone comes with built-in screen recorder, you can also make use of it to record a Zoom meeting without permission.
4. How to Record Zoom Meeting without Permission on iPhone?
iPhone has a native screen recorder that can record the activity on your screen easily. First, enable the iOS screen recording in your Settings > Control Center > Customize Controls > click add before Screen Recording > Back > turn on Access within Apps. Next, attend a Zoom meeting, roll up the menu from the bottom and click Record button. Hit the button again to stop recording.
Wrap-up
That's the whole guide on how to record Zoom meeting without permission on PC Windows. The Zoom screen recorder introduced here can help you easily record a Zoom meeting without the host knowing, and I hope you've enjoyed this post. You can download the Zoom recorder to start your first recording now!