As Audacity is an open-source audio editor and recorder, users can not only use this program to record audio but also edit the recordings and your existing audio files. But as stated before, its interface is a little bit complex, so you may feel confused when using it. Don't worry! Without further ado, just let's see Audacity how to record computer audio in the following content:
Once you have downloaded and installed Audacity on your PC, then launch it. Or you can download or update it from its official website (https://www.audacityteam.org/) now.
Step 1. Set Up Recording Settings
After launching Audacity, tap on "Audio Setup" > "Host" > "Windows WASAPI". Re-click "Audio Setup" and choose the system's default speakers and headphones under the "Recording Device" option.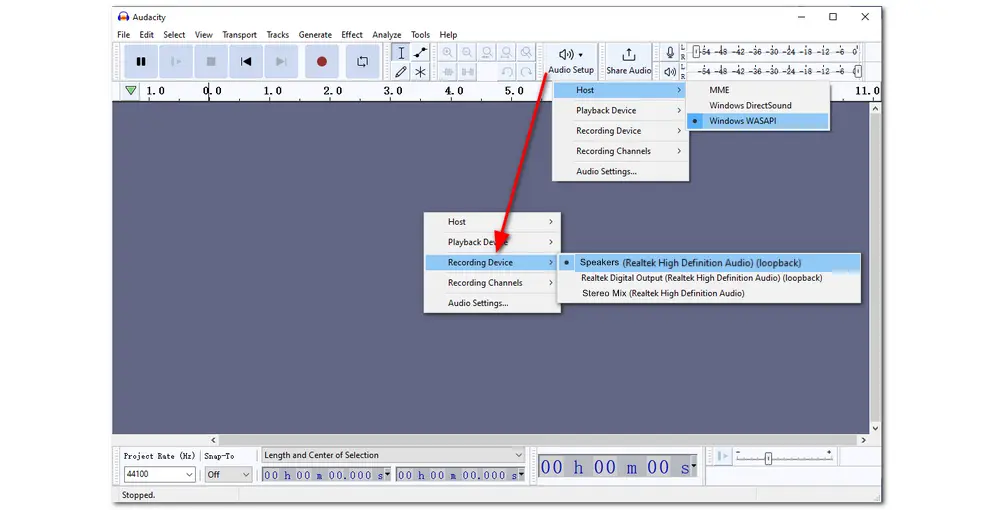 Step 2. Start Recording Your Computer Audio
Once you have configured the recording settings, you can record desktop audio on Audacity now. Just click on the red recording button, and the program will start recording audio from your computer (during which you should be ready to play the audio material you want to record).
Step 3. End Desktop Audio Recording
After finishing the recording, you can stop the recording process by pressing the stop (square-shaped) icon in the top menu bar. Note that it only stopped the recording but will not save the recorded file.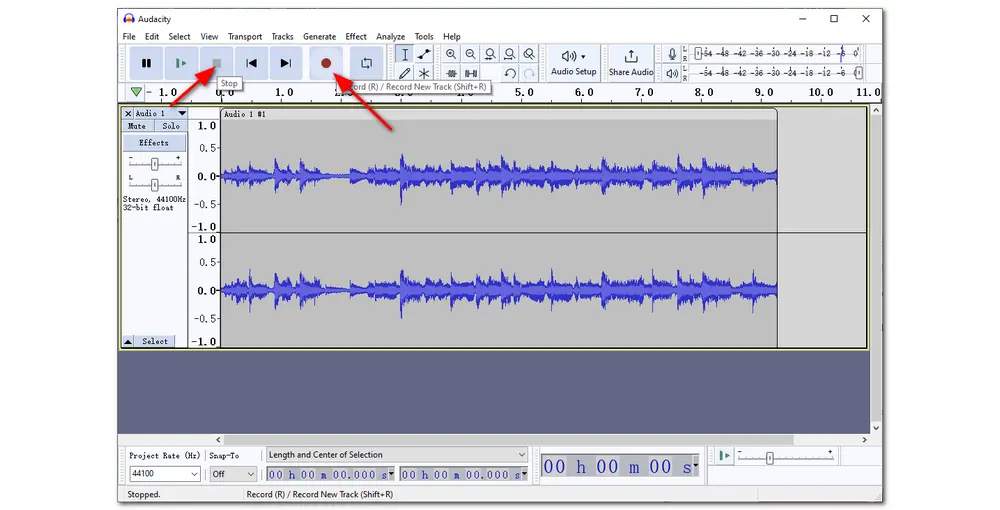 Step 4. Save the Recording to Your Computer
To save your recording, you can click "File" on the top menu bar and then choose "Export". You can save the recording in MP3, WAV, OGG, etc. by selecting different exporting options. Then choose an output folder and name your recording. You can also choose the recording's Bit Rate Mode, Quality, and Channel Mode. Audacity even enables you to edit the recording metadata or you can skip this step and click OK. The recording is saved to your computer now, and you can enjoy or share it as you like.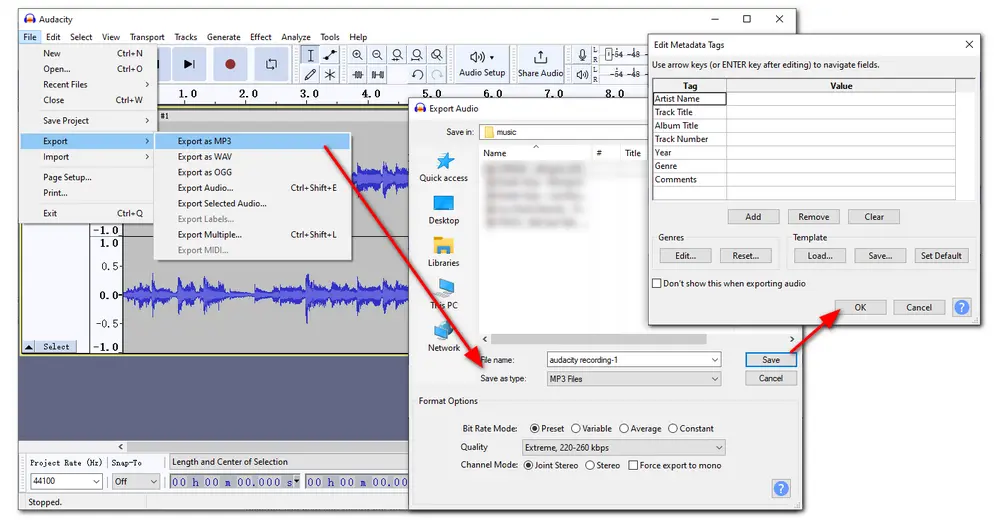 Although Audacity performs well in recording and editing audio files, however, when using this software, malfunctions, bugs, or wrong settings may cause Audacity not to pick up system and mic issues. You can follow this post: Troubleshooting on Audacity Not Recording Audio to fix the Audacity not recording audio issue or directly use the Audacity alternative to record desktop audio without hassle. The following gives some handy alternatives to help you record computer audio.
1. WonderFox HD Video Converter Factory Pro
WonderFox HD Video Converter Factory Pro is one of the best alternatives to Audacity on Windows. It is an all-in-one audio and video processing program whose built-in screen recorder can help you record not only audio but also video on your computer. You can take it to record audio with system and microphone sounds, videos like gameplays, online meetings, websites, etc., with just a few simple clicks. The straightforward interface and intuitive recording process make it accessible to users at all levels.
Now, downloaddownload this software on your PC and start recording your desktop audio with the following guidance:
Step 1. Initiate the Audio Recorder
Run WonderFox HD Video Converter Factory Pro and then select Recorder from its initial interface. Click the audio-shaped icon to choose the "Audio-only" option.
Step 2. Customize the Recording Settings
Move down to choose an audio recording format from the "Format" drop-down list. Here you can choose between MP3, AC3, AAC, and WAV. Then you can check "Desktop" to record system audio and "Microphone" to record external sound. You can also record the system and microphone simultaneously.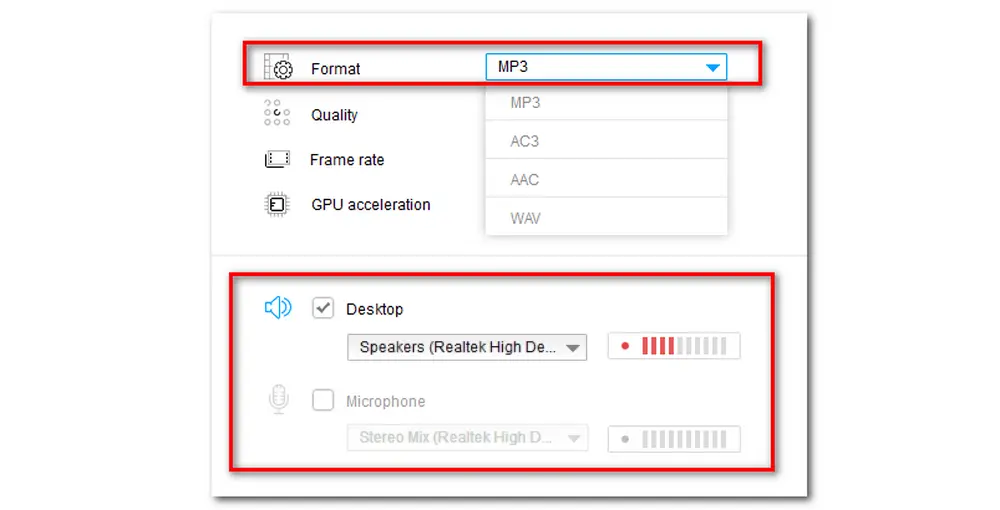 Step 3. Record Desktop Audio at Once
Finally, click the down arrow button at the bottom to set an output folder, and then hit the red "REC" button to start recording your PC audio after a five-second countdown. (Make sure the audio material you want to record is prepared.)
Step 4. Finish the Audio Recording
When the recording is over, click the stop button (square-shaped) or use the hotkey "Ctrl + F1" to stop the recording. The output folder will then pop up, and you can check the recording with your media player.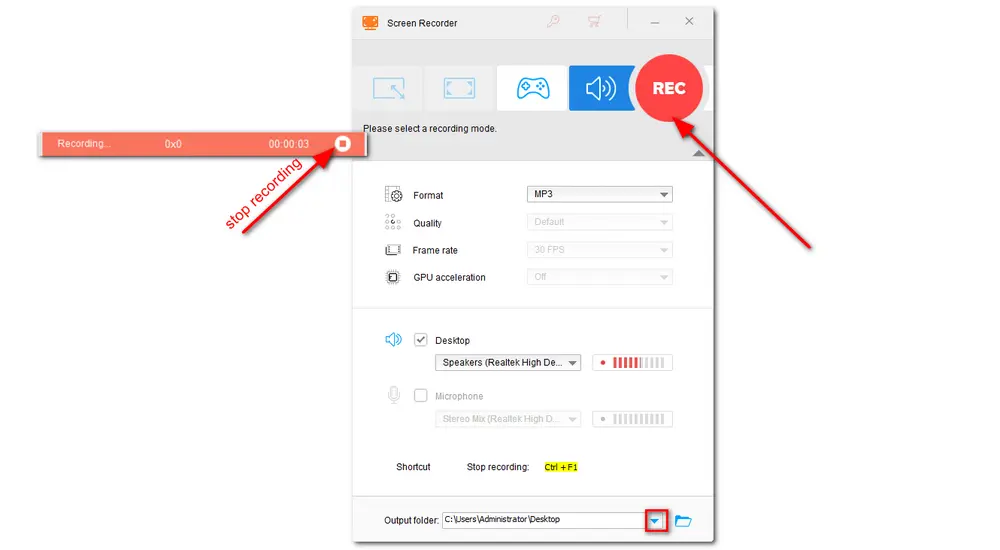 Tips: After finishing the recording, you can take advantage of the "Converter" or other tools inside HD Video Converter Factory Pro to trim and merge audio, edit audio tags, compress audio files, and make stylish ringtones. You can also convert the recording to other audio formats, add the recordings to video, etc.
Just downloaddownload the software and give it a try now!
2. VLC Media Player Record Computer Audio
Apart from HD Video Converter Factory Pro, there is another audio recording program that you can take as an Audacity alternative to record desktop audio. VLC is known as an open-source media player. If you have VLC downloaded on your computer, you can also use it for recording computer audio. Now follow the easy guide below to see how to let VLC record desktop audio on Windows.
Step 1. Launch VLC and go to "View" > "Advanced Controls" to enable the recording bar.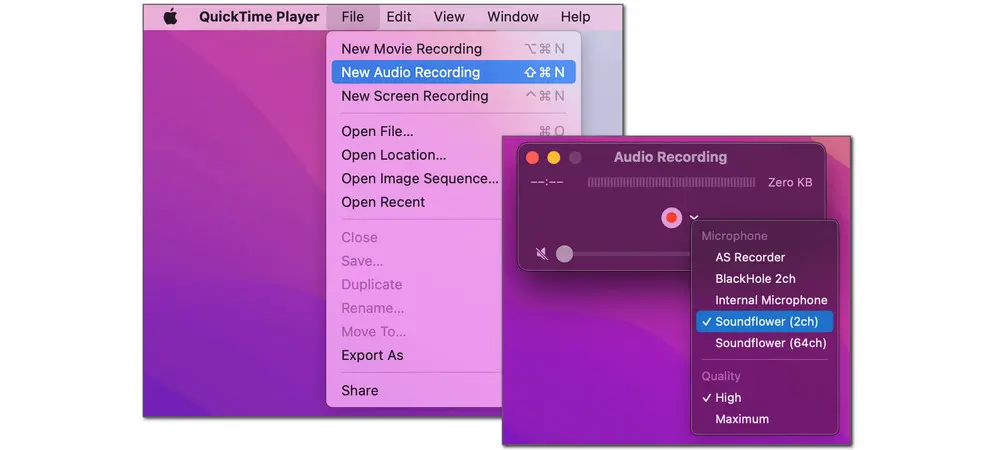 Step 2. Go to "Media" > "Open Capture Device" on the top menu bar.
Step 3. In the popup window, select "DirectShow" in the Capture mode, and then choose "None" in the Video device name and "Stereo Mix" in the Audio device name to record desktop audio.
Step 4. Hit the down arrow next to the Play tab and choose Convert.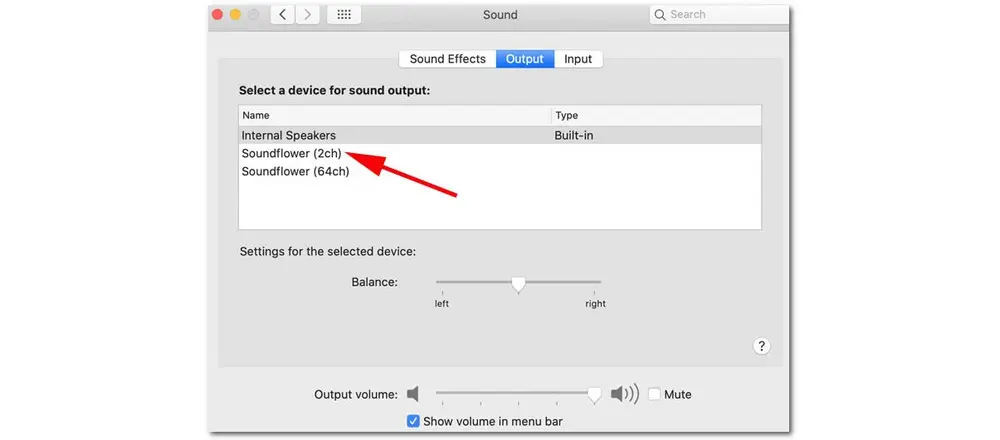 Step 5. Choose an output profile from the Profile drop-down list.
Step 6. Click "Browse" to set an output path and name the recording. Then, press "Start" to begin the audio recording.
Step 7. Finish VLC audio recording by clicking the square button.
That's the whole process of VLC recording desktop audio. However, some users reported that their VLC would sometimes crash after all the settings were set or that there was an echo when playing the recording. As VLC acts primarily as a media player and not an audio recorder, its recording features may not satisfy your requirements and need to be improved.
Conclusion
Now you know how to use Audacity to record computer audio. If you find it a little complex to use, WonderFox HD Video Converter Factory Pro is the tool to go for. Or you can give VLC a try. Just feel free to choose one for your desktop audio recording! Thanks for reading!