Can OBS Record Audio Only?
OBS (Open Broadcaster Software) is open-source software for video recording and live streaming. It can work with multiple systems, including Windows, Mac, and Linux. It's able to seamlessly record computer screens and pick up audio. Many users utilize this software to record gameplay, TV shows, and other videos with sound. Can OBS only capture audio not others? The answer is negative. OBS doesn't support audio-only recording, but you can record audio from the game and the microphone (in video format).
Now, follow the specific instructions below to learn how to make OBS record only game audio on Windows and Mac.
Part 1. How to Make OBS Only Record Game Audio?
– – How to Only Record Game Audio OBS on Windows
Recording external sound through the microphone is simple. Windows has a pre-introduced sound recorder, so you don't need to compose one yourself. To record audio that is coming from the device itself, such as gaming sound and internet music, we will record only audio from the computer's internal speakers by doing the following:
Step 1. Launch OBS. Go to Controls and click Settings.
Step 2. Choose Audio in the left panel. In the Global Audio Devices tab, set Desktop Audio as default and keep other audio sources disabled. Click Apply/OK to save the change.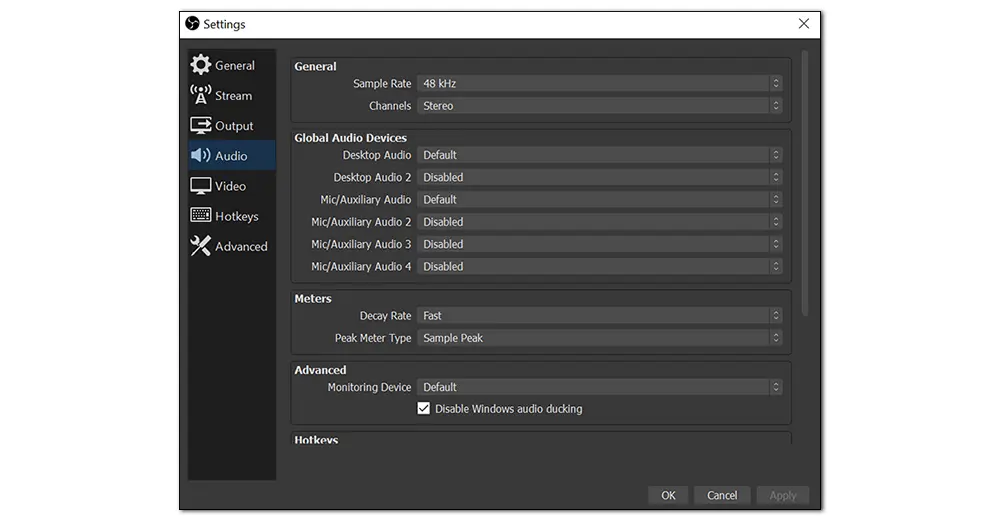 Step 3. You can select a video resolution and configure output settings based on your preference.
Step 4. Once the audio bitrate is configured as shown below, you're finished. Then you can record the internal audio from games, browsers, and other applications without adding a video source.
– – How to Only Record Game Audio OBS on Mac
Apple has disabled the sound recording from the Mac framework. To begin OBS record only game audio, you need to acquire the necessary equipment, a recording program, and an editing application if you recorded the sound and game audio separately. Here is how to make OBS only record game audio on Mac:
Step 1. Launch and Create New Audio Recorder Setup: add the + symbol and create the project. Right-click in the Mixer area and open the Advanced Audio Properties.
Step 2. Use the Customize Record Only Feature to hear the sound of the source directly from your desktop. Once you have enabled this feature, head toward the recording interface.
Step 3. Set the Screen and Output Mode, which will hear the sound from the source stream and desktop at the same time. After that, click the Record button to start recording your game audio simultaneously.
Step 4. OBS Studio for Mac will export the monitor audio to the default playback device. You can also open the OBS settings and click on the Audio tab to change the monitoring output device.
Hot Searches: Convert OBS MKV to MP4 | Extract Audio from Screen Recording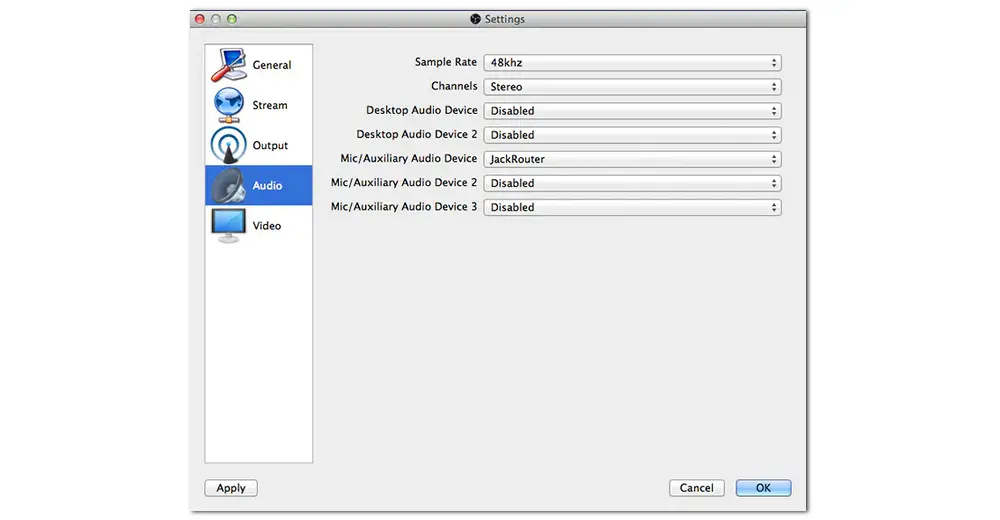 Part 2. How to Record Only Game Audio OBS Alternative?
WonderFox HD Video Converter Factory Pro is one of the best alternatives to OBS Studio for Windows. It can record any screen activity with audio, such as gameplay, Zoom meeting, Udemy courses, live streams, and other videos on PC. One of the differences between OBS and HD Video Converter Factory Pro is the latter supports audio-only recording. Therefore, you can use this software to record audio from your computer directly in audio format. Here MP3, AAC, AC3, and WAV are available. You can select your desired one as the output. It also offers a straightforward way to capture sound from the Desktop, Microphone, or both – just check/uncheck the audio source as needed.
Next, I will show you how to capture only game audio using the OBS alternative. Please free downloadfree download and install the software on your PC. Let's get started.
– – How to Capture Only Game Audio OBS Alternative
Step 1. Initiate the Audio Recorder
Run WonderFox HD Video Converter Factory Pro and click Recorder on the home interface. Then at the top of the Screen Recorder window, select the Audio-only mode by clicking the sound icon.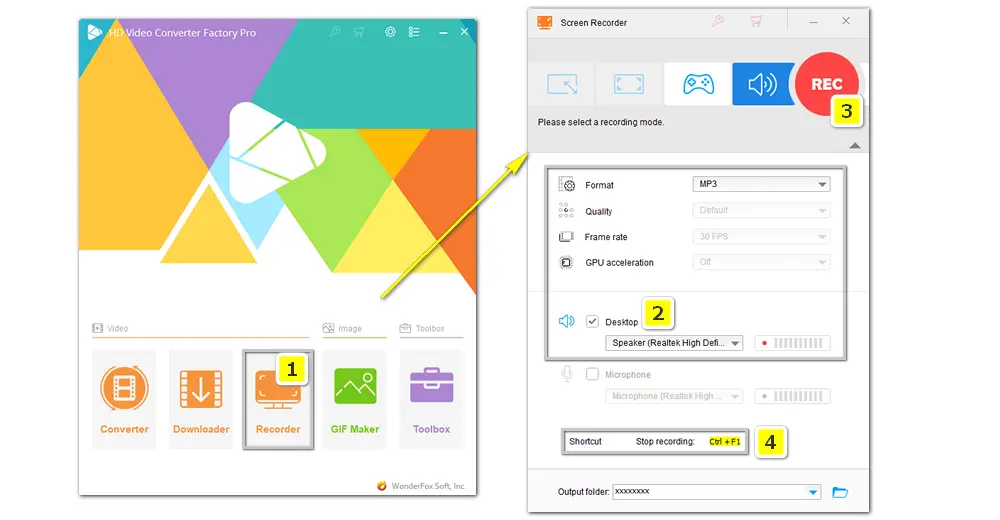 Step 2. Select an Audio Format and Source
Click the inverted triangle button to open the Format drop-down list and select MP3, AAC, AC3, or WAV as the audio format.
Tip. In general, for high-quality audio files, you can choose WAV. If you want to play or edit the recorded audio in more applications, choose MP3 (which is compatible with most players and devices).
Next, check the Desktop option to activate the system audio source.
Related Articles: Screen Record with Microphone | Record Mic and System Audio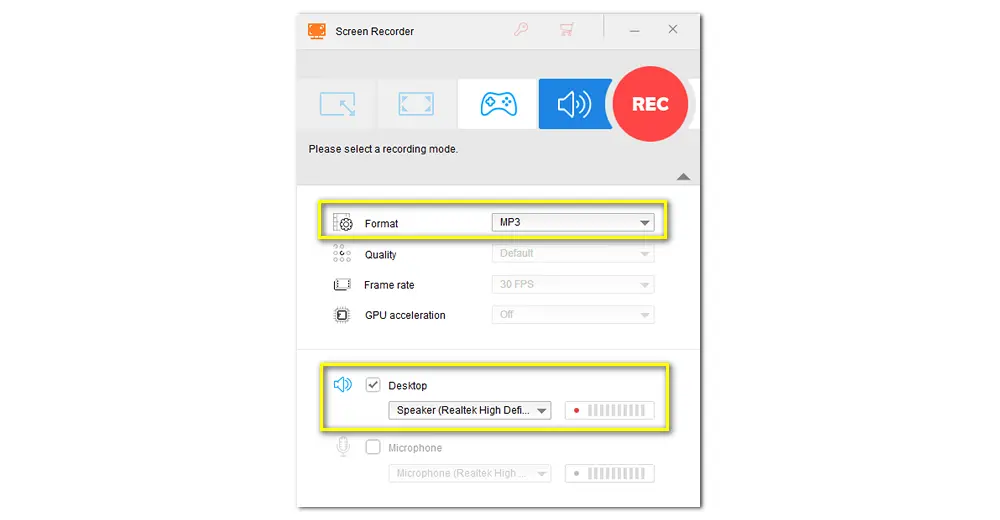 Step 3. Record Audio from the Game
Click the bottom triangle button to specify an output path for the game audio recording. Then press the REC icon to capture audio from your game. It will start after a five-second countdown, during which you should prepare the audio material you need to record.
To stop recording, click the stop button in the software or press the keys Ctrl + F1 on your board.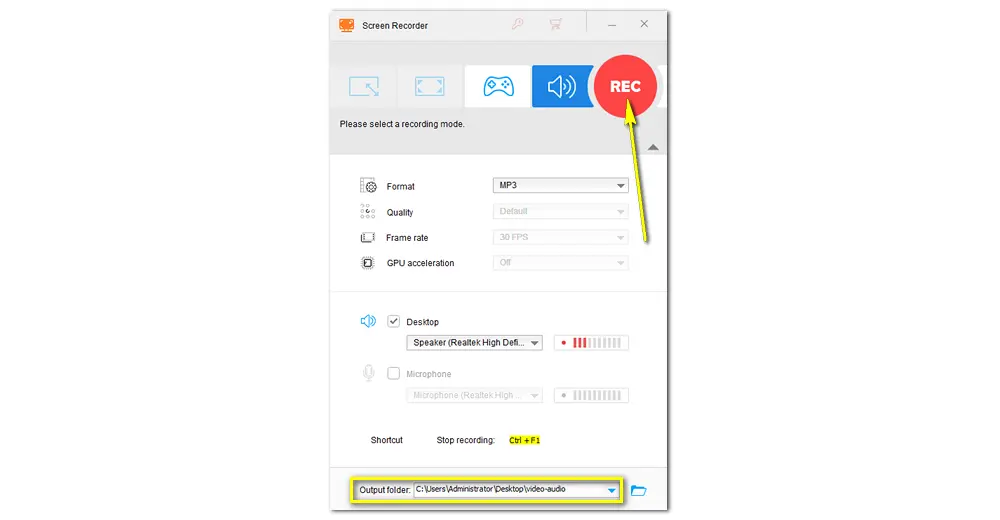 In Conclusion
That's all about how to make OBS only record game audio on Windows and Mac. Though OBS can't record only audio files, you can capture audio from the game without adding a video source. After recording in OBS, you can convert the recorded MP4 videos to MP3 or other audio files. If you want an easier way to record the game sound only, HD Video Converter Factory Pro is a good alternative voice recorder to OBS Studio. You can give it a shot and try to record game sound as in the tutorial in part 2.