With the release of the new High Efficiency Video Coding (HEVC) standard, also known as H.265, a new generation of hardware encoders has emerged that promises to deliver significant improvements in video quality at lower bitrates. HEVC is now the preferred codec for many applications, including 4K/Ultra HD broadcasting and streaming.
However, encoding HEVC video is computationally intensive, and requires significantly more processing power than H.264. As a result, many video encoders struggle to encode HEVC video in real-time, especially at high resolutions. This is where hardware acceleration comes in, allowing HEVC encoding to be offloaded to dedicated hardware chips for a significant speed boost. In this article, we will discuss how to use an HEVC/H.265 hardware encoder to encode HEVC/H.265 video at a fully hardware-accelerated speed.
Best Easy-to-Use HEVC/H.265 Hardware Encoder
If your graphics card or integrated graphics is powerful enough for HEVC/H.265 hardware accelerated encoding, then all you need is an H265 hardware encoder. WonderFox HD Video Converter Factory Pro is a dedicated video and audio processing toolkit that engages GPU in video conversion, increasing the HEVC encoding speed significantly and unburdening the CPU. Technology powered by NVIDIA NVENC encoder, CUDA, and Intel QSV encoder, and it may expand the support for AMD VCE/VCN encoder in the near future.
Free downloadFree download this HEVC/H.265 hardware encoder and let's jump in how to use it.
Launch HD Video Converter Factory Pro and open "Converter" module. For the first time using the HEVC/H.265 hardware encoder, it will automatically scan your hardware to check if it supports HEVC/H.265 hardware accelerated encoding. If not, you have to click on the "NVIDIA" or "Intel" logo in the lower right corner to check it out. A dialog box will appear and tell you which profiles support H.264 and H.265/HEVC hardware encoding.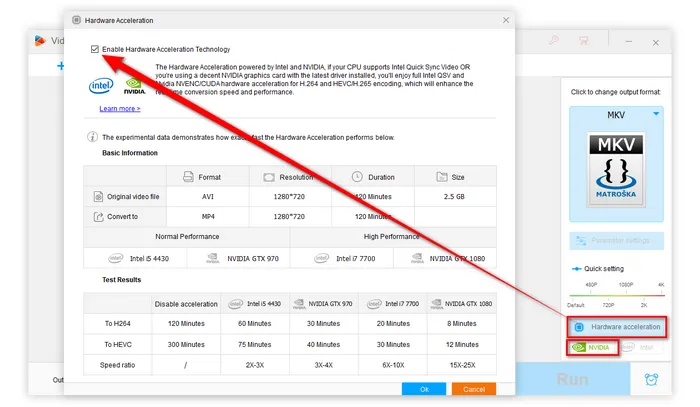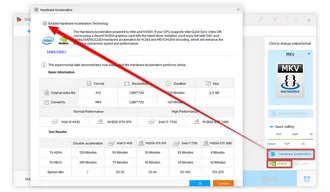 Step 2 - Add Video Files
Click on "Add Files" button to add the video files you want to convert to HEVC. To make it easier, just drag and drop them into the window. Owing to its rich built-in codecs, it supports importing nearly all common and unpopular video file types.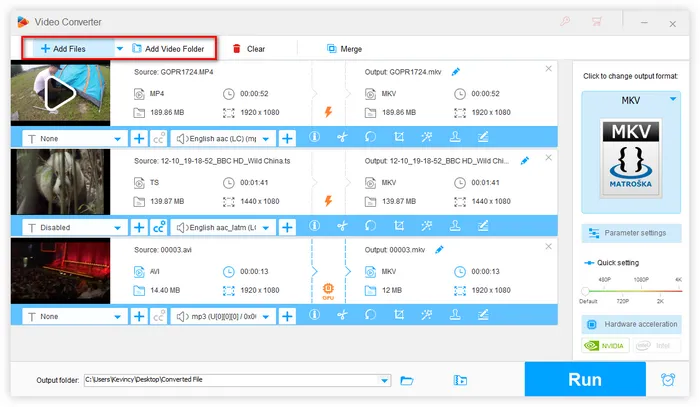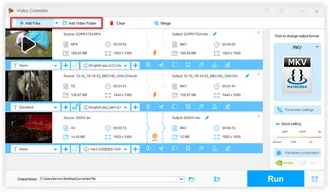 Step 3 - Select an Export Format
Open the full list of 500+ predefined presets grouped by different categories on the right side. Then go to "Video" category and select "H.265 for MP4" or "H.265 for MKV" profile for H.265/HEVC hardware accelerated encoding.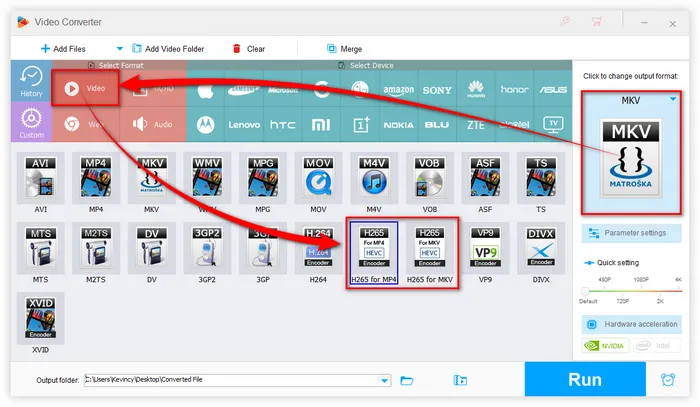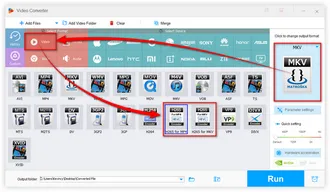 Step 4 - Start HEVC Hardware Accelerated Encoding
Specify a destination folder on the bottom. Finally, hit "Run" button to encode HEVC Video with hardware acceleration. The more powerful the GPU performance, the more obvious the hardware acceleration, and the higher the conversion efficiency.