You Know What, DLive VODs Have Expiration Date

Speaking of live streaming/broadcasing websites, some big names like Twitch, YouTube Live, Facebook Watch, Periscope, Mixer (now redirects to Facebook Gaming) will come to your mind. Unlike the traditional platforms, DLive.tv, as a challenger to the giants, has been a popular alternative using blockchain technology for its servers and rewards systems to revolutionize revenue distribution for both content creators and viewers.
As you know, a VOD/Replay/Past Broadcast will be saved to the streamer's DLive profile page once a live stream has been finished, so that anyone who misses the live streaming is able to replay the content. However, those VODs will be only kept for a limited amount of time: 72 hours for Non Partner, 25 Days for Verified Partner and 45 Days for Global Partner. So it's more well-advised to download DLive videos in case of missing any must-see content. Instead of DLive video download method provided by the official using VLC or command-line downloader, I'll provide 3 free DLive downloaders to simplify the process below.
Disclaimer: Before moving on, you have to know the following solutions are demonstrated for educational purpose and personal fair-use ONLY. WonderFox doesn't advocate downloading copy-righted DLive videos for illegal sale, distribution and other commercial intentions.
Solution 1: Free Desktop DLive Downloader
Step 1. Copy DLive video URL from your browser. All URL types of VODs/replays, clips, highlights are supported.
Step 2. Run Free HD Video Converter Factory and open "Downloader".
Step 3. Click "New Download" button and press "Paste and Analyze" on a new window.
Step 4. Select a desired resolution and format, click OK to add to download list. Multiple downloads are also allowed.
Step 5. Specify a directory to save the downloaded DLive videos, click "Download All" for downloading in bulk.
Also Read: Twitch to MP4 | Gameplay Recorder | Download Periscope Videos | Download Livestream Video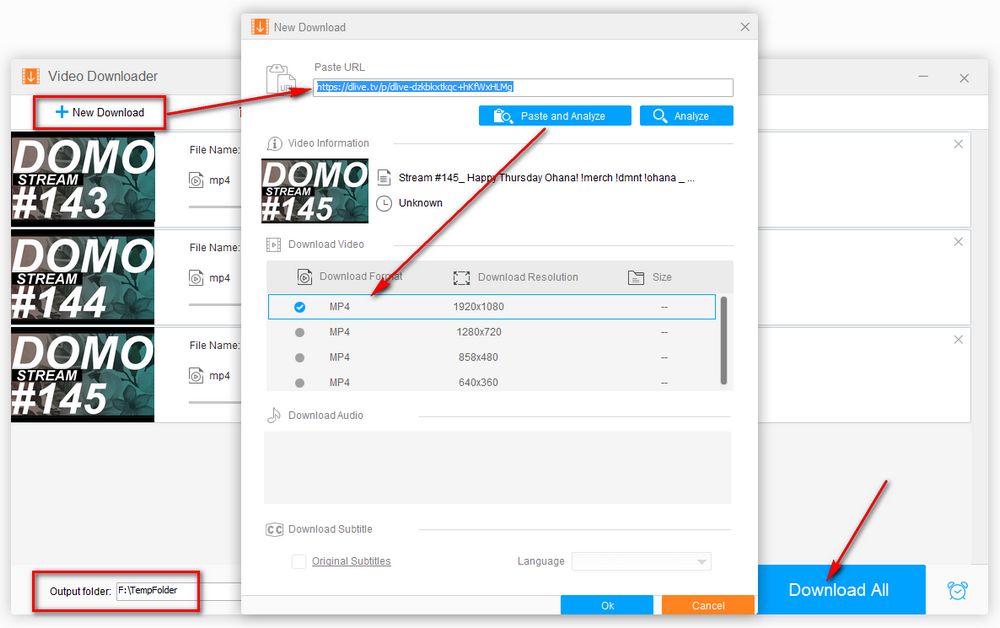 Solution 2: Free Browser Extension DLive Downloader
A combination of two browser video downloaders - Video DownloadHelper and HLS Downloader, available on Chrome, Firefox and Edge, works like a charm for DLive video downloader. If it's your first time to use these two extensions, respectively follow the steps below to save your desired DLive videos.
1. Video DownloadHelper
Download Link: https://www.downloadhelper.net/
Video DownloadHelper is used to download DLive clips/highlights and normal videos. After installation, a black-and-white three-balls icon will show up at the top right corner of the browser. Go to play a DLive clip or normal video as you wish, Video DownloadHelper will be highlighted as a colored 3-balls icon. Click on the icon and select one option for DLive clip download. For the first time you use it, it will pop up a new window to confirm the download method. Simply mark the option "Use this method by default next time" and press "Use browser" button.
However, Video DownloadHelper Companion App is required when downloading streams using protocols HLS and DASH like DLive replays. So you're limited to only 1 download per 2 hours unless you purchase a Premium subscription. Given this, try HLS Downloader below.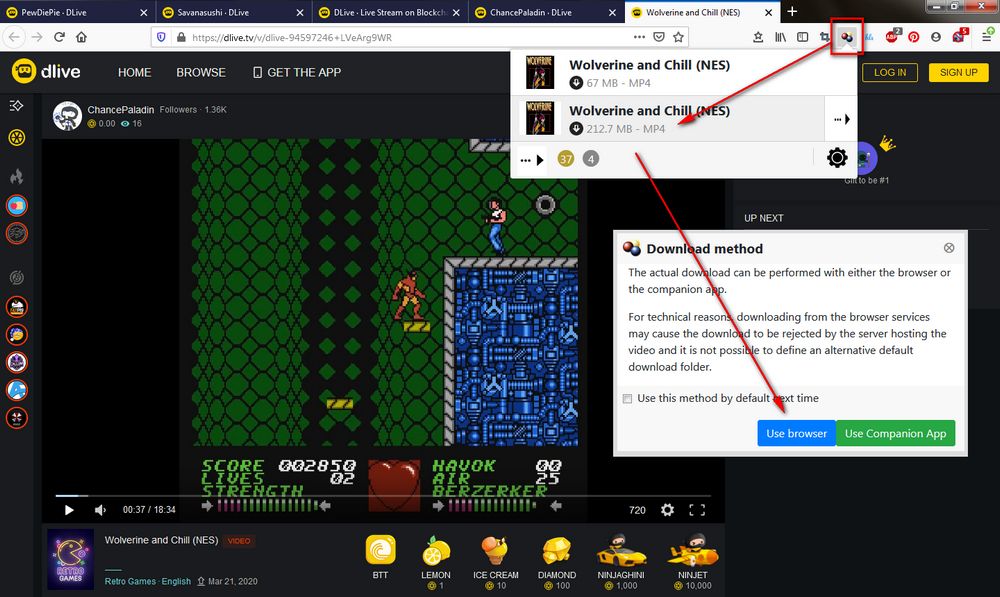 2. HLS Downloader
Download Link: https://github.com/puemos/hls-downloader
HLS Downloader is used to download DLive replays/VODs. Find and play your desired DLive replay/VOD, then there would be a red dot covered on the HLS Downloader icon, which means it has captured HTTP Live streams. Click the extension icon, choose a playlist and press the arrow icon to proceed. Multiple video resolutions will be displayed, click on any download icon of your desired quality to download DLive VOD. When the process is complete, you'll be prompted to rename and save it locally.
The only defect is that the downloaded DLive replay will be saved in .ts format. Try to change video format with Free HD Video Converter Factory mentioned in Solution 1 if you're not pleased with TS format.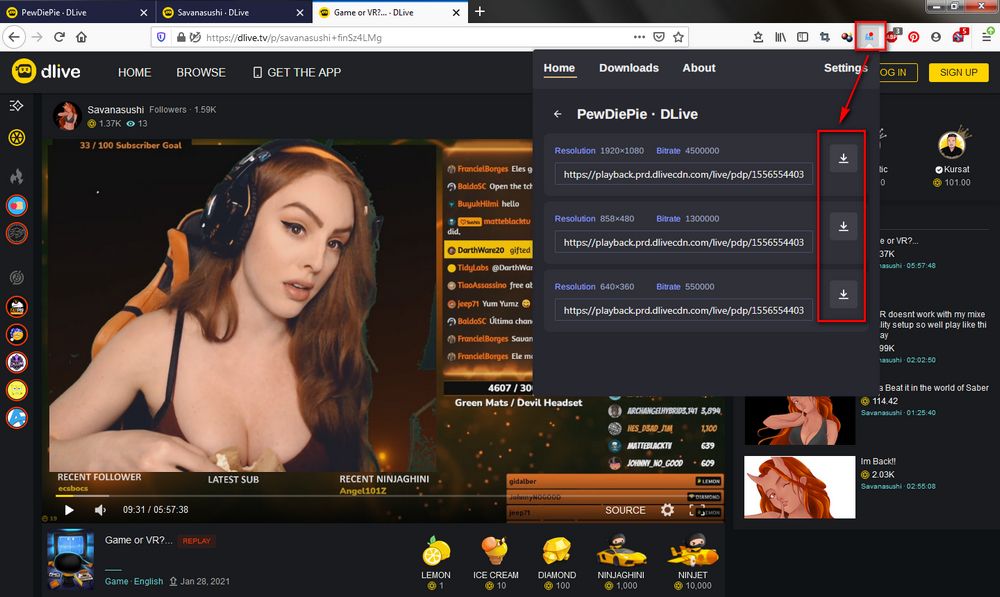 Solution 3: Free Online DLive Downloader
Unfortunately, there are few online services can deal with all types of DLive videos. But it's better than nothing, I found this online DLive Clip Downloader, which only works to download DLive clips/highlights. Simply enter the DLive.tv clip URL then press "Download".
DLive Clip Downloader: https://download.tidylabs.stream/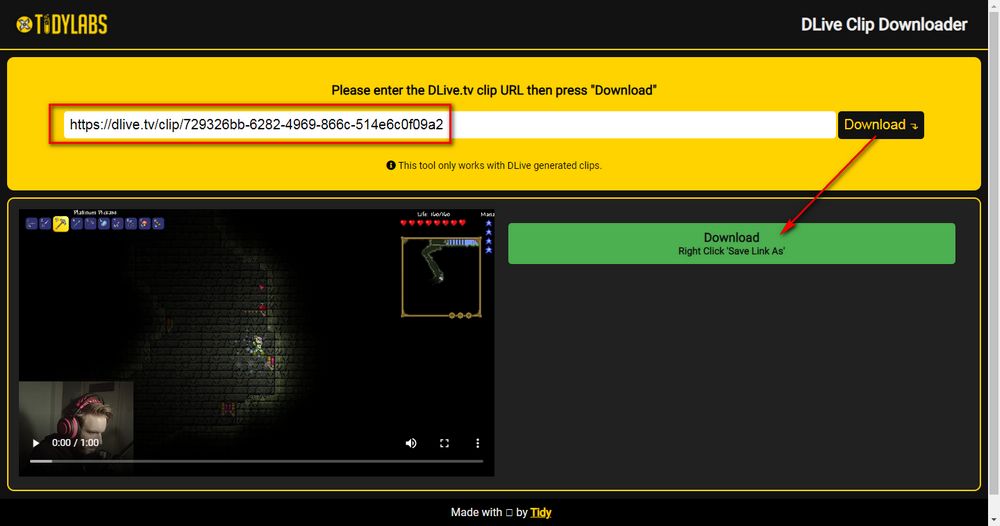 Final Words...
Actually, with Solution 1 and Solution 2, you can not only download videos from DLive, but also save favorite videos and songs from many other media streaming websites. If interested, try it by yourselves. So that's the end of the article, if this post is helpful to you, give it a thumb-up and share with your friends.