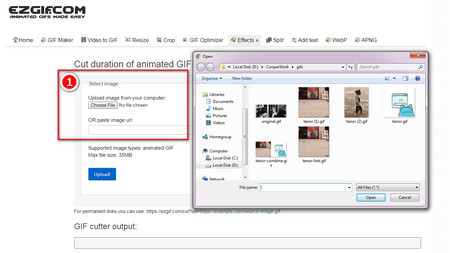 Click to next image
Step 1. Visit the cutter page via the official site: https://ezgif.com/cut. On the first page, click Upload to choose your GIF file, or input a URL into the bar to edit the online GIF file.
Step 2. The online cutter will lead you to a new editing page. Click the frames button on the top toolbar. In the frame page, you can see all the frames of your GIF file. Under flames, you can also find three buttons that are named delay, skip, and copy, which enable you to modify the duration of each frame, overpass unwanted frames, and replay specified frames when playing the GIF. As you are clear about the three buttons, click them to cut GIFs according to your actual needs. You can also use the Toggle range of frames tool to manage several frames in the arrange of Num1 to Num2.
Step 3. After cutting GIFs, slide down, click Make a GIF to create your new GIF. Electively, you can select Effects and GIF options. The descriptions next to the function buttons can also explain themselves well for you.
Step 4. As the new cut GIF is created, click the Save button above the GIF to download it.