Once you have converted to the compatible Adobe Acrobat video format, you can insert video into PDF as follows. Of course, if your video file meets the requirements, you can ignore part 1 and proceed directly to this section.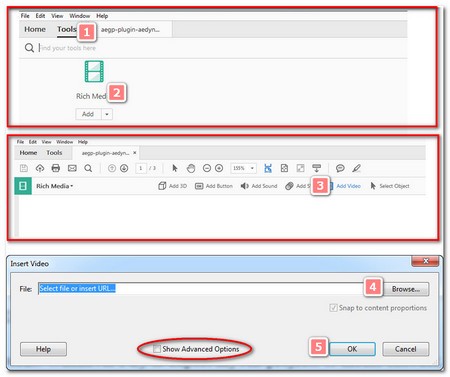 How to Embed Video in PDF
Step 1: In order to embed video in PDF, firstly, please run Adobe Acrobat DC to import the PDF files that need to be edited. If the PDF file is already associated with Adobe Acrobat DC, then double-click to open it.
Step 2: So as to insert video into PDF, please click on "Tools" on the top of the screen and then choose "Rich Media".
Step 3: Click "Add Video" on the toolbar.
Step 4: Hold down the left mouse button and drag out the area of the inserted video. If your video is online, simply enter the URL into the "File" box. Remember to enter the full address, including the video filename extension, such as .mov or .mp4. Or click on the "Browse" button to add a local video file.
Step 5: You can check "Show Advanced Options" to customize Launch Settings, Controls, etc. It is worth mentioning that this step is not required for add video to PDF, you can do it according to your own needs.
Step 6: Finally, click "OK" to embed video in PDF. It may take a few seconds for the video to show up.
So here is the whole tutorial of embedding video in PDF in a smooth way. Hope you have found the answer to your question – How can I embed video into PDF. If you think it's helpful, please share the tip with others.