About Vimeo File Size Limit
Vimeo is a popular website where video creators can share their innovative work and interact with their audiences. Yet, unlike YouTube, Vimeo sets membership tiers for its users. For free users with a Basic membership plan, they are allowed to upload up to 500MB of video content weekly with a 5GB video storage cap. Plus membership is given a 5GB Vimeo weekly upload limit and Pro for 20GB.
For people who just started out on Vimeo with the basic plan, they could reach the Vimeo upload limit easily. Hence, to make the most of the free storage, it's wise to start compressing videos for Vimeo. What we'll need for this is a reliable video size compressor. In the following part, I will share the best video compressor for Windows and show you how to compress videos for websites like Vimeo. Read on.
How to Compress Videos for Vimeo Easily and Quickly?
WonderFox HD Video Converter Factory Pro is a top video compressor ideal for compressing videos for Vimeo. It can easily compress large videos to Vimeo video size without quality loss. At the same time, it is a batch video compressor that enables you to compress multiple files for Vimeo at once. You can also use it to convert videos to Vimeo format for uploading later.
The compression is simple and will be faster than similar products. Here is a tutorial on how to compress videos for Vimeo with this software. Just free downloadfree download the software to get started.
Step 1. Input Video File(s)
Launch WonderFox HD Video Converter Factory Pro. Next, select Converter among the five modules (Converter, Downloader, Recorder, GIF Maker, and Toolbox). In the Converter, click + Add Files or Add Video Folder to import the video(s) into the program. Or you can drag and drop the file(s) into the converter directly.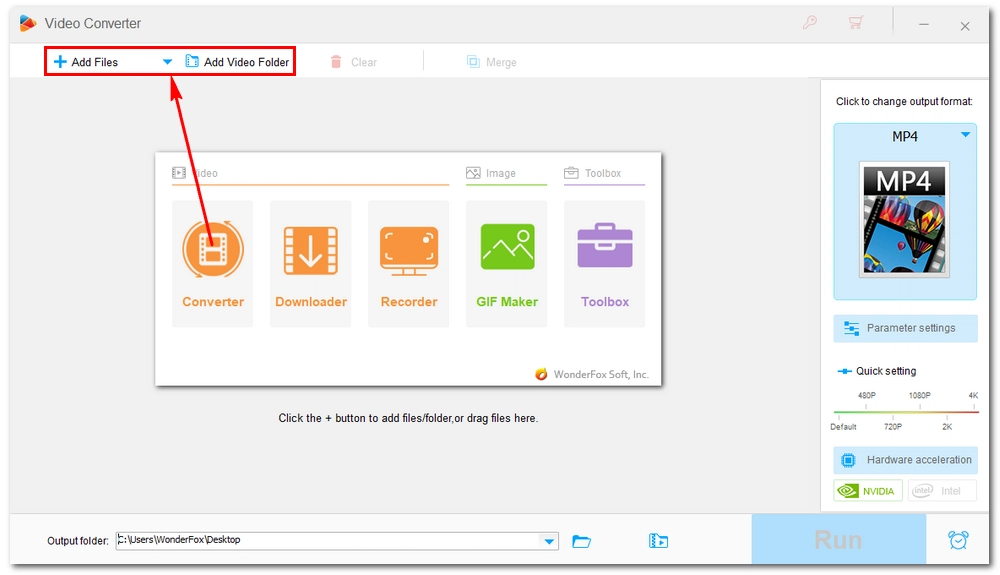 Step 2. Choose Output Format
Click the right-side format image to unfold the output format list. Then go to the Web tab and pick the pre-made Vimeo profile as the output format.
Tips: You can also choose other formats under the Video tab and configure the video parameters manually in the Parameter settings. Just make sure that you follow the Vimeo compression guidelines and make your video Vimeo-friendly.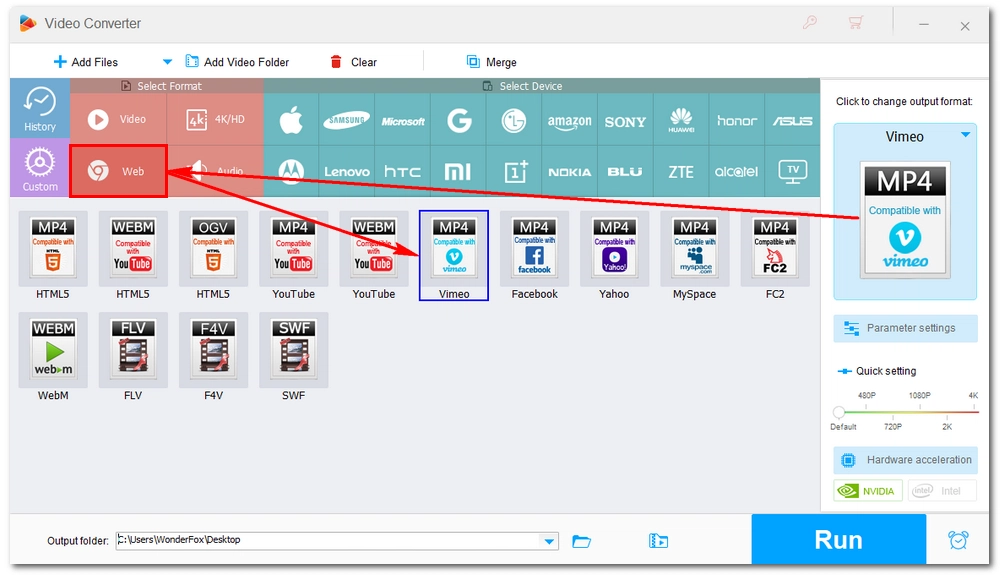 Step 3. Reduce Video Size
Now, it's time to change compression settings for your video(s). Here are two easy ways. One is through lowering the video bitrate to compress videos. Simply click the bottom compression button and drag the slider to the right to reduce the file size (But remember not to push the compression ratio too high, or you will ruin the video quality).
You can also reduce the video resolution. Go to the Quick setting and drag the slider to a resolution lower than the original one. If your video is in 1080P or higher resolution, you can change the resolution to 720P or lower resolution since Vimeo only allow free users to have SD and 720P HD playback.
Also, you can use the editing tools (placed in the rectangular blue bar) to edit out the parts you don't want to reduce video file size.
Tips: For more video compressing methods, check this article How to Compress Video Files from GB to MB?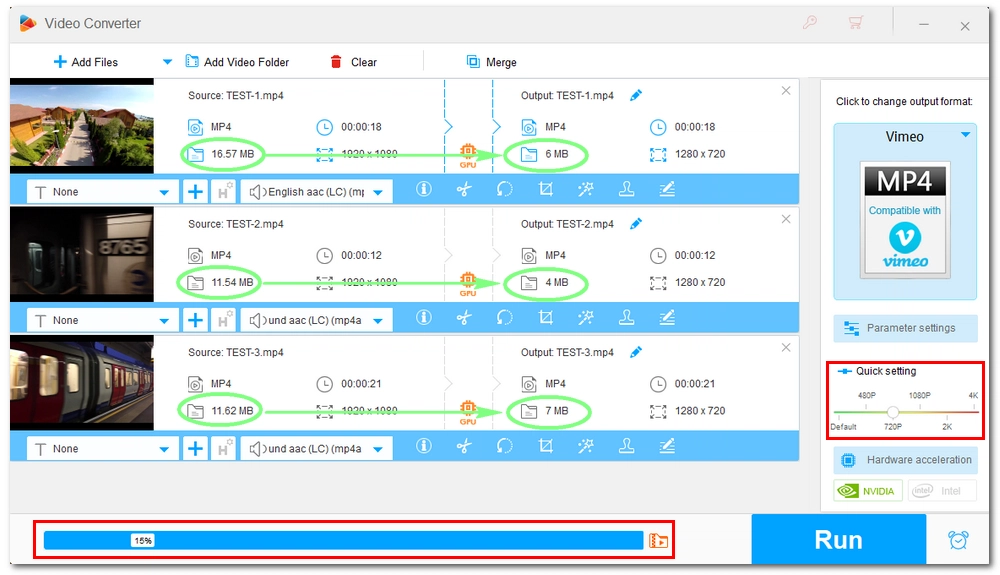 Step 4. Start Compressing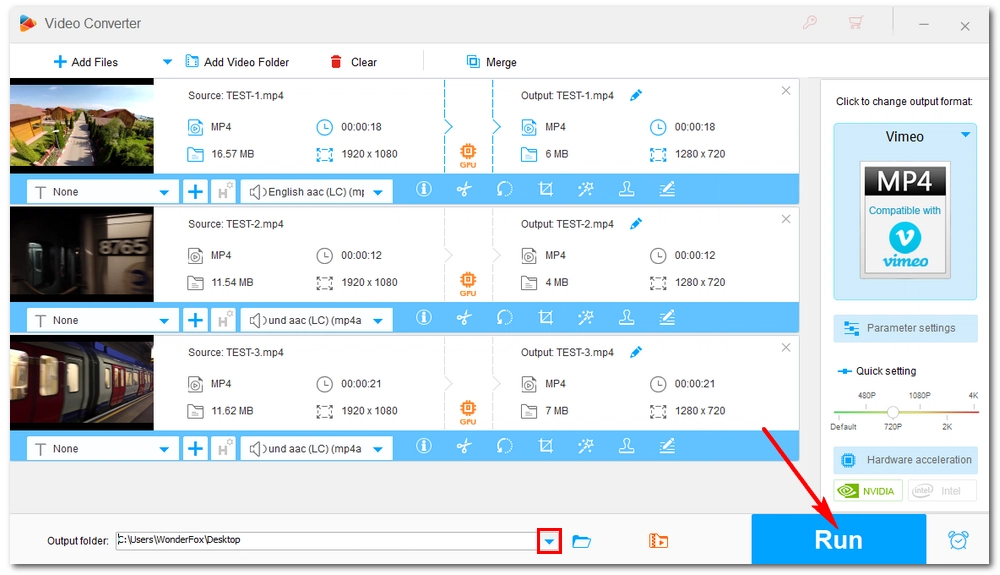 Wrap-up
WonderFox HD Video Converter Factory Pro is a very simple but powerful program to compress videos for Vimeo. Follow these steps and you will be able to compress video for other purposes. By the ways, the software can also improve video quality, download website movies and music, record screen and audio, convert between all mainstream a/v formats, etc. You can download it to explore more exciting features.