Why Can't Play MOV in Chrome?
Video/Audio Container and Codec Support on Chrome
Container formats: MP4, OGG, WebM, WAV
Video codec: VP8, VP9, AV1, Theora, H.264 (Google Chrome only), H.265 (Google Chrome only and only where supported by the underlying OS), MPEG-4 (Google Chrome OS only)
Audio codec: MP3, FLAC, Opus, Vorbis, PCM
On the other hand, MOV is a video file type developed by Apple. It contains one or more tracks of video, audio, images, subtitles, and other data. These media tracks are encoded by various codecs like MPEG-2, MPEG-4, AVC, MP3, FLAC, and AC-3. Some may not be compatible with Chrome, which would lead to the MOV playback failure. To solve the problem, the most efficient solution is to change the video container and codec to be fully supported by the browser. Thus, you can convert MOV to H.264 or MOV to HTML5 video (the new standard way to display a video on the web). The next part tells how to do that.
Please free download the converter software to be prepared.
Method 1. Convert to H.264 to Play MOV in Chrome
WonderFox HD Video Converter Factory Pro is a professional converter app that can solve lots of video playback issues. It can convert MOV to H264 for Chrome, MOV to WMV for Windows 11, MOV to Android-supported format, and the like. There are more than 500 presets available for conversion, including H264, H265, VP9, MP4, WebM, HTML5 video, audio, and device models. With the help of the software, you can fix any unsupported video format easy & fast.
Please installinstall the software on your PC and follow the simple steps below.
Step 1. Import MOV Files
Launch HD Video Converter Factory Pro and go to the Converter part. Click Add Files or Add File Folder to import your MOV files. Or you can directly drag the target files into the software to convert them in batches.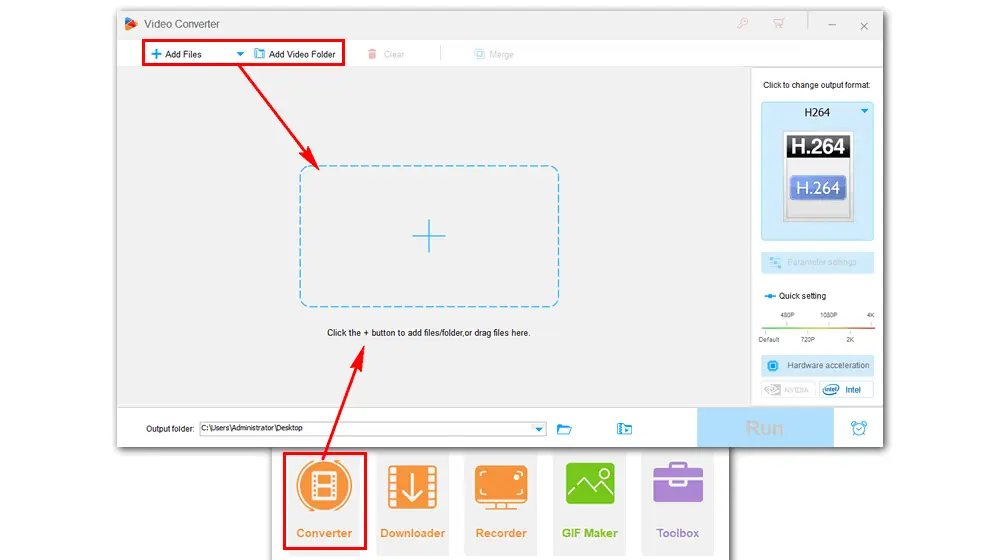 Step 2. Select H264 Encoder
Click the format image on the right side of the software. Navigate to the Video tab and choose H264 as the output profile.
* If you want to configure the related video-audio options, click and open the "Parameter settings".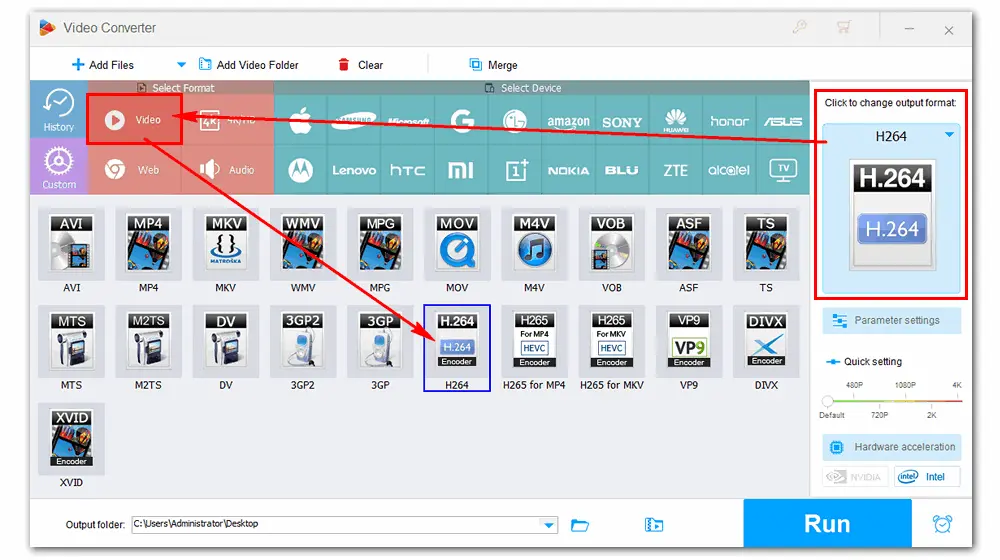 Step 3. Export Final Files
Click the inverted triangle button at the bottom to set an output folder. Then press the Run button to start the conversion at once. The process will be completed soon.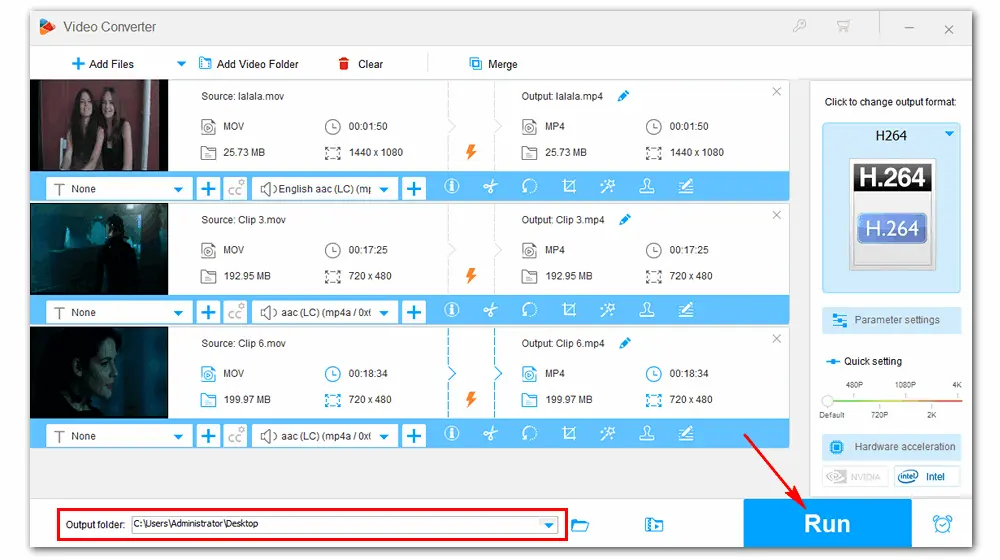 Step 4. Play Converted Files in Chrome
Find the converted H264 video files in the folder you set before. Drag and drop the video into the browser to play MOV in Chrome.
Besides H.264, you can convert MOV files to HTML5 for playback in Google Chrome. HTML5 is a standard markup language for web pages, which allows you to play media files on the browser without any plug-ins. From the Web category in the converter software, select "MP4", "WEBM", or "OGV" compatible with HTML5 and convert MOV to one of the formats.
Also Read: Convert Video to YouTube for Upload | Convert Video to TV Format | Best Video Converter to MP4
Method 2. Play MOV Files in Chrome through Google Drive
Google Drive is a personal cloud storage and file sharing platform. With Drive, you can safely store your files in the cloud, synchronize files from any device, view your content on the go while offline, and more. When you can't open MOV in Chrome, you can upload the video to your Drive and play it there. What's worth noting is that you should have enough storage space for the video and a good network connection for flawless streaming. Then, you can play MOV in Chrome through Google Drive as follows:
Step 1. Go to your Drive on the browser. If you have never used Google Drive, visit this site and sign up (at no cost): https://www.google.com/drive/
Step 2. Find the MOV video files you want to watch in Chrome on your computer. Then drag and drop them into My Drive. Alternatively, you can expand the drop-down list of My Drive, click File upload, select the video, and click Open to upload it to the Drive.
Step 3. Left-double-click on the video to open it. Now, you successfully play a MOV file in Chrome.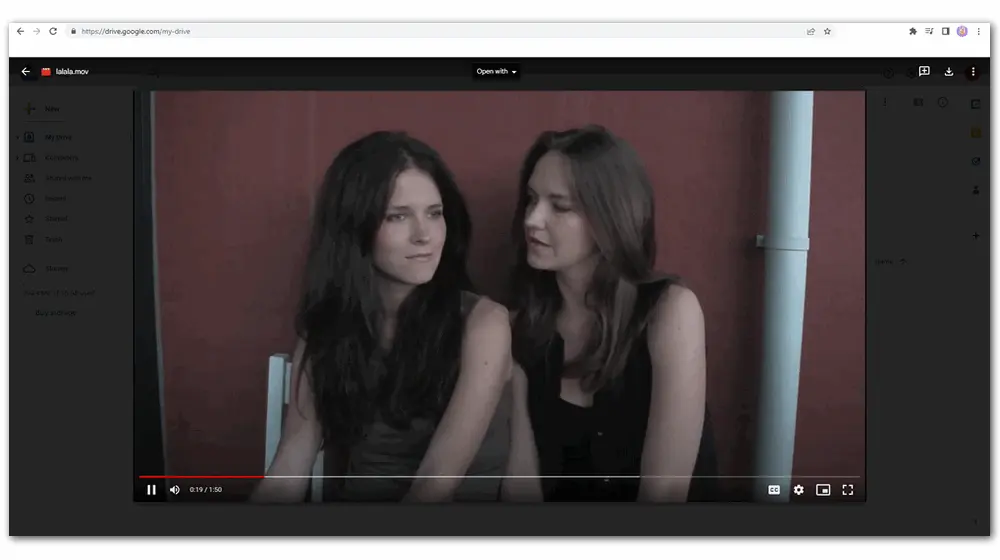 Method 3. Use Chrome MOV Player Extensions
Another way to play MOV files in Chrome is to use a powerful video player for Chrome. Many online apps and extensions support .mov file playback. Here, I will introduce three efficient media players for Chrome. You can try any of them to play your MOV video.
Handy MOV Player for Chrome
1. Video Player
Video Player is an online media player with a playlist and gallery. It allows you to watch local video files on your PC or Chromecast device. It enables you to sync all devices with a single Google Drive folder, and the playlist can be password protected. The interface is simple, and every level of user can handle it without hassles. Just launch the app on your browser and drag the MOV file into the player. That is how to play a MOV file in Chrome using this tool.
However, only HTML5 video formats are supported. If your file format is not recognized by Google Chrome and no app can play the video, convert it to WEBM format to be 100% compatible with Chrome.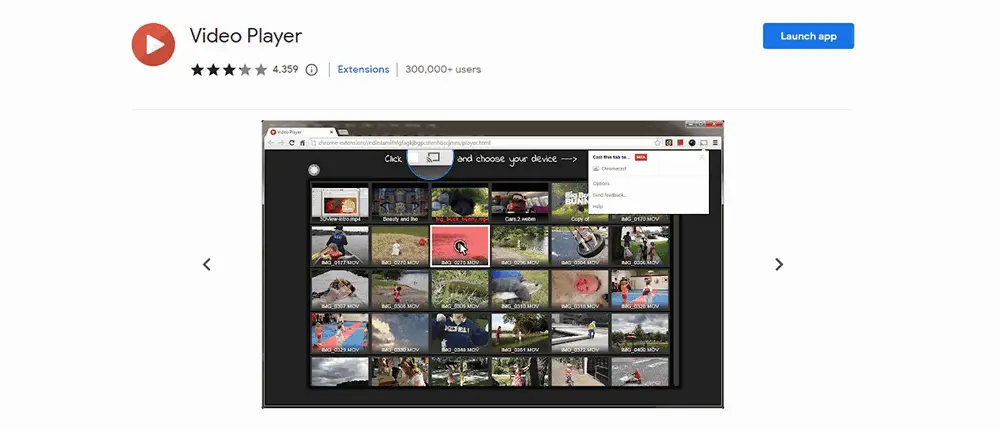 2. MediaPlayer – Video and Audio Player
MediaPlayer is a browser extension for playing video and music files from local or online sources. It adapts the HTML5 technology to bring users a good watching experience. It's handy to operate: Open the add-on and drag a MOV video to view it in the player. This player also allows you to watch videos offline. Moreover, it supports media enhancement, speed control, HTTP streaming (M3U8), full-width progress, adding subtitles using the +CC button, and casting to remote devices. Hotkeys are available to help with the video playback.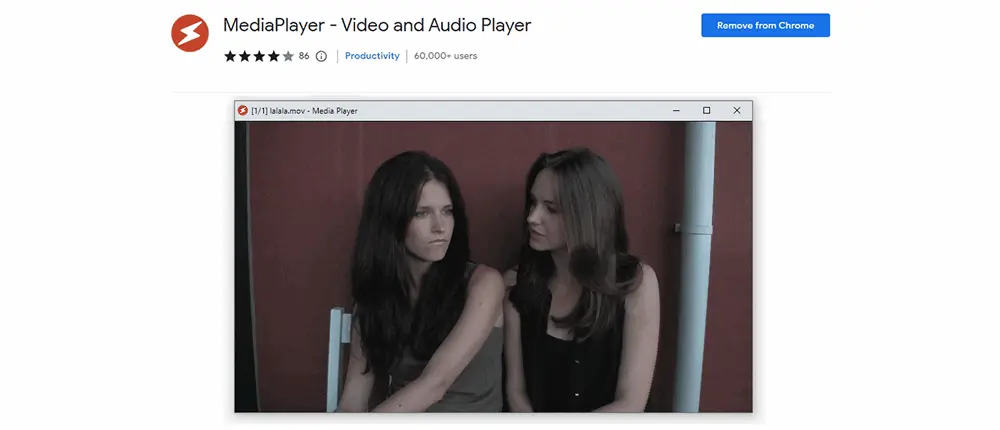 3. Video Player for Local Files
Video Player for Local Files is another simple Chrome MOV player. Unlike MediaPlyer, this web video player only plays local video/audio files. It can also work offline. How to use this add-on: press the extension icon, click the folder icon or drag a MOV file to the player, and then you can watch the video. After that, you can increase or decrease the volume, adjust the playback speed, or take a screenshot as a .jpg/.png image.
What does this Chrome player not support: independent or embedded subtitles, online streaming files, multiple audio tracks switching, and some video formats and codec, like HEVC (H265).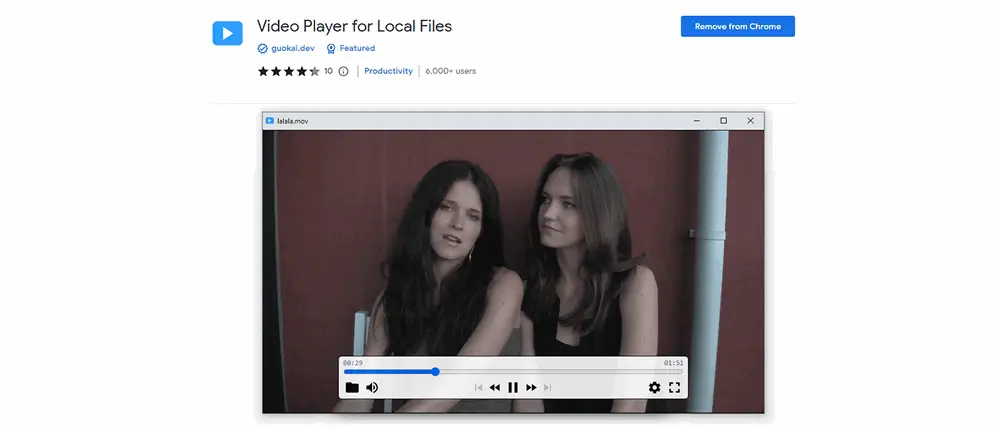 Conclusion
That's all about the solutions to the Chrome MOV support issue. Converting MOV to Chrome-supported video formats like H264, HTML5, and WebM is the most effective method. But you can also play MOV files with Google Drive or a third-party MOV player for Chrome. Just select an appropriate solution to play your MOV files in Chrome hassle-free!