Does Windows 11 Support HEVC?
Windows 11 doesn't ship with HEVC codec installed just like its predecessor. When you suddenly play an HEVC movie in the Movie & TV app, you will receive an error message "To play this video, you need a new codec" along with the needed HEVC Video Extensions.
You do need to install HEVC codec for Windows 11 to play back H265 files. But it is not necessary to spend $0.99 on this codec as there is free HEVC codec available. In the next part, you can learn two ways to get HEVC codec for free on Windows 11. Moreover, you are provided with extra tips to play HEVC files if you can't install the HEVC codec on your system.

How to Install Free HEVC Codec on Windows 11?
1. Install HEVC Video Extensions from Device Manufacturer
HEVC Video Extensions from Device Manufacturer is the same HEVC codec from Microsoft Store that can help you play H265 videos on your PC. But it is available for free. You can get this extension by copying and pasting this link into your browser:
ms-windows-store://pdp/?ProductId=9n4wgh0z6vhq
Hit "Enter" and let it open the Microsoft Store. Then you can click "Install" to get the HEVC codec on your Windows 11 for free.
Note: Regions outside of the USA may not have access to this extension.
2. Add HEVC Codec to Windows 11 from K-Lite Codec Pack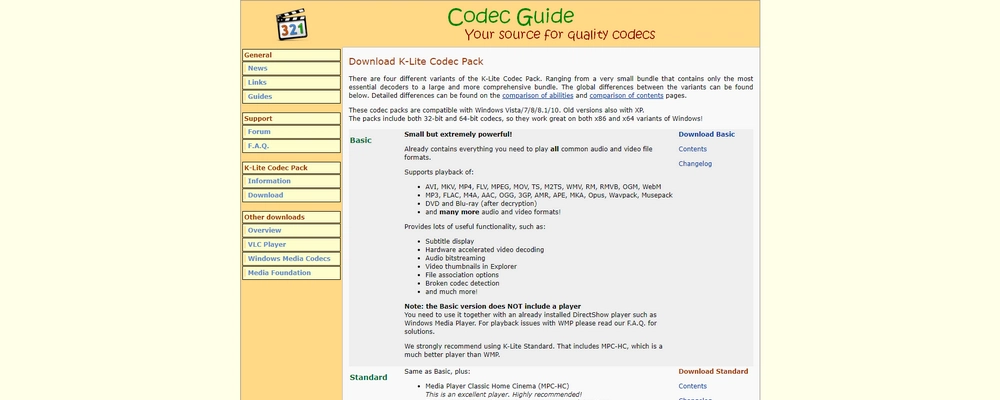 Apart from installing HEVC codec from Microsoft Store, you can get free HEVC codec from external sources. The valid K-Lite Codec Pack is filled with an assortment of codecs, including HEVC, H264, MPEG, WMV, Xvid, and so on, which means it can help you not only with getting HEVC codec support on Windows 11 but also solving various other format compatibility issues. You just need to visit https://codecguide.com/download_kl.htm and download a K-Lite Codec Pack variant based on your own needs. Then run the .exe file and follow the prompts to complete the installation. Next, you can test whether the Windows 11 HEVC support is back.
Hot Search: HEVC Codec Windows 10 | Fix Unsupported Video Format | 0xc00d5212 Error | 0xc00d3e8c Error | Fix Windows Media Player HEVC Issue
Extra Tips on Playing HEVC Videos on Windows 11 without Error
Besides installing HEVC codec to enable the HEVC playback on Windows 11, an HEVC converter will come in handy if you are afraid that the codec could mess up your system or the HEVC video plays choppy. Note that high-quality HEVC videos, such as 1080P, 4K, and 8K videos, are resource-intensive and require a high-end device to support their smooth playback. A good HEVC video converter can resolve this problem so you can continue playing HEVC movies smoothly.
Convert HEVC for Smooth Playback on Windows 11
HD Video Converter Factory Pro is a reliable video conversion program that supports HD/4K/8K HEVC conversions and can compress HEVC files while keeping high quality. With its help, you can convert HEVC video to Windows 11-compatible format and free up the device storage in the meantime.
Here is a simple workflow of how to convert HEVC files to play on Windows 11 without error: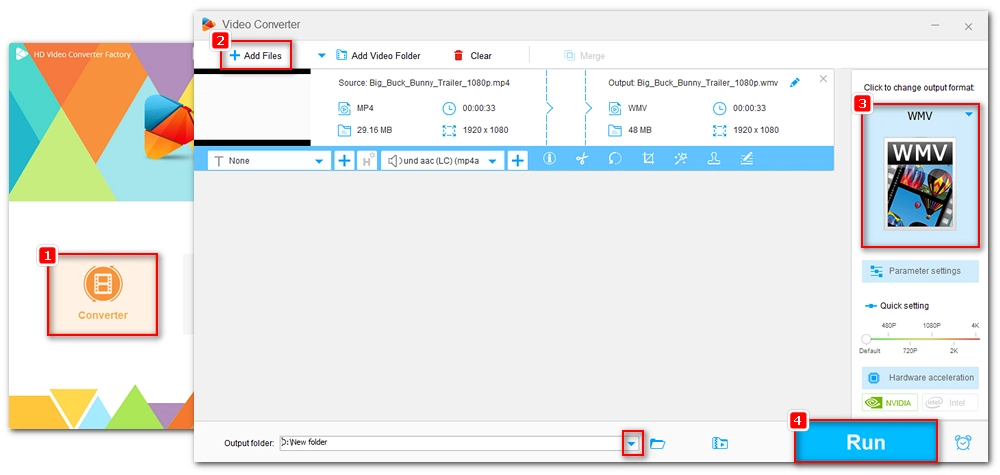 Step 1. Start HD Video Converter Factory on your Windows 11. [Quick Download Quick Download]
Step 2. Open "Converter" and drag the HEVC files into the conversion list.
Step 3. Click to open the right-side output format list and choose "H264" or another compatible format as the output profile.
Optional. If needed, go to the "Quick setting" below and drag the slider to a lower resolution. The "Parameter settings" provides more options to change video codec, resolution, bitrate, frame rate, etc.
Step 4. Finally, click "Run" to start the conversion.
Wrap-up
In addition to the methods provided above, you can also use an HEVC player, such as VLC Media Player (with native HEVC decoder), to play HEVC/x265 files directly. Now, we've talked about how to install free HEVC codec on Windows 11 and the tips to play HEVC videos freely. I hope the advice could help with your problem. Thanks for reading till the end. Have a nice day!