The Reason for 720P to 1080P Conversion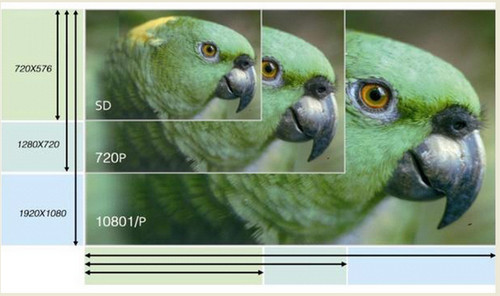 The Reason for 720P to 1080P Conversion
Since the technology of video resolution reached a new step, more and more innovative high-definition devices have emerged to satisfy people's demands in pursuing high definition. The large-screen HD TV is one example. If you have a 720p video, you can learn how to upscale 720p to 1080p or even higher resolution like 4K so that you can play it on HD TV/4K TV and enjoy the best visual image in the comfort of your home.
How to make a 720p video into 1080p? Read the following guide to know more.
How to Convert 720P to 1080P (or higher)?
Converting video from 720P to 1080P means you scale up the video image to fill a 1080P format. Video quality is based on video bitrate. More often than not, higher bitrate means better quality, also larger file.
Anyway, based on the advanced technology, HD Video Converter Factory Pro can provide you with the refreshing solution to easy SD to HD conversion, and even convert 720 to 1080. With it, you are empowered to upscale 720P to 1080P for playback on your favorite devices, including both large-screen HD TV and high-resolution mobile devices. As 4K and 8K are the hot techy buzzwords, you can also convert video to 4K Ultra HD and even download 8K videos with the powerful program.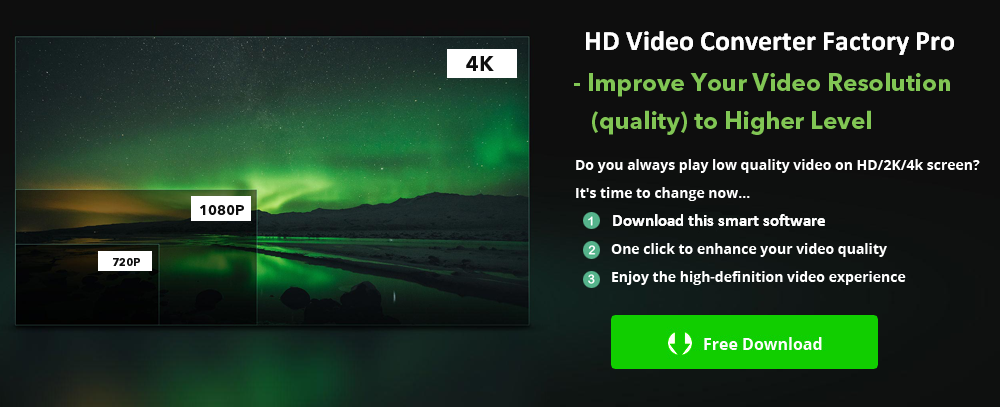 Fast Convert 720P to 1080P within 4 Steps
Now, please download this HD 720P to 1080P upscaler and then follow my steps to improve the video quality to 1080P from 720P. It's easy, reliable and user-friendly.
Step 1. Add 720P Video Files
Open this program. Pick Converter icon and you can load files by clicking "Add File" button or directly dragging the original 720p video files to the main interface.
By the way, batch conversion is supported!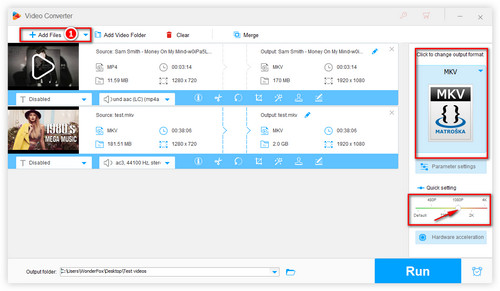 Add the 720P video file
Step 2. Choose 1080P in 2 Ways
1. On the resolution bar, drag the slider to 1080P directly. Then go to the output format section (click the format image) and select one output format (as shown in picture 1).
2. Another way is to select one "4K/HD" profile from the "Output Format" section. Here you are allowed to select whichever format meets your need if you want to change the file format.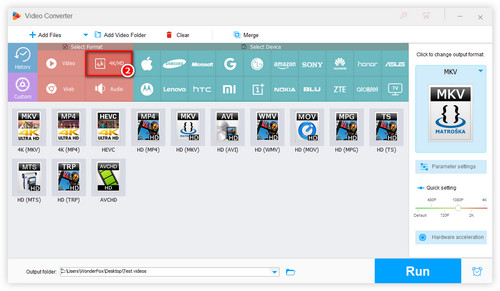 Convert video to 1080P
Tip: Moreover, as a versatile video converter, it supports a broad range of formats, such as AVI, MP4, MKV, MOV, TS, VOB, AAC, etc., and is able to convert MP4 to 1080P, convert MP4 to 4K, 1080P to 720P and the like.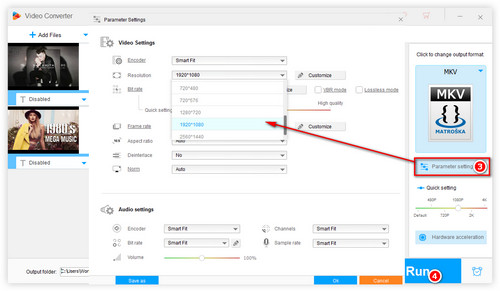 Customize the parameters
Step 4. Convert 720p to 1080p
Hit "Run" button to start to convert 720P video to 1080P, and then locate the converted video by pressing "Open Folder". Also, you can set the output folder before that. The whole process will be finished within the shortest time.
Note: For the best quality video output, please make sure your original video sources are not too poor.
Now, please download the HD Video Converter Factory Pro to complete your jobs.
Superior Feature Ensures Seamless HD Video Playback on Your Devices without Any Limit
Many video converters can help you deal with how to make a 720P video to 1080P video, but the video quality will not change or it may even become worse. So you need to think through before you fix how to upscale video to 1080P issues, like the quality of source video, output settings and more. And HD Video Converter Factory Pro, a professional 1080P video converter, is able to scale up the video image to fill an HD format without hassle.
You do not need to adjust the resolution expressly, if what you want is to convert video to target devices for playback, because this smart software supports various hot devices like Apple's products, Samsung GALAXY series, Android Smart, UHD TV, Surface, BlackBerry, PS4 etc. Each device has the optimized values so that you can directly choose it as output format, and then just enjoy videos on your devices anytime, anywhere.
WonderFox HD Video Converter Factory Pro will be your best choice to convert videos and make your visual experience more enjoyable. You can also install it here: Free Download.
Extended Knowledge: the Definition of 720P and 1080P
720P is a resolution of video mode, shortened by 1280*720. 720 stands for the 720 horizontal scan lines of display resolution, while letter p means progressive scan. It is the minimum standard of HD video.
1920*1080 is usually seen as the sign of 1080P which is a set of high-definition video mode that is characterized by 1080 horizontal line of vertical resolution and progressive scan. Most of the time, it is known as Full HD.
Install HD Video Converter Factory Pro to Change Your Video from 720P to 1080P.
More Special Features on HD Video Converter Factory Pro
50X Speed up the conversion process.
Download videos, even 4K/HD from YouTube easily and safely. Batch downloading is allowed.
Extract audios from video perfectly.
Compress videos with the best quality.
Personalize videos with wonderful functions (clip, crop, add effects, add subtitle and merge).