Get Hardware Acceleration When Convert Video Files
WonderFox HD Video Converter Factory Pro offers up to 50X faster conversion speed than ever before. One of the most important reasons is it enables hardware acceleration. Nowadays, the video decoding processes can be accelerated by evolved technologies like Multi-CPU, Hyper Threading, Intel Quick Sync, CUDA, NVENC, etc.
Most GPUs (graphics processing unit) created since 2000 support MPEG primitives such as motion compensation and iDCT. This process of GPU hardware accelerated video decoding, where portions of the video decoding process and video post-processing are offloaded to the GPU hardware, is commonly referred to as "GPU accelerated video decoding", "GPU assisted video decoding", "GPU hardware accelerated video decoding" or "GPU hardware assisted video decoding". More recent graphics cards even decode high-definition video on the card, offloading the central processing unit. HD Video Converter Factory Pro uses NVIDIA NVENC, NVIDIA CUDA and Intel QSV technologies to speed up conversion process. GPU Acceleration only applies for H264 encoder and H265 encoder. NVIDIA NVENC and NVIDIA CUDA use the discrete graphics chips of NVIDIA to accelerate the conversion. Intel QSV accelerates the video conversion using the integrated graphics chip embedded in Intel CPU.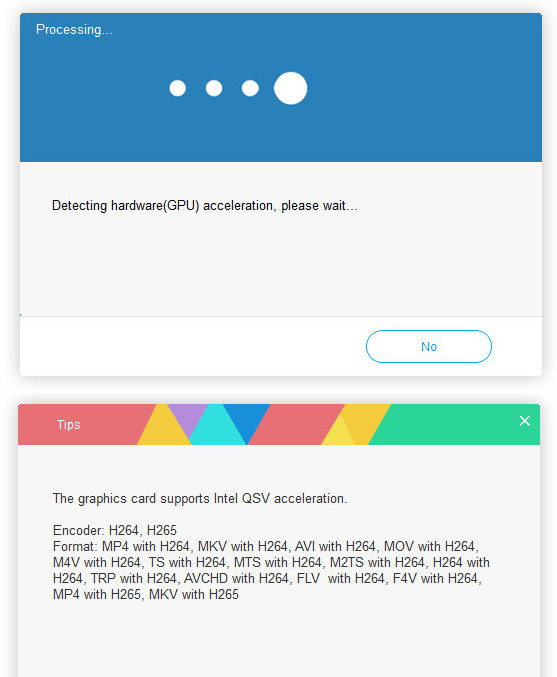 As for the working principle of GPU Acceleration, GPU shares the burden of CPU when converting videos, which can vastly shorten the conversion process, even up to 25X (in comparison to no GPU acceleration). The performance of GPU determines the degree of improvement of the conversion speed, that is to say the better the GPU performance, the more obvious the conversion acceleration.
By the way, there are some hardware requirements on accelerating video conversion with NVIDIA NVENC technology, and you can learn more details from the site: https://developer.nvidia.com/video-encode-decode-gpu-support-matrix
To make the most of your hardware, please click the gear-shaped "option" button on the main interface, set the "CPU Core Number" and "CPU Priority" as the highest. Then tick "Enable Hardware Acceleration Technology" in the "Converter" interface. Now enjoy the super-fast conversion speed.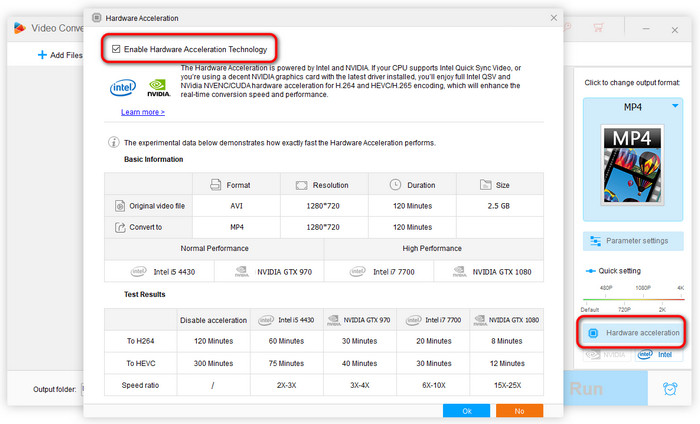 If you still have any question, please feel free to contact us: support@videoconverterfactory.com Or ask us via Facebook to get a fast response.