Converting Video_TS to MKV so as to play them on more devices and players, such as HDTV, iPad, VLC media player, etc. Therefore, this article will offer you with a best way to solve your Video_TS playback issue.

by Milly
Common Issues about Video_TS
Issue one: I don't know where the Video_TS folder is? And what benefits will I get if I convert Video_TS file to an MKV video? Can anyone be kind to reveal these puzzles for me?
Issues two: I bought a DVD from the local video shop, and I want to extract its Video_TS folder and then convert it into MKV video file format. Because I can play it on more portable devices. But where can I find a best video_TS converter?
Responses to the above issues:
Firstly, Video_TS is a DVD folder which contains the necessary components of a DVD, including video data and playback information. Precisely speaking, it contains three types of formats, respectively are VOB, IFO and BUP. VOB is short for video object (the container for video files of a DVD), and we can see its' importance from the name. And IFO stands for information file, which plays an essential role in video playback matter. As for BUP, it is designed as an alternative option in case IFO was damaged or couldn't be read by our computers.

Video_TS to MKV
Next, you are able to transfer the converted MKV files to more available media players and play them easily. Therefore, a good and powerful Video_TS to MKV converter is what you can't miss when you want to accomplish this task.
And now, you are provided with this Video_TS MKV converting application. You can free download it and install it on your PC before we going to the next stage about how to convert Video_TS to MKV with three steps.
Converting the Video_TS File to MKV with Three Steps
Now that you have installed this powerful program on your computer, then you can convert Video_TS to MKV with ease. Besides, this application also offer other mainstream video formats, so it is easy for you to convert Video_TS to MP4 and convert Video_TS to AVI. In addition, it allows users to decrypt DVDs with difficult encryption techniques, such as copying Insanity DVD, ripping Netflix DVD and converting DVD to iMovie, etc. And if you have ISO Images, you can also convert ISO to MKV.
Warm Prompt: Before you read the following contents and follow the steps to convert Video_TS files, you'd better check out whether it is an legal action to makes changes of your bought DVDs in your country.
Keeping read to find the best solution for your DVD related issues in the following parts.
Step 1: Add Video_TS Folder
Launch the program, and you will see three source options showing in the black and blue mixed interface. You need to click "DVD Folder" to choose your Video_TS files from your computer.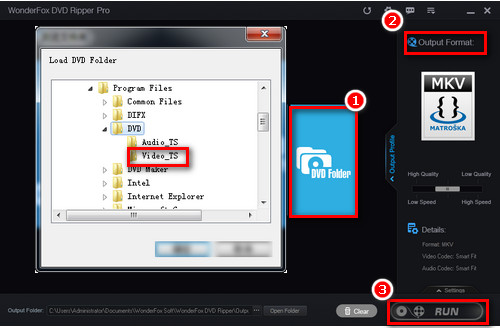 Add Video_TS Folder
Step 2: Select AVI as the Output Format
Follow the process just like the screenshot showing below, and you are supposed to choose MKV as the output file format in the "Output Format" field in the second step.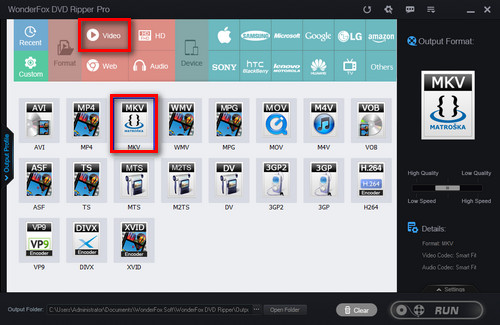 Choose MKV as the Output Format
Step 3: Start Converting Video_TS Folder
After all settings done, you only need to click "RUN" button at the lower right corner to start. And it will get your work done within a few minutes. So please be patient until the whole conversion process done.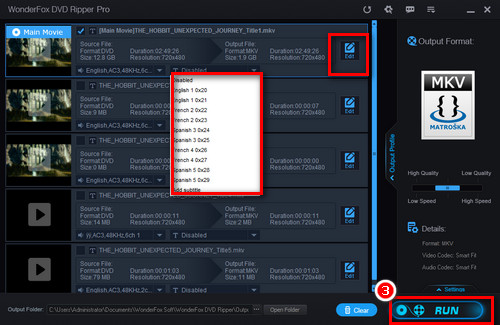 Click "Run" Button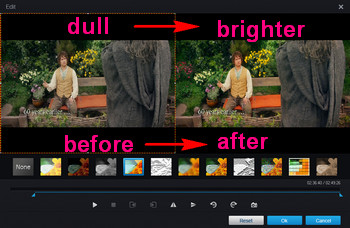 Brighten Your Videos
Tips: You can see from the screenshot above, there is a white rectangle which contains several languages ranging from English, French to Spanish. And you can choose your own mother tongue while watching it or remove them all so as to enjoy movies as you want.
Besides, if you find your videos dull in color, then you can click "Edit" button to make it brighter.
Now, please download the DVD Ripper Pro to complete your jobs.
More Special Features on WonderFox DVD Ripper Pro
Rip any DVD including home-made and copy-protected DVDs you own
Back up DVD to MP4, AVI, MPG, MKV, DIVX, XVID, VP9, H264, H265 and many more
Extract soundtrack out of DVD(TV show, film, music DVD, tutorial DVD)
Full support DVD Folder and ISO image as well
One click to convert DVD to any kind of hot devices including portable devices and TVs
Offer a built-in editor to add/remove subtitles, custom set output video resolution