PAL stands for Phase Alternating Line. It is the analog color TV format adopted by most countries in Europe, Africa, and Asia to display pictures at 625 lines, 25 frames per second. DVDs encoded in PAL format will also display by 720 x 576 at a frame rate of 25fps. Besides the PAL format, there are the NTSC standard that is most associated with the US and Canada, and the SECAM system which is mainly used in French-speaking Europe.
A PAL DVD player is required to play the PAL format DVD. Most PAL machines also offer NTSC playback. However, NTSC consumers will find it more difficult to play PAL DVDs. For instance, to play PAL DVD in the USA, both a region-free, multi-standard player and a multi-standard television (or a TV with a converter box) will be needed. Is there a way to play PAL DVDs more efficiently? Actually, there is. One popular solution is to convert PAL DVD to MP4 or other digital formats so it can be played on various devices and platforms without restrictions. The next part focuses on how to rip PAL DVDs on Windows with a dedicated PAL DVD converter. Read the on for more details.
WonderFox DVD Ripper Pro is a professional DVD ripping program to handle all sorts of DVD conversions. It comes with advanced DVD decryption technology and can remove nearly all protections like PAL/NTSC encoding system, region code, 99 titles, and more to rip DVDs easily. It even lets you convert PAL DVD to NTSC VOB files for further DVD burning.
Through this program, you can convert your PAL DVD to all mainstream video formats and devices, such as MP4, MKV, LG TV, Android, Apple, etc. You are also allowed to compress and edit DVD videos before conversion. The process is straightforward and fast. Now, free download free download the PAL DVD converter and follow the instructions to rip your PAL DVDs.
Input a PAL DVD into your computer's DVD drive first. Then, open the DVD ripper program on your PC. In the main workspace, hit the DVD disc button > select the DVD you just inserted > click OK. Next, you will see all the DVD videos loaded into the interface with the main movie/titles marked.
Tips. You can also load DVDs from the ISO image or VIDEO_TS Folder.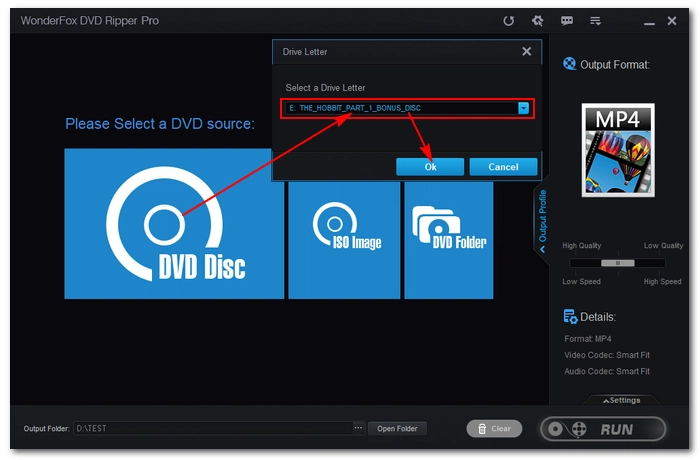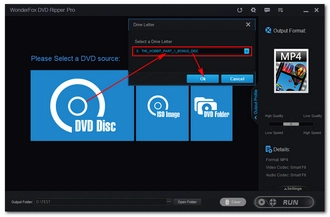 On the right side of the program, click on the format image to open the output format page. There are three main groups (1:1 Quick Copy, Format, and Device) with different categories. Explore your target category and find your desired output option. For most people, MP4 under the Video section is the best choice.
Tips. The program will try to keep all things the same as the source, meaning that it will maintain the same resolution, frame rate, aspect ratio, etc. If you want to modify these parameters, you can go to the Settings on the lower right and change the required parameters there.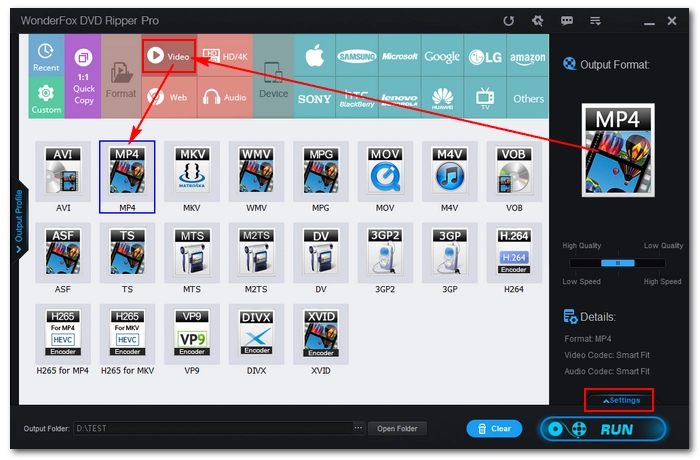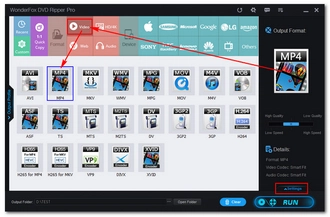 Click the three-dot button at the bottom of the interface to choose an output folder. Finally, hit the RUN button to start the process.
Tips. From the ripping list, you can also choose subtitle and audio tracks or even make edits to the DVD video before the ripping start.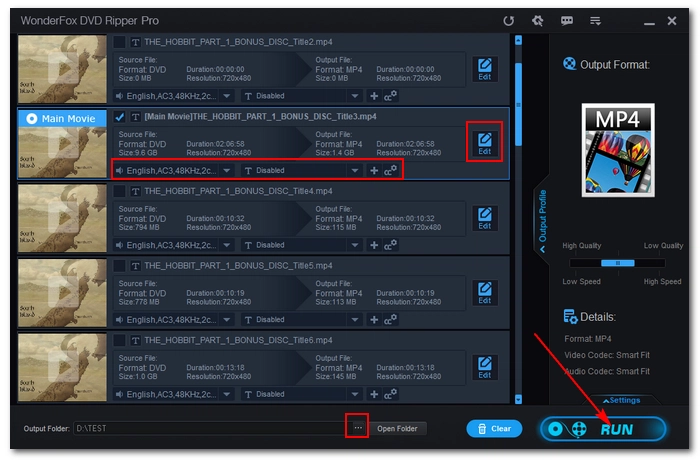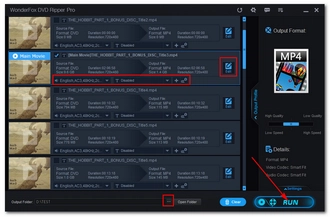 Disclaimer: WonderFox does not advocate any illegal duplication and distribution of DVDs. Please refer to the DVD copyright laws in your country before you rip any DVDs.
That's the whole process of how to rip PAL DVDs efficiently. I hope the PAL DVD ripper introduced here can meet your demand. Thanks for reading.