How to Convert PAL to NTSC or NTSC to PAL
Questions about PAL vs. NTSC DVD Posted on Yahoo Answers
Q: Will NTSC dvds play on my PAL dvd player or computer?
A: I am looking to buy some NTSC dvds online from overseas. I am from Australia and I have a PAL dvd player. Will the NTSC dvds play on my PAL dvd player? Also will they play on my computer, eg through VLC media player?
Q: Will most DVD players play both PAL and NTSC movies?
A: I live in the United States and I have a friend that has a movie in PAL and I'm just wondering if I have him bring it over here to watch if I'll be able to watch it on my DVD player?
Q: Should I burn in NTSC or PAL for my dvd player?
A: I am going to my parent's house soon and have a video I made and I don't know whether to burn it in NTSC or PAL. Which would be the safer bet? I know that I had burned one at another point and it didn't happen to work, but I can't remember what format that was.
PAL VS NTSC
PAL and NTSC are the two most common used standard broadcast formats. PAL stands for Phase Alternating Line. NTSC stands for National Television Standards Committee. PAL adopts a frame rate of 25 fps and 720x576 aspect ratio, and is widespread in most of Europe, Australia and large parts of Africa and Asia. For NTSC, a frame rate of 30 fps at an aspect ratio of 720x480, is used in North America, Japan and South Korea.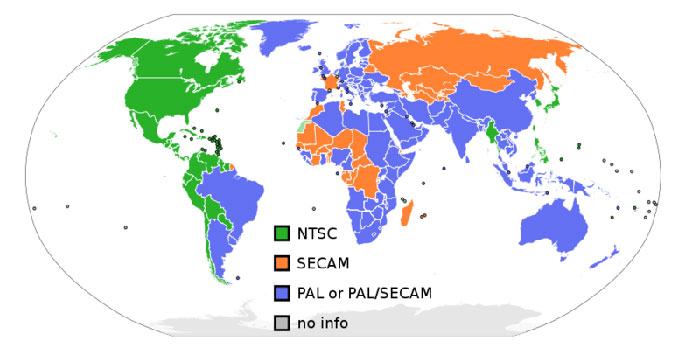 | | | |
| --- | --- | --- |
| | PAL | NTSC |
| Video Bandwidth | 5.0 MHz | 4.2 MHz |
| Sound Carrier | 5.5 MHz | 4.5 MHz |
| Bandwidth | 7 to 8 MHz | 6 MHz |
| Vertical Frequency | 50 Hz | 60 Hz |
| Horizontal Frequency | 15.625 kHz | 15.734 kHz |
| Color Subcarrier Frequency | 4.433618 MHz | 3.579545 MHz |
| Lines/Field | 625/50 | 525/60 |
Due to the above differences between PAL and NTSC, NTSC DVD players usually cannot read PAL and vice versa, namely a PAL DVD or VHS tape would not work in the United States.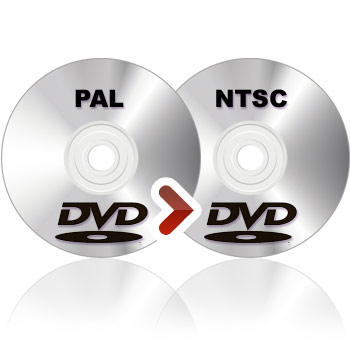 How to Convert Your DVD from One Color System into Another - Step-by-Step User Guides
PAL to NTSC converter is much-needed to resolve the incompatibility problem of PAL and NTSC systems. This PAL to NTSC converter, WonderFox DVD Video Converter, fits for your every requirement on it.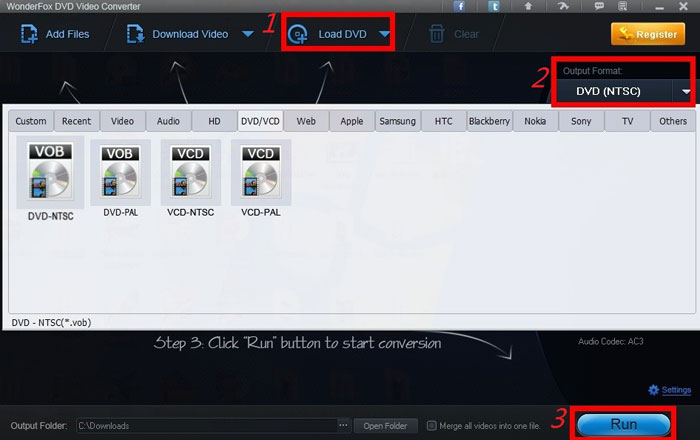 Step 1: Insert the PAL DVD/NTSC DVD and launch the program. Click "Load DVD".
Step 2: Hit the drop-down menu of output format, select "DVD-NTSC" or "DVD-PAL" in the "DVD/VCD" category.
Step 3: Click button "Run" to start to convert PAL to NTSC DVD or NTSC to PAL DVD.
Note the output is not PAL/NTSC DVD but PAL/NTSC .vob file. If necessary, Nero is a recommendation to burn the .vob file into DVD.
Actually, DVD is not a recommended way to save video content for its taking up much space and being apt to be scratched. By means of DVD Video Converter, you're able to rip DVD to hard drive or portable device for forever keeping, copying and sharing with friends.
Related Software
WonderFox DVD Video Converter - All-in-one media solution includes DVD Backup, DVD Rip, Video and DVD Converter, Video Downloader, Video Editor/Player
WonderFox DVD Ripper Pro - A professional dvd ripping tool, bypass any encrypted DVD and region code, and convert DVD content to most video formats and handheld devices
Related Resource
Remove Region Code from DVD: Better and faster solutions to remove region code from DVD ever
Remove DVD CSS: Here's by far the fastest and most effective solution to remove CSS encryption or remove DVD CSS. Enjoying any encrypted DVD on the go is simple as A B C.
Backup Encrypted DVD: within few steps
HD DVD Ripper - Rip & Convert any HD DVD disc/iso without Quality Loss
Rip HD DVD to iPhone 5 - Let you watch DVD movie on your handheld devices, such as iPhone, iPad, Android phone, tablet, ect.
Special Offer - WonderFox DVD Video Converter
Special Offer: WonderFox DVD Video Converter
Want to enjoy a complete movie night with your family instead of waiting long time for conversion? WonderFox DVD Video Converter is the best choice, which provides one-stop total solution to Rip DVDs (Disney, Paramount, Sony Included), Convert videos, Download online videos, Edit and Play movies/video with excellent performance.