Digitalize and Rip Music DVDs Absolute Garbage, Doobie Brothers to MP4 or MP3
I had DVDFab in an effort to begin digitizing my existing music DVD library to MP4 or MP3. I have a number of music DVDs, among which The Beatles, Let it Be, The Smithereens, The Cult, Doobie Brothers are my favorite. The initial test I did with the five-minute limit was what convinced me to purchase the full license, but right after the second try, I reconsidered that choice.
To begin with, the DVD titles were saving incorrectly, which left me having to re-title the files on my home server. In addition to that, the thumbnail images attached to each movie file (.mp4) were completely incorrect. The final problem was that I had only had one out of SIX music DVD rip completely. The other had only ripped a portion of the complete length, resulting in an unusable file. I was hesitant to start over because each DVD was taking approximately 6 hours to rip with this being the only process-taking place on my computer.
While I want to continue this project, I have my doubts as to whether or not this product is ever going to work properly until very recently. I am looking for a solution again on Google to rip and digitalize my music DVDs to MP3 or MP4. After searching the options, I looked the WonderFox DVD Video Converter; I liked all the features and decided to download to try and I do think it is the very program for ripping music DVDs.
Rip Music DVDs Absolute Garbage, Doobie Brothers etc.
I like rock music. You see my favorite Absolute Garbage, The Beatles, Let it Be, The Smithereens, The Cult, Doobie Brothers are all rock music. The group, Doobie Brothers, has sold more than 40 million albums worldwide throughout their career. They all definitely need to be digitalized and ripped to MP4 in order for forever maintenance.
To be able to rip those DVDs, I tried many DVD rippers in the market and finally found WonderFox DVD Video Converter. I tried the trial and it makes me believe it is the very music DVD rippers for my collections and I paid the full version. It does a great job. Well, below is what I do with WonderFox DVD Video Converter to rip and digitalize my music collections to MP4. MP3 is also my choice and it is just the same as ripping Absolute Garbage to MP4.
Get Ready Before Ripping Music DVDs
WonderFox DVD Video Converter is compatible with the latest Windows 10 and previous Windows 8/8.1, Windows 7, Vista and XP. So there is no worry about the compatible problems, we can just download the latest version via the below link.

WonderFox DVD Video Converter
Convert video to 4K with incredible high quality and with 50X faster speed but smaller size. 1080P to 4K video is supported.
More features>
Installing. Double click the exe file and you will be presented to permit whether you want to make changes to this computer and click Yes and next, next, next to finish Installing.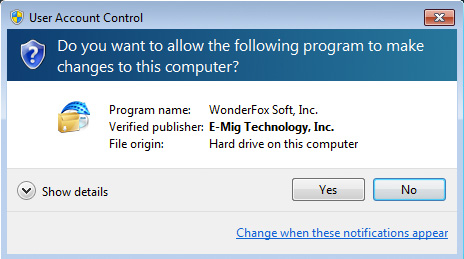 Open the music DVD ripper. If you have a license, register it so you won't be limited to rip only 5 minutes of each DVD for evaluation. If you don't have one license yet, you can follow the guide to have a trial to see if it is fully working for you. You can also purchase a lifetime license key now >
Put the music DVD into DVD drive. Close the auto-play if any.
Simple Steps on Ripping Music DVDs to MP4
This is what I do for ripping Absolute Garbage.
1. Load DVD for analyzing.
Click the Load DVD button to load. Here my example is Absolute Garbage from
American rock band Garbage, released on July 23, 2007. Click OK for the music DVD ripper analyzing. This generally won't take long, mostly within seconds.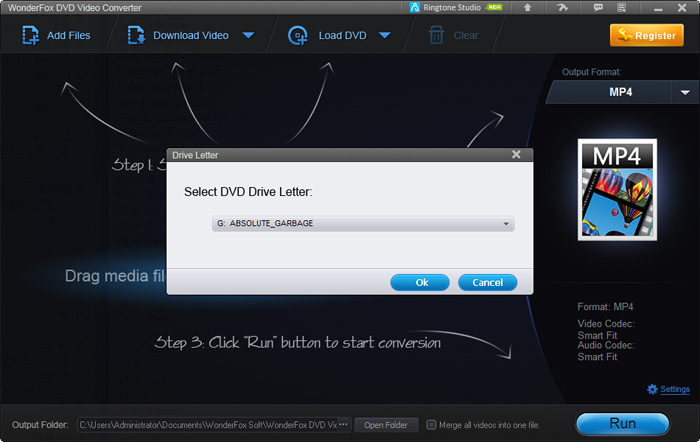 2. Right title for music DVDs.
Right after Absolute Garbage is analyzed, WonderFox DVD Video Converter highlights the main title for you. It is Title 19 and it is over 1 hour. We know that this music DVD is about two hours. What's the rest? We just have to scroll up and we found title 4/59 minutes! We can simply click on the preview and that it!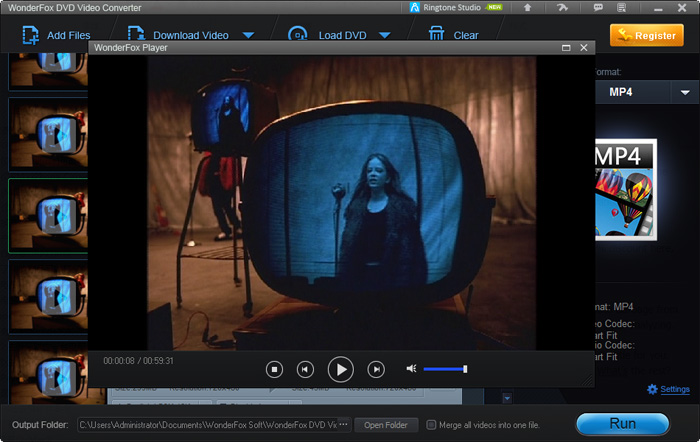 3. Mp4 as the output for music DVD
We see that MP4 comes the default output. With the smart fit feature for audio and video codec, we don't have to change that. If you'd prefer other video formats like MP3 or iPhone 6/6S, click the output format to change.
4. Set the output folder
You are free to set the output folder to whatever folder you like, NAS, external hard drive.
5. Merge
Merge all videos into one large file is bonus feature for ripping music DVDs. All songs in Doobie Brothers are in different titles and I will have to merge them for constant playback.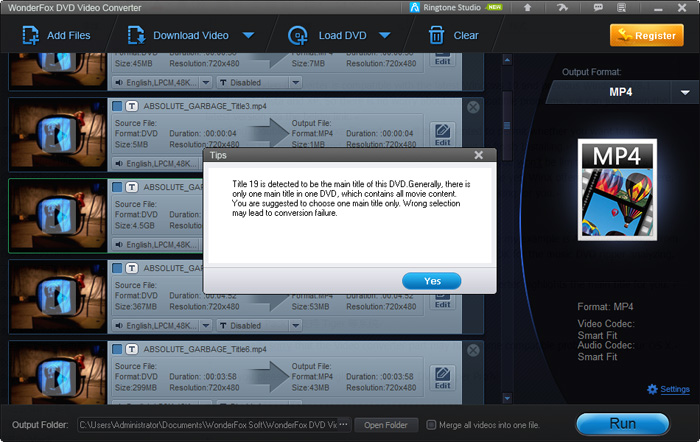 6. Run ripping
Generally, you just have to do the above step 2,3,4 and 5 once. For the second time you use the music DVD ripper, the app will remember all your options and you can just go to this last step for ripping. Well, like RUN and let the program do the rest ripping for you.
Still have problem on music DVD ripping?
Related Resource
Time-limited Offer Today
Special Offer: WonderFox DVD Video Converter
One software helps you solve all of problems such as DVD ripping , video converting, YouTube downloading...