If you buy a DVD from another country, you might receive a region error. That's because the region code of the DVD is different from that of the DVD player. Nevertheless, this doesn't mean you are out of luck. We've rounded up three solutions to fix how to play a DVD from a different region, hoping they can be helpful.
If you want to know more about region code and how to tell which region a DVD is coded for, you can directly jump to the last part #About Region Code.
Ripping and copying DVDs to digital videos is the best way to free you from worrying about region code limitations. And WonderFox DVD Ripper Pro is the advisable software to help you get region-free digital copies. By making full use of its advanced decryption technology, you can easily decrypt sorts of copy protections like Region Codes, DVD CSS, Cinavia Protection, Multi-angle, Sony ARccOS, UOP, RCE, and Disney X-Project DRM, etc. It offers a wealth of output options that allow you to convert DVD to MP4/H.264, AVI, WMV, MOV, or iPhone, Android, and more. Through this program, you can also make a 1:1 quick copy of DVD to ISO, MPG, and DVD Folder.
Below is a guide to unlocking the DVD region code to play DVDs from other regions freely. DownloadDownload the handy ripper and get it ready. Then read on to learn how to play a DVD from a different region.
Step 1. Load region-coded DVD source
Insert the DVD into your DVD-ROM drive. Open this DVD region code remover, click on the big DVD Disc button and select a DVD letter from multiple drives including the virtual drive. Press OK to scan the content of the region-coded DVD.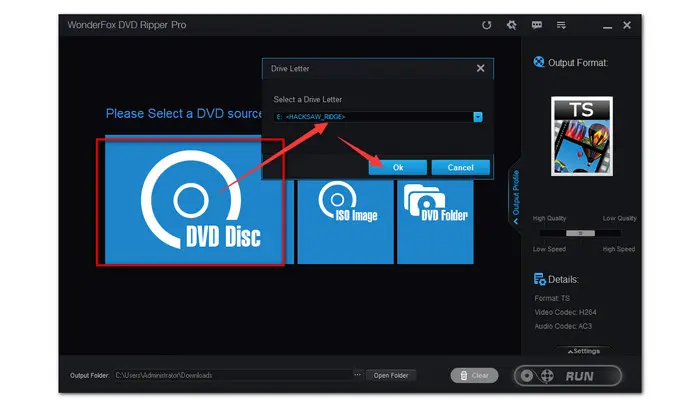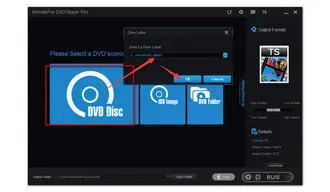 Step 2. Select a digital output format on the right side
In the analysis process, all DVD DRM techniques like region code will be removed. This DVD ripper will automatically check the main movie titles. Click on the Format Profile on the right side to open the full list of 300+ predefined presets, navigate to the Video category, you can select MP4 or any other common video format as the output video format.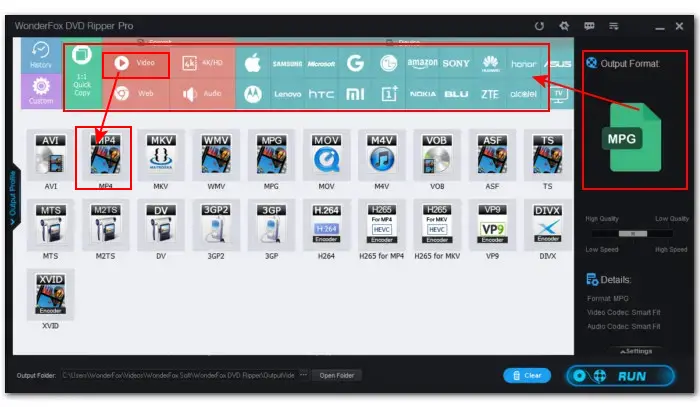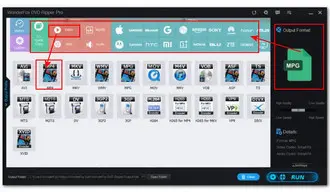 Step 3. Start to remove the region code and digitize DVD
Set a destination folder on the bottom. Lastly, click the Run button to remove the region code from the DVD and convert it to digital video format. It will take only several minutes for a 7.9 GB DVD to get completely ripped with hardware acceleration enabled. After ripping, how to watch a DVD from a different region won't trouble you anymore.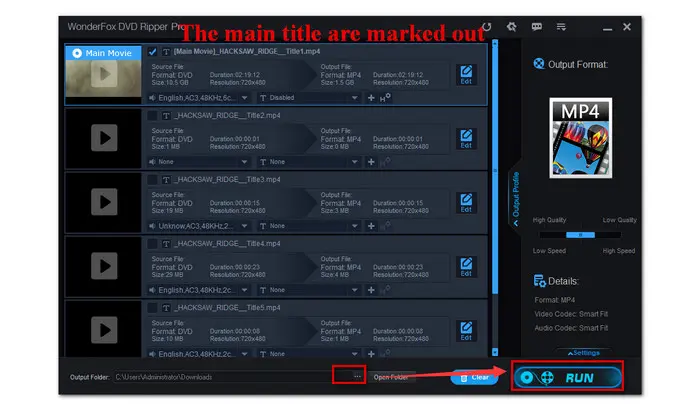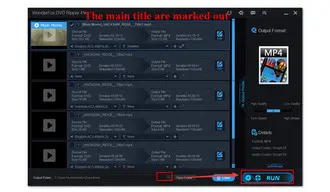 Note: WonderFox doesn't advocate any illegal duplication and distribution. Please refer to the DVD copyright laws in your country before ripping a copy-protected DVD.
How to play DVD from other regions? Changing the regions of your DVD drive to match the disc is another good practice. It's very easy. But it is important to note that you can only set the region code for your DVD drive five times (including the original setting). Once you reach the maximum limit, the region code will remain set to the last change. Below are the steps demonstrated on Windows 10. Check if it helps.
Press Windows Key + R Key;
Type "devmgmt.msc" without the quotes and press the Enter key;
Expand DVD/CD-ROM drives, right-click the DVD drive for which you want to change region settings and then click Properties;
Hit the DVD Region tab. Then scroll down the mouse to choose a region that matches the DVD region from the following list;
Then the selected region code will be listed below. Click on the Ok button.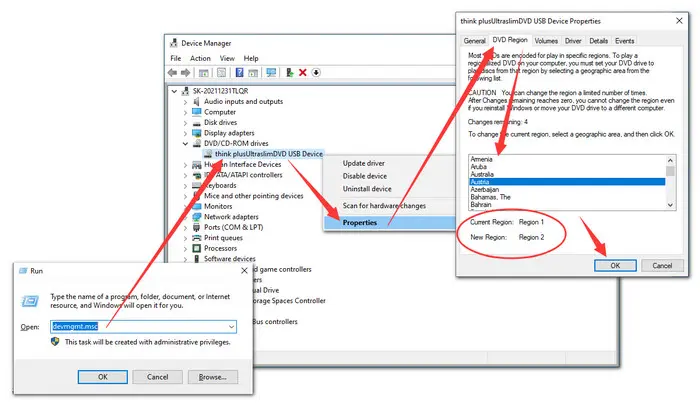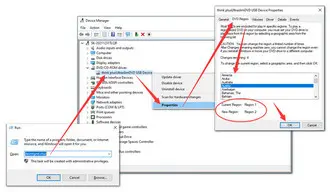 You can purchase a region-free DVD player from the websites like Amazon, Walmart, Fortress, and more. Compared with the last two methods, using a multi-region DVD player seems to be more straightforward. But before you decide on what suits you best, there are many options to consider aside from just which region the DVDs come from. How much they cost, what features they offer, brands and models, as well as some specific options that will enrich your personal experience should be taken into consideration.
However, a region-free DVD player can't handle with any hassles like scratched DVDs, or DVD RCE Region Protection. Thus, I highly recommend you try WonderFox DVD Ripper Pro mentioned in #Solution 1 as this powerful ripping program can fix them with ease.
DVD region codes are a digital rights management technique introduced in 1997. They are used to prevent the playback of region-coded discs outside the area they are made for. The publishers and distributors use these digital fences to control how, when, and where these DVD titles are sold. In short, this is done for money. However, most film distributors are now releasing media, especially Blu-ray discs, as region free because they believe that can facilitate sales and distribution.
Following is a list of DVD region codes along with their geographical regions.
Region 0— Or Region ALL. It means a disc doesn't have any region code, it is for all regions.
Region 1 — United States, Canada, Bermuda, Caribbean, U.S. territories.
Region 2 — Europe, Japan, Middle East, South Africa, Swaziland, Greenland, Lesotho, British Crown Dependencies, British Overseas Territories, French Overseas Departments and Territories.
Region 3 — Southeast Asia, Hong Kong, South Korea, Macau, Taiwan.
Region 4 — South America, Mexico, Central America, Australia, New Zealand, Papua New Guinea and much of Oceania.
Region 5 — South Asia, Russia, Afghanistan, Ukraine, Kazakhstan, Belarus, Africa (except counties included in Region 2), Central Asia, North Korea, Mongolia.
Region 6 — China
Region 7 — For future use or MPAA-related releases as well as "media copies" or pre-releases for Asia.
Region 8 — International venues such as aircraft and ships.
Region 9 — Also referred to as "ALL" because it has all region flags set, allowing it to be played in any location and player.
Region coding for Blu-ray
Region A — Americas and dependencies, East and Southeast Asia but excluding those that appear in Region C.
Region C — Central Asia, Mongolia, Mainland China, South Asia, Belarus, Kazakhstan, Ukraine, Russia and all their dependencies.
Region Free — Also called worldwide; it is not an official setting but rather the lack of a region setting or it has all three region settings.